Do you want to take a screenshot on Mac PC or Laptops? Are you looking for the different ways to use screenshot features? You are at right place! In this article, I will show you 4 different ways to take a easy screenshot on your MAC device regardless of the configuration or a system.

Whether you are a tech blogger or a normal inquisitive user, screenshots are of great help to explain the topics or to showcase the flow of your process. Screenshots could be used to report an error message to an expert, save an interesting chat conversation or even contribute to popular website with detailed explanation with images on particular topics. If you are using a MAC (macintosh) for the first time and don't know how to take a screenshot on mac? This tutorial is for you. There are various ways to take print screen on Mac desktop or laptop. In this article I will cover 4 different ways to use these wonderful functionality available in MAC operating system enabled laptops or PC by Apple.
4 Different ways to use print screen on MAC
#1 Take Screenshot of entire screen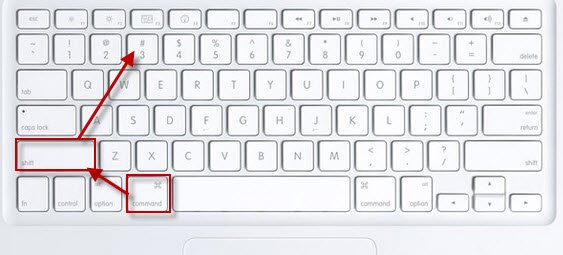 If you want to take screenshot of entire screen, this functionality is for you. Holding down the Command key with Shift + 3 takes a photo of the entire screen. There would be a brief camera shutter like sound after which the screenshot would be saved onto your desktop labeled "screenshot" along with the time and date.
Earlier MAC OS versions save the screenshot this way as "Picture #", where "#" represents the screenshot number.
#2 Screenshot of selected area
Pressing Command + Shift + 4 turns the mouse cursor into a small cross hair reticle that allows you to select the area of the screen you want to save. A gray rectangle appears as you drag the cursor and when done with the adjustments, you can let go of the mouse button. A brief shutter click sound will mean that the screen has been captured. In case you need to make an adjustment before saving the file, you can always press Esc and start over again.
Using this process too saves the screenshot on the desktop as a .png file labeled "screenshot" along with the details of time and date. Earlier OS X save the screenshot as "Picture #" wherein "#" is the picture number.
#3 Screenshot to Clipboard
Another method of saving a screenshot on Mac OS X is using Command + Control + Shift +3. The process works the save as in the above case but here the file isn't created immediately. Instead, the screenshot image is loaded onto the clipboard as a temporary file where the system remembers the text you needed to copy.
This method could also provide a reticle if you use Command + Control + Shift + 4. This way you can choose to drag upon the part of the screen you feel important.
To use the screenshot immediately, you can use Command + V or Edit > Paste on any editing / word processing application and email service.
#4 Screen shots of particular window on screen
Pressing Command + Shift + 4 and hitting Space bar turns your mouse cross hair into a camera. Pressing the Space bar again will give you the original reticle back. This way you can choose between various open windows on your system.
The screenshot will be saved onto the desktop as in the above cases. Do you know any other ways or tools to use print screen on mac? do share your thoughts here by comment.
If you are a windows users and planning to buy a new MacBook, It is always recommended to check Apple laptop reviews before you choose one. Sometime it happens that we spend more on configuration which is not really require in our routine work. If you are moderate users, go for lower configuration, if you work require lot of graphic, image rendering work, go for higher configuration.