Have you ever seen sudden drop in your online sales? Have you seen sudden drop in conversion rate? One of the most common reason behind this is; product price difference.
It may happen that your competitors slashed the price of the same products. In some cases, we found that the selling price of competitors and client's website has a huge difference! You might be missing some profit in that case. It is good idea to keep your product price lower than your competitors but it is bad idea to keep huge difference. I mean your competitor is selling a product at $60 and you are selling the same product at $51!
Here customer will also buy the product if you are selling at $58 and you will make additional $7 per sale. Competitive pricing analysis can help you in such cases and this is what we are going to explain you in this article.
If you are an eCommerce platform and not doing competitor pricing analysis, you are making big mistake in this case! I know it is very time consuming process if you do it manually. What if I tell you that you can do it with complete automation? Yes, there are many pricing analysis tools are available online to do this job at very reasonable price.
Online shopping has become extremely popular with people for the convenience that it offers to customers. However, it is not an easy business for the person who owns the online store. eCommerce industry is developing really fast with stiff competition among the many eCommerce sites dealing with varieties of products. To make a mark in this business and to succeed, there are many things that have to be kept in mind.
Different industry has different pricing strategies that is nicely explained in this article. We need to understand the industry before we define the pricing strategies. Competitive pricing is a must for the products so that customers are drawn to the site and converted into sale. For this, competitive pricing analysis is done to understanding the prices that competitor eCommerce sites are charging for same products. Once the prices are tracked, compared and analyzed, you can determine a best possible selling price for your products.
Same is applies to you when you selling your product on Amazon where you can use various amazon seller tools which are available in market at reasonable price.
What is Competitive Pricing Analysis?
With the inception of eCommerce store builder, you will find thousands of eCommerce websites available on the web now. Every site tries to do something or the other to attract customers. While some do proper SEO audit, offer great deals and discounts on their products, some have incredibly low prices of their products. These tactics might work for sometime but not for long. Standard eCommerce sites will carry out competitive pricing analysis and then decide on the pricing of products. Competitive pricing analysis will also help you to optimize you Google shopping feed with competitive pricing to attract more clicks to your landing page.
Competitive pricing analysis is an effective approach to analyze the selling price of the same product on different competitor's website. The smart pricing analysis approach will help you to strategies the selling price of your product that can help you to attract more buyers. The biggest challenge in competitive pricing analysis is; how to do it?
How to do Competitive Pricing Analysis?
It is not possible to check the prices of every single product on leading eCommerce portals manually. Another challenge is to keep monitoring the changing price as sellers used to change the price over time . What will a budding eCommerce entrepreneur do in such a situation? The best solution to this problem is using a competitive pricing analysis tools for the job. Innumerable reliable competitive pricing analysis software and business intelligence tools are available in the market which can help in comparing prices of products from your competitor's eCommerce portals. Have a look at Scraping Robot; one of such tool offers quality web scraping solution you can count on to collect the valuable data from anywhere on the web for competitive pricing analysis.
The most interesting thing is that the analysis and comparison is not a one-time process. It needs to be done on regular intervals to keep in pace with the leading eCommerce sites. The competitive pricing analysis tool will help in tracking, comparing and analyzing competitive pricing data and information continuously and help you in optimizing the pricing of your products so that best revenues are earned from the same. Detailed data about the competitor's websites is collected including shipping costs, discounts offered, actual prices, MSRP etc and then an analysis is done by keeping all these factors in mind. This helps in setting an overall pricing of the products for your eCommerce business.
Competitive Pricing Analysis Tools:
Before you choose any competitive pricing analysis tool, make sure that they offers customized solution. Because, each eCommerce website has different structure and fix solution may not offers exact analysis data as per your requirement. We analyzed different pricing analysis tool and found that DataCrops pricing intelligence is one such tools that is used by many online retail business for price comparison & monitoring. We manually reviewed their features and different module that is 100% customized and can be mold as per your requirement. Below screenshot depict competitive pricing analysis done for one sample project.
1. Competitive Analysis
Here is the screenshot of competitive landscape by manufacturer data analyzed by DataCrops pricing analysis tool. You can see the list of different manufacturer, their total number of products and then price comparison analysis of products on popular ecommerce websites like Amazon.com, Walmart.com and Target.com. This chart can help you to understand the price of different products at your competitor's websites.
2. Product Price Comparison
You can get detailed analysis of price distribution by manufacturer or particular brand with such a detailed visual analysis. Checkout below screenshot to learn more about this competitor price analysis visualization.
3. Site wise Product Price Comparison
This module is the real charm of DataCrops pricing intelligence software. Checkout below screenshot depict the list of Samsung's products and its price comparison between Amazon and eBay. You can easily identify the expensive seller and can accordingly reprice your products. DataCrops is really useful tool to extract all the data from online stores and will compares them with competitors.
4. Date-wise Product Price Comparison
Most of the websites change their product price periodically and keeping your price competitive with this rapid change is the biggest challenge for any online vendor. DataCrops line graph of date wise product price report will allow you to analyze products prices on particular dates. Here is an example of Samsung's products prices time line.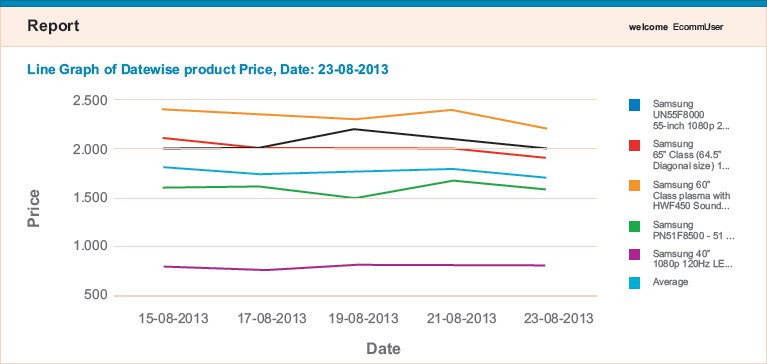 This given screenshots includes only few samples of DataCrops module, I strongly recommend connecting with DataCrops team to schedule a detailed demo on all different modules You can have better understanding of this tool and can get best customized solution accordingly.
If you are looking for other options in pricing analysis tools, there are many leading business intelligence software are available in market mentioned below:
Import.io
Trifacta
Tableau
BigML
Competera
Prisync
Shopmaster
Conclusion:
It is quite clear that without accurate competitive pricing analysis, deciding the right price of a product or service is difficult in an eCommerce business. Businessmen in the eCommerce industry are therefore relying greatly on competitive pricing analysis tools and software for price comparison and analysis from their competitor websites. Since this industry is a dynamic one and prices keep changing from time to time, the software will help the business owner in remaining updated with the latest pricing so that you can decide the best price for your company's products and services and earn high revenues from the sales.