Have you ever a seen sudden drop in your online sales? Have you seen a sudden drop in the conversion rate? One of the most common reasons behind this is a product price difference.
It may happen that your competitors slashed the price of the same products. In some cases, we found that the selling price of competitors and the client's website has a huge difference! You might be missing some profit in that case. It is a good idea to keep your product price lower than your competitors but it is a bad idea to keep a huge difference. I mean your competitor is selling a product at $60 and you are selling the same product at $51!
Here customers will also buy the product if you are selling at $58 and you will make an additional $7 per sale. Competitive pricing analysis can help you in such cases and this is what we are going to explain to you in this article.
If you are an eCommerce platform and not doing competitor pricing analysis, you are making a big mistake in this case! I know it is a very time-consuming process if you do it manually. What if I told you that you can do it with complete automation? Yes, there are many pricing analysis tools are available online to do this job at a very reasonable price.
Online shopping has become extremely popular with people for the convenience that it offers to customers. However, it is not an easy business for the person who owns the online store. The eCommerce industry is developing really fast with stiff competition among the many eCommerce sites dealing with varieties of products. To make a mark in this business and to succeed, there are many things that have to be kept in mind.
The different industry has different pricing strategies that are nicely explained in this article. We need to understand the industry before we define the pricing strategies. Competitive pricing is a must for the products so that customers are drawn to the site and converted into sales. For this, competitive pricing analysis is done to understand the prices that competitor eCommerce sites are charging for the same products. Once the prices are tracked, compared, and analyzed, you can determine the best possible selling price for your products.
The same is applies to you when you sell your product on Amazon where you can use various amazon seller tools which are available in the market at a reasonable price.
What is Competitive Pricing Analysis?
With the inception of eCommerce store builder, you will find thousands of eCommerce websites available on the web now. Every site tries to do something or the other to attract customers. While some do proper SEO audit, offer great deals and discounts on their products, some have incredibly low prices of their products. These tactics might work for sometime but not for long. Standard eCommerce sites will carry out competitive pricing analysis and then decide on the pricing of products. Competitive pricing analysis will also help you to optimize you Google shopping feed with competitive pricing to attract more clicks to your landing page.
Competitive pricing analysis is an effective approach to analyze the selling price of the same product on different competitors' websites. The smart pricing analysis approach will help you to strategize the selling price of your product that can help you to attract more buyers. The biggest challenge in competitive pricing analysis is; how to do it?
How to do Competitive Pricing Analysis?
It is not possible to check the prices of every single product on leading eCommerce portals manually. Another challenge is to keep monitoring the changing price as sellers used to change the price over time. What will a budding eCommerce entrepreneur do in such a situation? The best solution to this problem is using competitive pricing analysis tools for the job.
Innumerable reliable competitive pricing analysis software and business intelligence tools are available in the market which can help in comparing prices of products from your competitor's eCommerce portals. Have a look at Scraping Robot; one such tool offers a quality web scraping solution you can count on to collect valuable data from anywhere on the web for competitive pricing analysis.
The most interesting thing is that the analysis and comparison is not a one-time process. It needs to be done on regular intervals to keep in pace with the leading eCommerce sites. The competitive pricing analysis tool will help in tracking, comparing and analyzing competitive pricing data and information continuously and help you in optimizing the pricing of your products so that best revenues are earned from the same.
Detailed data about the competitor's websites is collected including shipping costs, discounts offered, actual prices, MSRP etc and then an analysis is done by keeping all these factors in mind. This helps in setting an overall pricing of the products for your eCommerce business.
Competitive Pricing Analysis Tools:
Before you choose any competitive pricing analysis tool, make sure that they offers customized solution. Because, each eCommerce website has a different structure and fix solution may not offers exact analysis data as per your requirement.
We analyzed different pricing analysis tools and found that DataCrops pricing intelligence is one such tools that is used by many online retail business for price comparison & monitoring. We manually reviewed their features and different module that is 100% customized and can be mold as per your requirement. Below screenshot depict competitive pricing analysis done for one sample project.
1. Competitive Analysis
Here is the screenshot of competitive landscape by manufacturer data analyzed by DataCrops pricing analysis tool. You can see the list of different manufacturer, their total number of products and then price comparison analysis of products on popular ecommerce websites like Amazon.com, Walmart.com and Target.com. This chart can help you to understand the price of different products at your competitor's websites.

2. Product Price Comparison
You can get detailed analysis of price distribution by manufacturer or particular brand with such a detailed visual analysis. Checkout below screenshot to learn more about this competitor price analysis visualization.

3. Site wise Product Price Comparison
This module is the real charm of DataCrops pricing intelligence software. Checkout below screenshot depict the list of Samsung's products and its price comparison between Amazon and eBay. You can easily identify the expensive seller and can accordingly reprice your products. DataCrops is really useful tool to extract all the data from online stores and will compares them with competitors.

4. Date-wise Product Price Comparison
Most of the websites change their product price periodically and keeping your price competitive with this rapid change is the biggest challenge for any online vendor. DataCrops line graph of date wise product price report will allow you to analyze products prices on particular dates. Here is an example of Samsung's products prices time line.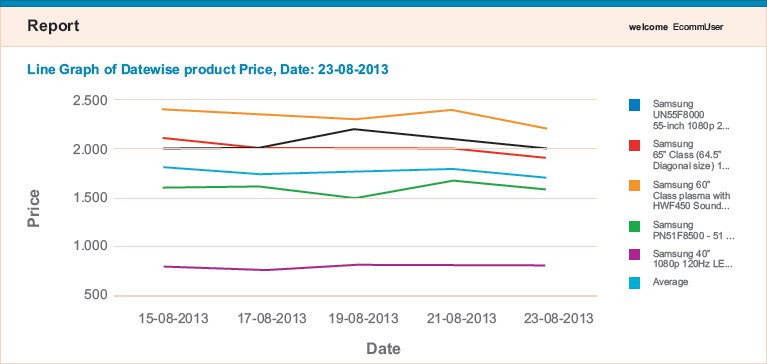 This given screenshots includes only few samples of DataCrops module, I strongly recommend connecting with DataCrops team to schedule a detailed demo on all different modules You can have better understanding of this tool and can get best customized solution accordingly.
If you are looking for other options for pricing analysis tools, there are many leading business intelligence software are available in market mentioned below:
1. Import.io
Import.io is a Web Data Integration (WDI) programming utilized essentially by organizations to deal with marketing applications. It assists clients with changing over unstructured data derived from different sources into an organized arrangement for more straightforward analysis and interpretation. Import.io is a Competitor price monitoring software that offers exceptionally precise and dependable, Import.io is trusted by broadly well-known organizations.
Features
Import.io empowers any association to acquire insight, efficiencies, and upper hands from the huge measure of information on the web.
All of its storage and technology is into a cloud-based framework, and the client needs just to add an internet browser expansion to empower the tool.
It utilizes Best software monitoring tools for supporting pretty much every framework to assemble a great many information. It's likewise genuinely simple to utilize pleasant clean interface, basic dashboard, screen catch and how transfer recordings that are easy to understand.
io is not difficult to use and employs the most recent innovation that upholds attractive and huge information.
Pricing
Starting from: $299.00/month
Pricing model: Free, Subscription
Free Trial: Available
2. Price2spy
Price2Spy is a Price intelligence software for tracking and repricing service provider for small to big online retailers, manufacturers/brands, and vendors from a variety of industries everywhere in the world. The answer facilitatese-Commerceexperts to tune, examine pricing records and reprice their products, depending on their marketplace strategy.
Analytics assist organisations to pick out pricing opportunities, including which products are underpriced or may be decreased however nonetheless stay in the preferred earnings margin. The Repricing module facilitates customers to make concrete repricing selections, and hold tune of these selections carried out in the past.
Features
You could effortlessly get right of entry to your Price2Spy account out of your cell device.
Price2Spy can test product pricing and availability primarily based totally on each user's specific needs, whether or not each couple of hours, or on a each day or weekly basis.
Price2Spy makes use of an entire community of geographically allotted servers, which makes the rate test reassets randomized and nearly not possible to detect.
Price2Spy's pricing dashboard permits users to create their personal tailor-made widgets and reviews with only a few clicks.
Pricing
The starting price of Price2Spy is $23.95 per feature, per month. They do not have a free version. Price2Spy offers a free trial.
3. Tableau
Tableau is the Best price comparison software. It is an active and fastest developing data imagining device used in the Business Intelligence Industry. It facilitates in simplifying raw facts in a totally understandable format. Tableau helps the data that that may be understood with the aid of using specialists at any stage in an organization. It moreover, offers non-technical consumers to create custom designed dashboards.
Features
Tableau can fetch information from a record such as text documents, Excel, PDF, R, Hadoop, Python or SAS in cloud databases such as Flipkart, Google Sheet, Netflix, and Amazon.
The data is pulled into the Tableau data engine, also known as the Tableau desktop. Here the business analyst works with the data, generates a dashboard and shares it with the user, where the user reads it on the screen called Tableau Reader.
The statistics is published with innumerable supported tasks such as security models, collaboration, distribution, automation, etc.
Security is the first and most serious concern of Tableau. It helps organizations to promote trusted data sources for all users to make the correct decisions at the right time.
Pricing
For Individuals
Tableau Creator: $70 USD/user/month, billed annually
For Teams & Organizations
(On-premises or public cloud)
Tableau Creator: $70 USD/user/month, billed annually
Tableau Explorer: $35 USD/user/month, billed annually
Tableau Viewer: $12 USD/user/month, billed annually | min. 100 Viewers required
4. Pricefy
Pricefy gives organizations the adaptability to deliver a limitless number of prints, specify campaign subjects and styles, make custom logos, and customize different pictures. Pricefy works through a cloud based platform to oversee advancements and costs.
It can naturally make limited time banners in different sizes and configurations, and they can be altered to suit the visual character of determined brands. Pricefy is the Best competitor price tracking software which will give you the most significant data about moving items and market freedom to allow you to grow and overcome new business sectors.
Features
Monitor your competitor's items cost in any country, cash or commercial center, consistently. You can likewise monitor an online business competitor directly, by utilizing his commercial center username or site URL.
Dicover bestseller products of your categories, how popular they are and for how long they stayed in chart and increase your profits.
Pricefy will give you the most significant data about moving items and market freedom to allow you to extend and overcome the problems of new business sectors.
Dicover hit results of your classes, how well known they are and for how long they remained in outline.
5. Competera
Competera is an AI-powered platform that helps retailers with setting ideal costs. Competera offers a unified pricing platform for big business retailers to recuperate lost benefits and meet new shopping designs with the assistance of ideal estimating for every item across all selling channels with an exceptional blend of valuing motors and profound learning tech.
With Competera, organizations can boost their primary concern measurements and support the right value discernment through the best value proposals.
Features
A unified place of business for coherent pricing to reinforce business performance from day 1
Tailored pricing good judgment to harmonize pricing throughout all the goods and channels
Absolute transparency of pricing actions made in beyond and forecast of impact in future
Manage classes of merchandise to hit commercial enterprise dreams thru portfolio pricing approach –
Get records you want with custom scrapping good judgment and frequency
Best product fit and records transport charge at the market
Pricing
Starting Price:
$114.00/month
Pricing Details:
Starting price $114.00/month
Free Trial:
Free Trial available.
6. Prisync
Prisync, a cost-effective and Competitor monitoring software, helps online dealers of all sizes increment deals and benefits. Prisync's creates clever value checking highlights, your business can have an edge against the opposition.
Prisync has astonishing announcing and progressed examination that you can find in a visual dashboard. You can even product information into Excel documents assuming you need to impart it to associates or audit them later on. The product's highlights incorporate value watch, stock level observing, and regular updates.
Features
Prices updated four times each day
Easy arrangement and execution
Boost sales and overall revenue
Dynamic reporting and email alerts
Bulk importing
Unlimited competitor product URL following for all plans
Pricing
Starting price at $59 per month up to 100 products.
It is quite clear that without accurate competitive pricing analysis, deciding the right price of a product or service is difficult in an eCommerce business. Businessmen in the eCommerce industry are therefore relying greatly on competitive pricing analysis tools and software for price comparison and analysis from their competitor websites. Since this industry is a dynamic one and prices keep changing from time to time, the software will help the business owner in remaining updated with the latest pricing so that you can decide the best price for your company's products and services and earn high revenues from the sales.