Domain is one of the most important part of any online business and to understand the importance of Domain name, we will start this article with one real example. John has started a new business and wants to register a domain name with his unique business name. When he tried finding the .com domain name, it was already registered by someone else!
Now what?
John is having different options mentioned below:
Use domain name marketplaces to acquire the same name by paying some extra money / participate in domain auction to bid for the same name.
Use domain search facility of these marketplaces and search for another premium domain name to buy at reasonable price.
I will personally recommend going with option 2; brand is always having a great value and the domain can play very important role in such cases. Domain marketplaces can also help investors in making good money out of their domain portfolio investment. Here, the sellers who has acquired a domain earlier will get some money from John by selling it at a premium price. If your find it costly, you can always use the domain search option being offered by most of the marketplaces and buy other domain names that best suit your budget and requirement. The choice is yours!
If you are an investor and looking to make money online? you can buy and sell domains names from these marketplaces which is one of the most popular industries provides tremendous opportunity to make money online. In this article I will share few popular domain marketplaces offers great opportunity to buy and sell all different types of domain names at very competitive price.
Internet has become the face of everything on this planet and consequently, everyone ranging from individuals to organizations is looking for an online identity. The rising demand for the perfect website domain name has also given rise to a subsequent domain name marketplaces where you can buy domains as an investment or as a business owner. There are endless numbers of platforms where you can choose to sell your domains and make a good amount of money with little investment. However, as the process of buying and selling domain has become a full-fledged business, along comes the competition. If you are starting out, it can be quite daunting to get through to the right audience.
Domain Marketplace List to Buy and Sell Domain Names (Domain Auction Marketplaces)
Well, here are 12 top domain name market places where your investment can find the right leads and give you an encouraging start to a unique career/business in the domain industry.
When it comes to domain name, how can you forget namecheap? One of the leading domain registrar in the world offers dedicated domain name auction features for you to buy and sell premium domain names at reasonable price.
Here you can search with the domain name by using their search functionality and place the bid for your preferred name. I personally like the way they have created separate section of domain auction based on its application. Here you can directly visit that section and bid on your preferred domain name. You can see the list categorized by:
Popular domain names
Closeouts
ccTLDs favorites
SEO friendly domain names
Buy now list and many more
NameCheap domain auction commission: Namecheap charge flat 10% of domain price from the seller as a commission.
Domain(dot)com is one of the most popular name when we talk about domain registration / renewal space. Yes, they are considered as one of the most trusted registrar who not just offers domain registration but also offers web hosting services, SSL certificates, website builder and many more.
If you are looking for the perfect place to buy premium domain names, you should consider this marketplace as well.
Get exclusive 25% sitewide discount during this holiday sale.
#3 BuyDomains
BuyDomains com is a trusted names when it comes to buy a premium domain names for an online business. Since 1999, BuyDomains is helping businesses and brands to acquire premium domains names for their online presence. They are offering millions of domain names for sale and considered as world's leading domain marketplace to buy a premium domain names.
How to Buy a Premium Domain from BuyDomains com?
The process is pretty simple, you just need to enter the word / phrase or exact name of your preferred domain and you will be provided the list of relevant domain with asking price. Here you can either buy it or make a counter offer. You can also have a an option to find relevant domain names by clicking on a button provided in listing. Checkout some of the recently sold domain names along with selling price for your reference.
Looking to buy premium domain names? Checkout more information now.
#4 Network Solutions
A premiere domain marketplace to buy, list and sell all types of domains, Network Solutions comes with all tools and information necessary to meet your domain business needs. It is not just in domain industry, but also offers various IT solutions like website / ecommerce, SSL certificate, Hosting and security. The combination now works to offer an extraordinary offering of aftermarket inventory with added features like intuitive UI, making it easier and faster for customers to make purchases.
#5 Undeveloped
Undeveloped is a popular name when it comes to buy and sell domain names with added security. According to them "There are over 44% of total domain registered are not in use and idle. Undeveloped provides this unique market place where these millions of undeveloped domains are available to buy for you."
The best part of this domain marketplace is; the domains are directly listed by their original owner and hence you can directly deal with them. I have found this marketplace very effective for individual domain investors and startup business owners to deal with.
#6 Afternic
Popular as one of the largest marketplaces for domain buying and selling, Afternic com has a worldwide distribution with more than 100 domain re-sellers. The platform offers a fast transfer capability alongside 75+ million domain searches every month. Once you list your domain with Afternic com, it would be hard not to get it through to the right audience. Afternic com also offers several different ways of domain reselling including offer/counter offer, buy now only, offer/counter offer/buy now and parking pages. Afternic com offers an incredible incremental revenue system while your domain is still listed with the website with its parking page feature.
The 24 x 7 sales support and a maximum commission of 20% makes sure that you earn huge returns from every sale.
Also Read: 7 Popular Places to Buy or Sell Your Websites Online
When it comes to domain / online business buy and selling, the list is in-complete with Flippa. Yes, it is world's top platform to buy and sell any type of online business. They are having separate section for domain name auction where you can choose from over 10K plus domain listings.
Since clients bid for the domain of their choice, the reselling value with Flippa is also way higher than other domain reselling platforms. Sellers are notified whenever an agreement is reached with a customer and also take you through an interactive and intuitive payment process.
#8 Godaddy Premium Listings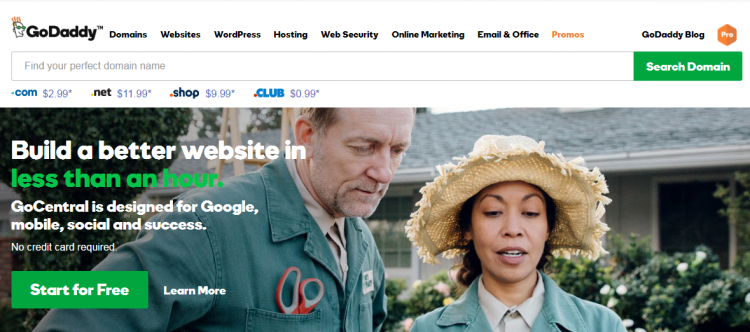 GoDaddy is among the most popular domain marketplaces. The reselling process takes several forms, ranging from 7-day auctions to premium domain name listing. Consequently, you can always find a better and more profitable way of listing your domain investments. The services include offer/counter offer, offer/counter offers/buy now, buy now only, parking pages and auctions. The marketplace is based on the principle of adaptability and that has been the reason for its popularity with both sellers and buyers. GoDaddy is also the most established website domain name registrar in the world with 14+ million clients. It further has 63+ million domain names that are under supervision. Among all domain auction sites, GoDaddy Premium Listing feature in the top ranks.
GoDaddy requires an auction membership of just $4.99 annually but that's insignificant compared to the amount of money you can make. With domain selling, GoDaddy keeps up to 30% commission.
Also Read: Top 10 Cheap Wildcard SSL Certificate Providers
#9 Pool
Pool com is one of the newest additions to the domain reselling marketplace that has been making quite a mark among investors. Pool dot com claims a success rate of 95% and one of its most unique and interesting features include back ordering deleted domains. With a highly decorated history of reselling and its partnership with some of the premium registrars across the globe, pool com makes quite of a sense if you are looking to give maximum exposure to your investment. A 24 x 7 support and an option for live chat make pool com an interesting platform for both buyers and sellers.
Pool com keeps just 10% of the commission with every premium dropped or back-ordered domains.
#10 Sedo
Sedo is another incredible domain buying and reselling platform, offering plenty number of ways. From daily auctions to parking pages, Sedo offers a large user base with thousands of sales happening every day. Sedo com allows for offer/counter offers, buy now only, auctions and parking pages.
If you are having large domain portfolio, sedo can also help you to earn money from serving ads on your parked domain. Yes, you can park your domain on Sedo where they will serve ads and you can earn money out of it.
Sedo will keep up to 10% commission on every sale that is made.
#11 SnapNames

A widely renowned web com platform for aftermarket domain sales, SnapNames comes with a highly skilled team of experts and a technology that makes it a profitable partner. SnapNames offers more than 30 million domain names and you can choose to explore, buy, offer or create accessible domains or jump to upcoming listings. Customers of SnapNames would pick up the best high quality addresses for auction. This would also be a choice marketplace if you are looking to buy or sell uncommon web addresses and facilitate your business by connecting to potential sellers and buyers.
With SnapNames, you can thus buy domains even if they are already registered. All it keeps is around 20% commission on the transaction.
#12 Dynadot Domain Marketplace
Dynadot is a leading name when it comes for domain registration, web hosting, SSL certificate and other website builder related services. If you are not aware that they also offer domain buy and sell service, you must check their domain marketplace. Yes, dynadot is having dedicated section where you can bid to buy premium domain names too.
Today, when domains are being sold for millions of dollars, the above platforms are a great opportunity to enter into domain business. While, you will definitely take time to understand the market, domain buying and reselling is growing as a choice career for many. Be updated with industry trends and the learning curve won't be too steep either!