Are you looking to develop HTML5 games and find it difficult to answer the below questions?
Are you wondering how online games are created?
Do you want to create HTML5 games without all the time-consuming programming?
Are you a developer and looking to buy ready-made HTML5 games source code?
Do you want to build your HTML5 games portfolio?
Here is an article that will resolve all the above queries.
We just simplified the search for you by listing the best platforms from where you can buy and download HTML5 games source code. This list includes platforms that offer free and paid game templates. The source codes for all the games are available to the public. This also helps developers get an insight into the procedure of developing such games using their skills in HTML5.
HTML5 Gaming is the future and flash gaming is the thing of the past! Today numerous marketplaces are offering free and paid HTML5 games source codes for developers and organizations.
It is not about the number of HTML5 games you are able to create, but the number of applications or games you were successfully able to sell and or distribute to superior quality platforms.
Why use HTML5 for Game Development?
Well, there are many reasons to develop games using HTML5 code but here are some of the major benefits you can consider:
According to Statista, there is a projected rise in the number of smartphone users from 2.9 billion in the year 2018 to 3.8 billion in the year 2021. The number of potential customers is mind-boggling.
Thes best way to tap into this market is to build mobile or tablet-friendly games and thus HTML5 is a great option. Specific tags make HTML5 play software without the need for an external layer. Games built using HTML5 consume less battery and RAM.
HTML5 requires no plugins, preventing the video games from getting corrupted by viruses.
Google Chrome no longer supports and blocks the content played using Adobe Flash. Since HTML5 works with higher audio and video capabilities, developers are entitled to use the same.
Let me start our list with one of the best source code marketplace around the world:
Owned by Envato, Codecanyon is a great market place to download paid HTML5 game source codes. You will be spoilt for choices as there are more than 3,600 HTML5 games and HTML games. These are created by their global communities consisting of independent developers and each code is thoroughly reviewed so you have smooth functioning. The pricing starts at $4 and you can avail bundles as well.
CodeCanyon marketplace offers HTML5 game templates in all popular categories like Puzzle, crossword generator, quiz, racing etc. If you are looking to buy the best bestseller html5 game template from Codecanyon, you must check Canvas Puzzle.
It has made more than 1.4K sales and you can buy it at just $13. It comes with 6-month support from the author. The game is compatible with all the web browsers including Chrome, Firefox, Safari, Internet Explorer and it also works on the iPad.
The game is lightweight and you can upload any image for the game. You can easily queue in the next puzzle image. Also, you can decide the number of pieces you want for the puzzle.
With an average rating of 4.68, this is a great value for money, so go and buy now.
A very simplistic approach to the website, openhtml5games offers free mobile HTML5 web games along with open source code. You can learn the process by playing simultaneously. There are 9 items, and for each, you can play the game and view the source code.
The HTML5 game popular on this website is Diablo JS. It is an isometric minimal-code style game available in html5 canvas and javascript.
The game is generated by employing a minimum code with HTML5 Canvas and JavaScript. It's best selling features are its visuals and user interface, it shows the best use of HTML5 animation and Javascript logic. The game revolves around a fighter, that you can move around the map using mouse clicks and killing enemies on the way. Not only it is easy to deploy but you can learn a lot about HTML5.
Github is a platform where millions of individuals and organizations learn, share, and offer software. It is changing the definition of how software is created in today's time.
At Github, you have more than 600 HTML5 game source code templates readily available for all the developers and organizations. You can filter results by language and star ratings and choose the best game template for yourself.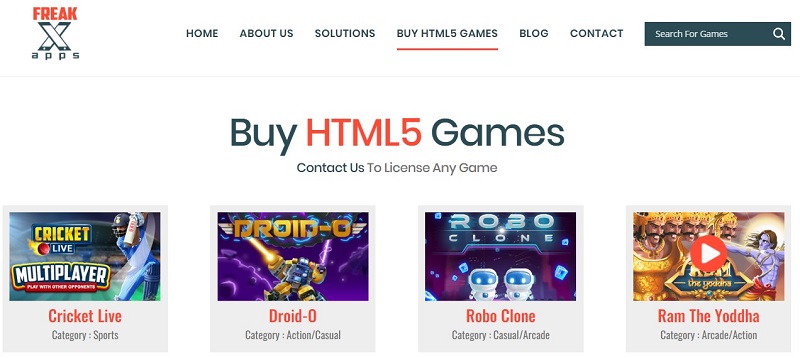 Another platform for HTML5 games is freaky apps which also provide a license simply contact them and get the license. They will show a video for individual games. The quality of the game is superb, you may verify the video quality from the video.
If you are looking for a great platform to publish HTML5 games licenses and/or buy and sell HTML5 games licenses, MarketJS is a great option. It not only offers HTML5 games instantly but you can customize according to your brand and station it on your server, all thanks to its expandable features.
There are more than 400 finest HTML5 games ready to excite all your customers. These HTML5 based games work well on smartphones, desktops, and tablets.
There is a discount up on the website offering 50% off on bulk purchases for Ultra Premium and Premium Games.
Snake Challenge is one of the best and engaging games available in MarketJS
It is priced at $999 and is a fully functioning and assembled game. You can deploy it on your website and it is compatible with android and iOS devices and modern web browsers. It supports 26 languages including German, French, Italian, Japanese, and many others.
The player will collect fruits and help the snake grow. Avoid the snake from touching the four walls, and also note that it should not collide with itself. Keep calm and slither away to get the high scores.
So, you have great games all set on our websites, but how will you attract an audience and generate revenue?
The answer lies in the best way to create a buzz is creating an engaging Game Trailer That Generates Buzz.
Trailer is the first look of your games, which explains, WHY, WHAT, WHERE & WHEN of the game. It can successfully create awareness and it is a video, it is the best way to connect to people.
Here are a few tips for creating solid trailer-
Bear in mind that you are telling a story. It has to have a beginning (intro), middle (highlights), and an end.
1. Build excitement
Your game's purpose is to grab attention. Think about ideas to draw the audience's attention and make sure it lasts till the end. Keep the trailer short and a 90 second is ideal timing.
2. Focus on the highlights of the game
Here comes the middle section of the trailer. Show features that set your game apart from the competitors. Do not make it boring otherwise, the audience will leave the trailer midway.
Ideally, choose the best part of the game in here, build a good narrative. Just like a roller coaster, make people want more.
3. Music and sound effects
A soundtrack that is inspiring and has peppy music and moves along the visuals is the best for the video. The music should also build an element of excitement.
4. Include advertisements
Make it a point to reach out to critics, bloggers, and developers in the business, and ask them to write a recommendation for your game. That will represent you as a reliable and trustworthy professional. Here, you can make extra money by advertising relevant products/services or games.
5. State call to action
The aim is to sell the game, so have a clear CTA that will inform people about your platform and website from where they can buy your game.
Conclusion
Whether you are beginning your journey as a games developer or a pro, HTML5 game source codes come in handy for all levels of proficiency. These platforms offer the best games and deploying them on your website is even easier. Do let us know your thoughts on the above-mentioned platform and any other so that we can add it out to our blog and grow a well-informed community.