Digital marketing is broad field and for search engine optimization, individual or organisation required lots of tools in terms of optimization. There are various free and paid seo tools for different purpose like link building, broken links, website authority checker, keyword analysis, ranking position and many more.
What is Domain Authority & Page Authority?
Both domain authority (DA) & page authority (PA), a Moz creation that predicts and the wellness of a page and the ranking on a search engine result page (SERP). PA and DA scores range from 1 to 100, which means the higher the score, the greater the ability to get a higher rank on SERPs.
While a page authority checker primarily works in measuring the foreseen rank strength of a particular page, Domain – Authority checker measures the strength of an entire domain or sub-domains.
They have various factors such as linking root domains, number of total links, and ranking strength, which they take into account to calculate the results.
Domain authority and the PA is dependent on information from the link explorer WI(web Index) and includes many factors as a part of the Math. The actual DA check and PA check calculates using the machine learning model to find a "best fit" algorithm.
Why Domain Authority Should be Checked
The domain authority of a website gives a detailed report of its relevance for a specific search topic, so, in order to learn about your website ranking ability, domain ability must be checked.
People often like it when their website ranks higher on the search engine result page, so, in order to make sure one gets a high rank, one should always check their domain authority.
Along with predicting the rank on SERPs, domain authority also includes other things such as the prestige of the website and its authors and the quality of the info presented.
Improve Domain Authority of Your Website
There are lots of factors available in digital marketing world to improve the DA of your website, but here we are sharing a few of them:
Boost your content marketing strategy.
Work on on-page & off-page activities.
Outreach with niche bloggers.
Build natural links for your website.
Share your content on social media platforms.
Make a mobile-friendly website.
Remove spammy & bad backlinks.
And more importantly, you should have patience.
8 Best Tools for DA PA Checker
These are some of the best tools available for domain authority checker:
1. MOZ Link Explorer – Best SEO Tool for Link Analysis

This is the best DA PA checker, the Moz Link Explorer is one of the cleanest SEO tools that helps get an analysis of website which on many levels is very comprehensive on the URLs you enter. Apart from DA & PA checker, Moz has many other features that help you in improving website performance in SERP. Add Moz bar extension in Google Chrome browser so that you can check DA-PA anytime for free. If you want to use premium features, there are 4 packages available standard, medium, large & premium.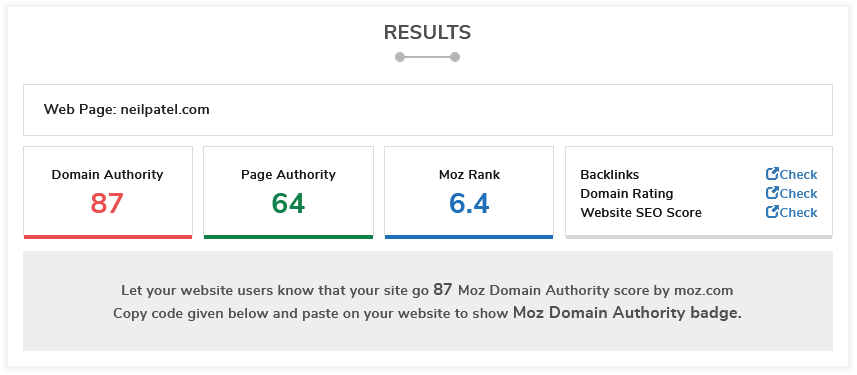 A SEO tool that is built on a platform that can be completely relied on and which is free in helping any business understand the strength of a certain URL along with the possible ranking of the URL on a search engine.
3. Prepost SEO: Bulk DA PA Checker Tool
Attributing a minimum to a maximum value the Pre post DA checker is the most popular Bulk DA checker. This free online tool allows clients to put in as many as 100 URLs at the same time to be checked. The tool not only gives you the MOZ ranking of the URL you paste. However it gives more detailed observations like PA, MOZ, DA, and the IP address.
4. The HOTH's: Domain Authority Checker
In Hoth, user can get the data of domain and page authority. DA PA checker offers help in bulk check for both DA and PA score on URLs from any website. If your lookout is for a tool to better your content on your website, HOTH is for you.
There are many reasons why as a website owner one would like to conduct Website Authority check like checking on the building links, checking on SEO strength of one's competitor, a check on links potentially directing back to their website and opportunity to link building. The SEO review Tools helps achieve all this and more with their DA and PA checks.
6. Robin Gupta's: Bulk DA PA Checker Tool

Building a website with constant traffic flow and great ranking on Search Engine results is a constant struggle that includes many aspects like SEO strengthening, Authority Link Building, DA and PA. One such SEO tool that is a one-stop shop for all these needs is the Robin Gupta's Bulk DA PA Checker.
This is another free tool that provides domain authority. You can check DA PA details of website that include organic keywords, backlinks, organic traffic, and many more. It will provide 3 website details and analysis data per day for totally free.
8. Ahref: Website Authority Checker
Ahref site authority and domain authority have their own criteria to measure website authority as Moz has. Domain Rating shows the authority of the domain from the quality and quantity of a particular site. For more details to know this DR in detail visit the official page which describes it in detail.
Conclusion
In the ever-changing and updating the world of the World Wide Web, every business is in the process of bettering themselves. This process requires websites to possess something that its competitors do not. A constant DA and PA check will ensure your website is enlisted on the top page of every Search Engine while a healthy check on backlinks that direct traffic to their website via other websites.