Smart home robots! seriously? Yes, you read it right. Think of a Robot that automatically clean your home surface without your supervision or clean. Or wake you up and greet you when you come home from office. Talk with your child and help you to remember important dates or meeting. Robots to watering plants and cutting lawn. Isn't it interesting? In this article, I will be sharing 12 such smart home robots that will definitely make your life easier than ever.
Most home owners are incorporating robots in various operations of their homes. This is mainly because these homeowners have understood the benefits that come with different types of household robots. The robots do things which would have otherwise been done manually. The majority of the robots are easy to use where they can work even without you being there. The makers of these robots have considered that most home owners are not very skilled when it comes to technology. Because of this, they have tried to make robots as simple as possible.
The homeowners who are using robots in their homes enjoy certain benefits. Since include avoiding the problems which come when one forgets to do certain things such as switching off the lights or switching off the gardening water amongst others. These robots help such people through switching off and on certain operations in homes. Furthermore, the robots play an important role in saving time and you can do other important things. Here are the top 13 smart home robots that will definitely leave you spellbound.
#1 BObsweep bObi Classic™ Robotic Vacuum Cleaner and Mop
When it comes to smart home robots, bObi classic robotic vacuum cleaner is leading player with its stunning technology and features.
BObsweep is one of the leading brand providing home cleaning robots in all different categories. bObi classic is the perfect vacuum cleaner for the small houses available in two different colors at just $749.99. The manufacturer is offering 1 year warranty on non consumable parts and labor. 2 years of battery warranty and 5 years of subsidized repair plan. This robot of just 2.9KG of weight can run for 75 minutes when charged fully.
Lets have a look at this official video:
Equipped with amazing smart functionality, you can manage this robot from ready to use mobile application provided by manufacturer.
#2 Neato Botvac
This is a modern vacuum cleaner which works without the supervision of anyone. You just have to set the robot and it will do the cleaning on its own. Amongst the most outstanding features of this home robot vacuum cleaner, is that when its battery is low it returns itself to its charging station. This will save your lot of time while cleaning the surface and this robot can do this job.
Naeto Botvac offers different type of vacuum cleaner robots which starts from $399 to $829 of their latest Naeto D7 model.
#3 Grillbot
Grillboat is on 3rd position in our list of home robot by considering it household application. This is a modern robot that will clean your grills after a barbecues. This particular robot is very useful because many people tend to forget cleaning their grills after the barbecue. You just need to put the robot on the grill and within ten to thirty minutes it will have cleaned the entire grill.
#4 Soloshot2
You can use this particular robot to film yourself even while you are moving. This is facilitated by the fact that the robot comes with a separate sensor. You just need to attach the sensor on what you want to film and the robot will focus the camera towards the sensor.
#5 Jibo Robot
Jibo is claimed to be world's first social robot that will react with surprising move that will make this robot different from other ordinary robots. Jibo robot can learn quickly from recognizing faces and voice from family members. Listening jokes and stories and many more thing. If you want to buy Jibo, you will have to wait for now. Just join their waitlist by visiting their official website and you will be informed about launch.
#6 Litter-Robot
Litter robot is smart enough to sense and change cat litter. The robot has a sensor which knows when your cat has visited. After sensing the robot rotates until it locates the clumps which it then deposits into the waste tray. This robot is helpful especially for people who are busy and might not be able to give their cats full attention.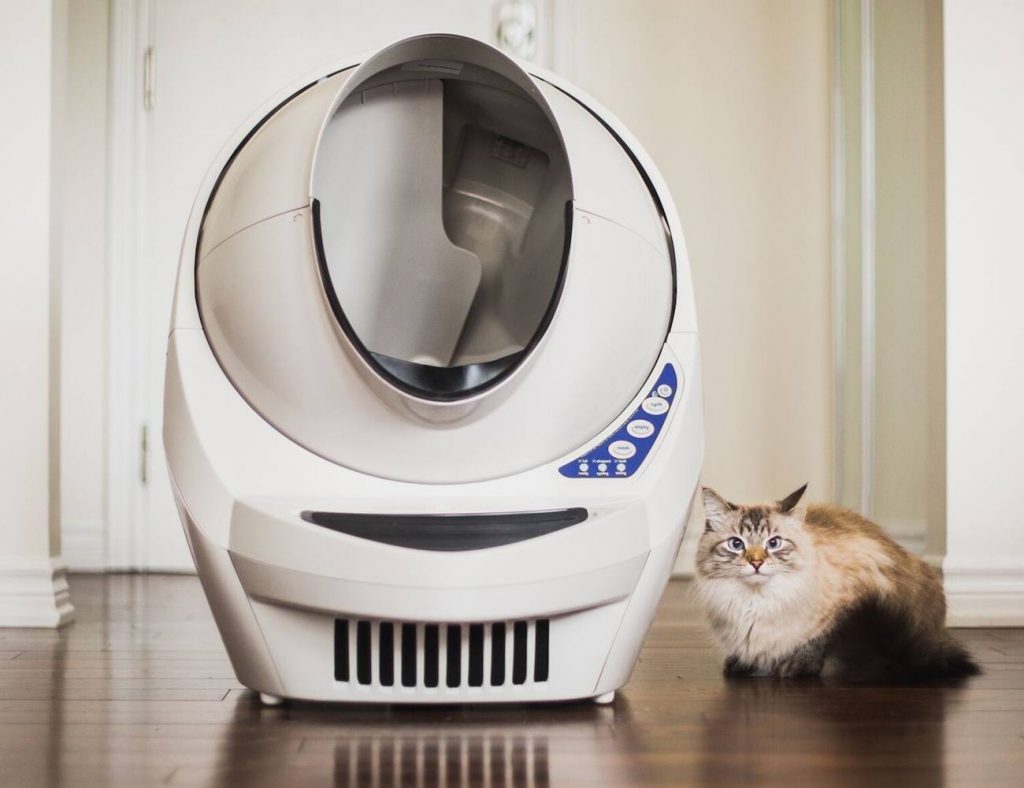 This self cleaning litter box is highest rated automatic litter robot leaves a clean bed of litter for you cat every time.
#7 RockaRoo
The importance of RockaRoo home robot is; that helps you put your baby to sleep in a convenient way. It tracks the weight and seat position of the baby a hundred times per second. It then replicates the rocking motion with the seat that pivots the seat, therefore, putting the baby to sleep.
#8 Scooba 450
Scooba 450 home robot will help you to scrub your floor conveniently. It usually soaks the floor, spread cleaner and then scrubs the floor. After this, it vacuums the dirty water and then passes do a final pass with a squeegee. You just need to start it and rest enjoy this Scooba 450 in action.
#9 Robomow RS
The use of this robot is to help your lawn your yard in a simple manner. After you set the robot it starts going back and forth depending on the number of times you have set. To ensure the robot stays on the right path you have to use boundaries wires.
#10 Kibo
This is another modern robot which helps children learn faster. The robot uses wooden blocks which form different commands. Through using this particular robot children are able to learn to obey different commands and they also enjoy things such as role-playing and storytelling.
#11. Robotics Mini
The importance of this robot is that it responds to gesture, voice command and touch. You just need to tell what you want the robot to do and it will obey promptly. First, you have to assemble it and it will assist you in different chores such as picking things which you have dropped and reaching to things which are further.
#12 Droplet
This is a watering robot which turns on the water after a set interval. You do not have to hire a gardener since the robot can be set to turn on after sometimes and then turn off when the plants have had enough water.
Over to you:
Market of smart home robots is still in development phase by considering the challenges associated with it. Here I strongly recommend reviewing the product feedback from existing users before you make a purchase. It may happen that the robot is still under improvement and you can get better functionalities by waiting for couple of months.
If you are already using any smart home device and want to share your experience with our readers, feel free to write here in comment and we would love to review it in this article.