Are you a blogger, vlogger, or publishing podcast? Looking to transcribe audio to the text of your video/podcast to improve the accessibility of your information? This article is for you. Over the years, the need for manual typing has declined. Audio transcription services have quickly gained popularity over the past few years.
Transcribing audio dictation to text has become extremely easy thanks to the various software and applications available in the market. Many fields and services such as law, medicine, podcasts, teaching, and legal rely on audio-to-text transcription software.
Over the decades, technology has advanced in many ways. There are applications and software for pretty much everything these days. Even voice chat in games and social media is catching up speed.
With recent innovation and advancement, audio transcription services have also improved. These services offer various features that allow you to effortlessly transcribe audio dictation files to text.
Advantages of Transcription Tools
Here are some of the key advantages of having a text version of your audio
Improve Accessibility
As there are many people around the world suffering from hearing disabilities and the text version of your audio will help them to access the information easily. They can read the text and can learn from them without worrying about their hearing disabilities.
Easy for Crawler
Search engine crawler can not crawl the audio content for rankings and hence, converting audio to text will help the crawler to understand the context of the post. It will also help you in achieving a better search engine ranking for relevant keywords.
The market today houses numerous audio-to-text software such as offline software, online automated services, online manual services, DIY (do it yourself) tools, freelancer services, and more. The common goal of this software is to accurately transcribe audio to text in the least amount of time.
With so many options available, it is easy to become confused. Here is a list of the top five audio transcription software on the market. Before you get started – You will need headphones to use such audio transcription tools. Here are the best-selling wireless headphones that you can buy online. 
Top 9 Best Audio Transcription Tools
We have tried to compile the list by reviewing the various features they offers. You can make your own research and can accordingly signup for this speech-to-text converter tool. Here we go!
1. Trint – Best AI-Powered Transcription Software
Trint uses AI (artificial intelligence) to convert speech and audio to text. The recorded files are uploaded to its online software and then transcribed using speech recognition softwares automatically. It provides machine-driven service to transcribe the video and audio into text with good accuracy. It offers its users the option to drop video and audio files into its web-based application for them to be transcribed. Trint supports many different languages and its AI-driven technology enables it to transcribe quickly.
Pricing
More Info
2. Otter – Voice Meeting Notes & Real-time Transcription
Otter is a transcription software designed for students, journalists, business people to get a note from calls, video conferences, lectures, interviews. It permits you to record an audio or voice, transcribe them, share and review audio conversion on your mobile devices or browser and organize them from multiple devices. This AI-based transcription app records the audio and transcribes conversations in real time. It records audio live and converts it into a text file. It may be useful for meetings and company conferences.
Pricing
More Info
3. Sonix – Best Automated Transcription Software
Sonix is a web-based audio and video transcription solution that allows businesses to transcribe, organize, and find audio and video files. This AI-based application converts the audio file into a text file very quickly. It uses artificial intelligence technology and has an editor that permits its user to take a transcript note while listening to an audio. It also provides rich editing tools to easily edit and export your transcripts.
Pricing
More Info
4. TranscribeMe – Best Tool for Accurate Transcription Service
TranscribeMe is one of the perfect transcription tools to balance the speed of transcription. It has competitive pricing and a low error rate. TranscribeMe is perfect for those who are looking for a better option for transcription service without sacrificing quality.
Pricing
More Info
5. Dragon Naturally Speaking – World's Best Selling Speech Recognition Software
This offline speech recognition software is versatile and very fast. It is ideal for people who are not quick typists. For Dragon Naturally Speaking, you will need a compatible audio recorder. Once the audio is recorded, the software flawlessly transcribes it onto its DragonPad.
The only drawback with Dragon Naturally Speaking is that it does not add punctuation to your text. You will have to add them manually once the audio has been transcribed. Dragon Naturally Speaking works best with one person speaking at a time.
Pricing
Pricing for Dragon NaturallySpeaking has separated in the structure of Dragon Home, Dragon Professional & Dragon Legal from 200$ to 500$.
More Info
6. Scribie – One of the Most Advanced Audio/Video Transcription Software
One of the best transcription software on the market is Scribie. This online audio transcription tool comes with a unique combined audio and text interface and an integrated editor. Scribie also allows you to use keyboard shortcuts, making it one of the most time-saving transcription tools available.
Other features include auto-capitalization, autosave, and auto-correct. Scribie is the software for you if you are looking for quick and efficient transcription
Pricing
Price structure for Scribie transcription service is as per below.
More Info
7. Express Scribe – Free Transcription Software for Typists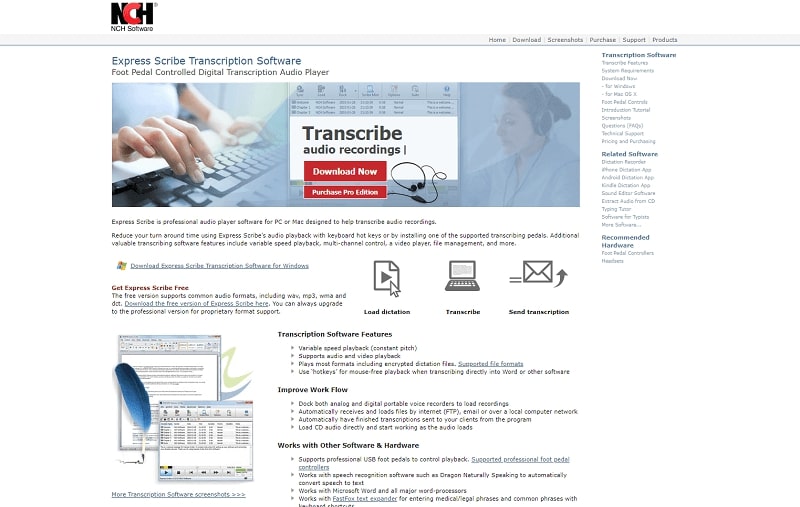 Become a professional typist with Express Scribe, offline audio to text transcription software. Express Scribe is compatible with almost every all and video format and even allows you to control playback.
This software even works with encrypted files, so it is ideal for people who use uncommon audio formats.
Pricing
Express Scribe is available in free and pro versions, with the pro version supporting a wider range of audio formats compared to the free version.
Starting price for paid version of Express scribe is $39.95 for one time
More Info
8. Temi – World's First Personal Robotic Assistant
Temi is one of the fastest audio-to-text transcription software on the market. Once you record or upload an audio file, Temi takes only seconds to analyze it. After the analysis, the software then moves to understand the speech. Once that is done, the transcription is initiated.
The finished file then is emailed to you. All of this occurs in a matter of minutes depending on the length of the audio file. Another advantage of using Temi is that it has the lowest price on the market regarding per-minute costs. If pricing and speed are your areas of concern, choose Temi.
Pricing
Temi transcription service is free for first 45 minutes and will cost 0.25$ per audio minute. For example, 5 minutes x 0.25$ = 1.25$
More Info
9. Rev – One of the Powerful Transcription Apps
Among the numerous transcription services to choose from, Rev offers the best value in terms of price and turnaround time. Rev is an online manual audio to text transcription software. Even though this is a manually operated tool, Rev is a leader among audio transcription software.
The turnaround time is impressive with a guarantee of a 12-hour turnaround time for audio files that are less than 30 minutes long. It also comes with a functional edit and review feature in case you need to change something.
Pricing
Rev pricing structure is bifurcated as per below image compared to other transcribing software
More Info
Free Audio to Text Converter
We are receiving various emails asking for FREE tools who convert audio to text without any additional charges. We have also tried to find such tools but sadly, almost all tools offers some basic convertor or some string attached trial version. As of now, we did not find any FREE tool comes with no restriction but will surely share them incase if we find any.
Audio Transcription is the Future of Text Media
Online transcription services have seen an increasing rise in demand thanks to their quick turnaround time and accuracy. If you are considering installing an audio-to-text transcription tool, keep the above names in mind. You can also find various physical tools like push pedals and headphones on the market that are compatible with this software.
A push pedal allows you to play, pause, rewind, and fast forward an audio file using a pedal that you control with your foot. These tools have been designed to make transcription much faster and easier.
The best transcription software on today's market have been named in this article. Download the software that you find most suitable for your needs.