Do you love PC games? Is it tiring and exhausting for you to shell out money on expensive games? Well, now you don't have to! Because this article is just about the best of FREE PC games that you can play day and night.
Today, many websites are offering free games to play but it can be daunting to narrow down to a few and ones that are worth downloading. But we have taken this task in our hands to make you a list of exciting free PC games.
These games you can play without giving it a second thought. So gear up and let's dive straight into the list.
Best free PC games
Below are some best free PC games you can prefer to play in 2020.Each of these provide a unique gaming experience to young gamers.
1. Blade and Soul
Exclusive and powerful characters battling with real-time martial arts, set in a gripping fantasy background Blade and Soul offer players with the best of everything. It is wuxia-based (concerning Chinese fictional genre depicting martial arts) massively multiplayer online video game (MMOG) that lets you choose from four different races and seven martial arts inspired classes. The game offers wide customization so that your character stands out, from headgear to costumes, the selection is mind-blowing.
Blade-and-Soul is narrative-driven gameplay so the player is engrossed from the very start. You can battle with players in 1v1 or pit your team against the other. Those who have mastered the martial art classes will walk off triumphant.
Requite the Hongmoon School by unleashing and activating combos to destroy your nemesis with precision hits and blows.
2. Fortnite
Fortnite is one of the most popular free PC games. In 2018, it became one of the biggest royal battle games. It falls into a genre, that tests the survival skills of the player. It further blends exploration and foraging components. By the end of the year 2018, more than 200 million game fanatics were playing Fortnite. And the number has been constantly on the rise.
Fortnite is a multiplayer game, so along with gunplay, you can collect materials to construct the building to fight the enemies. It pits 100 players at once at one another in an ever-shrinking map. You can join squads and the last standing individual or group is the winner.
Although there is a paid version, the best part is that you can play a free version endlessly.
3. Hearthstone
Hearthstone: Heroes of Warcraft, popularly know as Hearthstone is CCG. It's a multiplayer online collectible card game based on the Warcraft franchise. It appeals to both kids and adults alike, although the game is simple as you get to higher levels the game gets challenging to master.
The game offers 9 playable characters each having their own card sets. The player has to mix and match the card (500+)and discover a deck that fits him/her.
It is an exceptional, dangerously addictive digital card game and the more importantly its FREE.
4. League of Legends
League of Legends is a combative, fast-paced action-strategy game designed for those who crave the taste of victory. In the year 2020, the number of active user base comprises of more than 80 million, and over 30 million players play the game every day.
The game has periodic updates to keep the players absorbed in the game, and there are over 120+ playable characters. There are ladder divisions, and these are Bronze, Silver, Gold, Platinum, Diamond, Master, and Challenger. Player has to make his/her way up the ladder by mastering the skills.
The game offers MOBA expertise with appealing graphics and upbeat music. Furthermore, two teams each having 5 players, battle with each other, strike, and win by destroying their opponent's nexus (main structure). An individual game can last from 35 minutes to over an hour.
5. War Thunder
From the world of Gaijin Entertainment, here is a game set in the backdrop of World War II. In thisgame players participate in extensive battles in the air and on the ground. War thunder offers realistic simulation-style gameplay to support different playstyles.
The most amazing thing about the armored vehicles is that they are designed accurately keeping in mind the original vehicles used in World War II. So, it is a dream come true for history enthusiasts. It allows you to choose your country and fight battles and fly planes in the most realistic backdrops.
Although the game is free to play, there are options to buy premium vehicles. The game has to its name, millions of positive reviews and that makes it worth trying.
6. Dauntless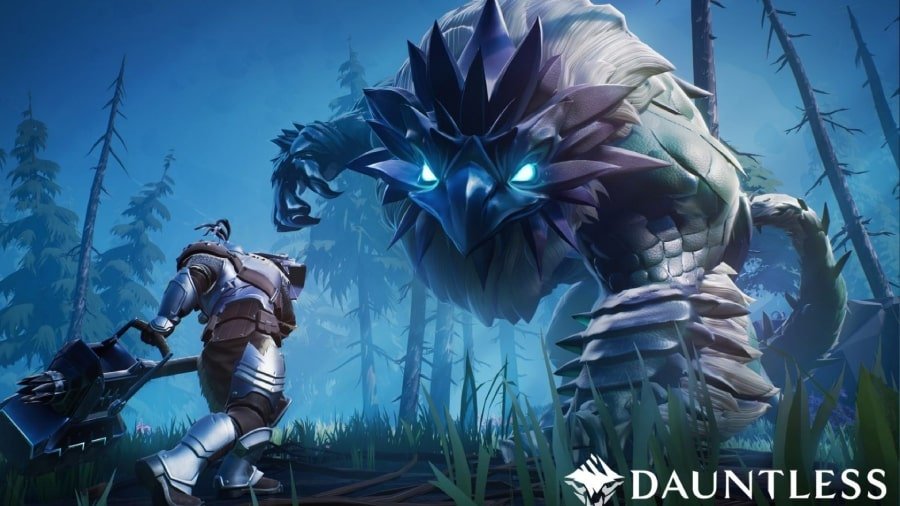 Monster Hunter has set the bar really high when it comes to slaying giant monsters in a fantasy world. However, the only downfall is that it comes at a full price. Those who want to experience a similar vibrant world and have adrenaline rushing by slaying monsters, Dauntless is the right choice for you. The multiplayer game is available for free and is developed by Phoenix Labs.
Dauntless tasks the slayers (players) with killing huge deadly monsters, called Behemoths. Every giant slain equips you with better weapons armors to combat with the mighty monsters in levels ahead. It focuses the players to clear the hunts instantly.
The game begins by dropping slayers onto 3 different environments, i.e, ice, desert, or forest, where they hunt and slaughter the monsters. The combat gives a more arcade-like feel and will remind you of hack and slash games. Dauntless offers a lot of action for zero bucks and the best bit is that with constant upgrades new and improved monsters, hunts, and loots are introduced.
7. DOTA 2
With a stunning background number and a huge assemblage of warriors, DOTA 2 (Defense of the Ancients) is a competing, set in a fantasy world, MOBA by Valve.
Some of the game highlights are that from the very beginning you have access to all the heroes. You don't have to spend a single penny in unlocking them. It offers a wide variety of customization of artilleries, weapons, and headgears. The gameplay relies on the players' skill levels and it is set in the extensive sports scene.
It attracts a wide set of gamers and is one of the most widely-played multiplayer online battle arena game.
8. Smite
Smite is yet another MOBA genre video game developed and published by Hi-Rez Studios. It brought a new perspective to the existing RTS-inspired point-and-click model. As a player you have the full control of the characters via your keyboard, i.e, WASD and it also shows you the gameplay through a third-person camera perspective.
The game packs action, wherein the players manually charge their assaults and skill while bombarding incoming attacks. The characters (Gods) in the game are intricately designed and are inspired by various mythologies around the world. For instance, Greek, Egyptian, Hindu, Mayan, Norse, and Roman.
In the 5v5 (3v3 and 1v1 mode available), each team starts off with 500 points and the ultimate goal is to bring down the score to zero and to tear down a Titan, i.e, the opposite team's chief building. We highly recommend playing this game since it has many positive reviews to its name.
9. Path of Exile
If you are a Diablo 2 fanatic, then you will have a great time playing the Path of Exile. It is a 3D role-playing game (RPG), action-based where each character has a unique progress level along with Byzantine systems of currency. For those who enjoy complex gameplay, POE is just PERFECT.
The game is set in a dark fantasy world and the players need to understand and put their minds to work out the complexities of the game. The Path of exiles offers a quite lot of content, meaning there are 3 extensive campaigns with three different difficulty modes.
Choose from a variety of characters and customize them according to your playstyle through comprehensive skill webs and item socketing system. You get to experience PvE (player versus everything) and PvP, the best of both worlds, depending on your choice. 2020 is an excellent year to get into the Path of Exile since the developers will modify the skill gem system and the passive skill tree.
10. Magic – The Gathering Arena
Another very popular battle card game similar to Hearthstone is Magic- The Gathering Area, or simply called MTG Arena. The players play land cards to build mana, personal decks, and open packs to find new and limited booster cards.
The gameplay is simple- it involves two-player card games where the goal is to summon creatures and beguile from a customizable deck of cards to bring the rival's life pool down to zero. The game focuses more on deckbuilding through intense interactivity than by the random possibility.
MTG Area is doing a brilliant job of maintaining the levels' complexity and has some amazing board animations and sensory delights, indispensable to contemporary CCGs (Collectible Card Game).
Conclusion
The list gives you plenty of quality and free PC games to choose from, be it fighting giant monsters in the fantasy world or waging the wars in history, there is a genre for everyone. These games are easy to download and easier to get hold of. Let us know your feedback regarding any of the above games mentioned in the list that you have played or are currently playing. The above games have hundreds of tutorials on YouTube to help you out in case you are not able to proceed at any stage.
If you are a gamer on a budget or simply don't like spending money on games and yet want to play the ones that offer great visuals, characters, and customization, the above list will not disappoint you at all. It will keep you engaged for hours, so clear your schedule, and put your game face on.
If you have Free PC games suggestions that could make to this list, please feel free to share with us.