The trend of wearable technology is rising and smart watches are the most popular wearable companions for your smartphone. Smart watches are not only used to tell the time, but also to run native apps, searching the internet, tracking your exercise routine over GPS and many more functions.

With the plethora of smart watches already available in the market, it's very hard to keep track of which smart watches are the best. It becomes more difficult to choose, as plenty of new models are being launched rapidly by the giants like Apple, Pebble, Motorola, Samsung, Huawei and Sony. As most of the watches have quite similar hardware & software, so the design and price remain the biggest factors to choose. In order to help you make the most informed decision while buying a smart watch, we've reviewed many smart watches and tried to prepare a best smart watch guide for you.
While Apple Watch requires iOS to operate, others will work smoothly with both iOS and Android because of cross-device compatibility through a special app.
#1. Apple Watch:
A smart watch built by Apple, is one of the best smart watches in the market. Apple Watch started a trend of wearing smart watches. This watch is also the perfect companion for your iPhone device.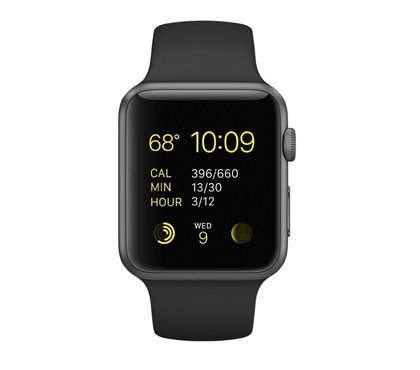 Design:
It's very beautiful & comfortable to wear. It comes with a variety of straps and you can choose one to suit your style like nylon, buckle band, sport and many more. It comes in two sizes and with many interchangeable bands, suitable for both male and female wrists. So you have so many varieties to choose bands as well based on what suits you better.
Specification:
This watch is built with fun messaging features like sending taps directly to another Apple Watch, fitness tracking, a variety of apps, numerous accessories, powerful notification system thus making it a trend-setter in the smart watch market. You can use Apple watch for mobile payments using a NFC chip. You can measure your heart rate with a Watch's underside sensor.
Compatibility:
It comes with Apple Watch OS 1.0 which is faster and comes with watch faces to give you more personal feel. The touch screen is easily viewable with vibrant colors, even in direct sunlight. With a very soft taptic engine, it sends subtle vibrations to your wrist whenever you receive some text message, email, a call or other notification. However, it requires a learning curve and steady movement of your fingers, while navigating the Apple Watch's on-screen interface. Apple watch is water resistant but leather bands of watches are not water resistant. 8GB data storage space is available to use on this apple watch.
Price:
It costs around $377.95 and you can buy it from here Amazon.
#2. Samsung Gear S2:
Another popular contestant among smart watches is Samsung Gear S2. There are many options to choose from a sporty Gear S2 to a Gear S2 Classic in rose gold or platinum.
Design:
The Samsung Gear S2 comes with a durable stainless steel and classic style. It has 20mm genuine leather band with various colors.
Specification:
You can navigate the user interface using a rotating bezel. This watch access some important notifications like texts, emails, alarm and also update at a glance. This watch is monitoring your daily activities level. It also measures your pulse and counts your steps. The battery life of this smart is also quite good. It still offers good specifications. Samsung Gear S2 is also considered as one of the promising fitness tracker too for your better health.
Compatibility:
Earlier Samsung announced that Tizen OS will be used in their upcoming smart watches and same they did with this smart watch. This smart watch is well crafted and features a gorgeous Super AMOLED display with 1.2 inch screen. The display is incredibly sharp & vibrant. Home and back buttons are available on this watch.
Price:
It costs around $309.00 and you can buy it from here Amazon.
#3. Motorola Moto 360 Smart Watch:
Moto 360 is an excellent combination of customizable body and design. There is a dedicated collection for ladies.
Design:
This smart watch comes with an edge-to-edge glass and a thin bezel of the wristwatch offer a large viewing area. Moto 360 is a tailor-made smart watch which also comes with a sport variant, featuring a tougher body and a bright display.
Specifications:
The Motorola Moto 360 (2nd Gen.) has a bigger battery life and this watch comes in two different sizes to fit more users' wrists. It is easy to swap out watch bands making it one of the most comfortable wearable's around. You can even customize it with Moto Maker to fit your style, coloring its stainless-steel body and pair it with leather bands or metal straps.
Compatibility:
This watch will work with iPhones and Android smartphone wear app for relative OS. There is a unique live dials feature to add functions like music identification or car diagnostics to the watch screen. The Moto 360 (2nd gen.) is water and dust resistant smart watch. You can also get useful information such as message, news, weather and other notification on this device.
Price:
It costs around $299.99 and you can buy it from here Amazon.
#4. Sony Smart Watch 3:
This is one of the best smart watches in the market launched by Sony.
Design:
Sony Smartwatch 3 comes with stainless steel chain link and it looks stunning. The wrist straps of the device are exchangeable and available in multiple colors.
Specification:
It gives excellent performance with a bright screen and solid 2 days battery life. The battery is more than commendable at 420mAh. The Steel edition adds a classic touch to the smart watch. Its biggest strength is built-in GPS, but you still need a smartphone for driving directions. The GPS and fitness tracking features make it perfect for sports gear. You can also use voice command to control it. It comes with Bluetooth 4.0 and Wi-fi technologies. It also comes with a standard USB charging port.
Compatibility:
The latest Android wear update provides the pairing with wireless headphones for the beats on the go. You will automatically sync your favourite apps, social media news and music data with this smart watch.
Price:
It costs around $279.90 and you can buy it from here Amazon.
#5. Huawei Smart Watch:
The watch has AMOLED display which is quite sharp. The circular body is just about compact enough to suit male and female wrists. It comes in basic leather strapped model and rose gold model.
Design:
It is one of the hottest smart watches with a stainless steel body and display covered by sapphire glass. There are plenty of bands & color options to choose from. The watch straps are easily replaceable and the battery life is long.
Specification:
The battery is more than commendable at 300mAh and offering at least 1.5 days of normal usage on a single charge. The watch comes with Bluetooth 4.1 and WiFi technologies. You can get alerts for texts, calls and other important notification on your device.
Compatibility:
This smart watch works with an iOS 8.2 and Android 4.3 or higher OS versions.
Price:
It costs around $249.99 and you can buy it from here Amazon.
#6. Pebble Time Steel Wrist Watch:
Pebble Time Steel is still one of the best looking smart watch in this price category regardless of its steel body.
Design:
It comes with a sleek and stainless steel body. This smart watch has 10.5mm thin design with curved and ergonomic profile. The E Ink display is one of the easiest to read in sunlight.
Specifications:
The battery life is very good which can last up to 10 days on a single charge while delivering your smart-watch's notifications to your wrist. It lets you scroll through events in the past, present and future thus making it a nice companion for busy people who work with the calendar.
Compatibility:
This smart watch is a compatible with iPhone 4S and also running on iOS 8+ operation system. It also works with all android devices having 4.3 (Jelly Bean) and above OS. The wrist watch is water resistant up to 30 meters.
Price:
It costs around $199.99 and you can buy it from here Amazon.
#7 ASUS ZenWatch 2:
It is the best budget smart watch option in the entry-level pricing market.
Design:
This Asus Zen Smart watch 2 comes with high quality stainless steel case. This wrist watch is very comfortable to wear. It comes with many interchangeable bands.
Specifications:
Unlike most current smart watches, the ZenWatch 2 has a square AMOLED display that helps to save precious battery life, a powerful processor, enough storage for applications and music, as well as a powerful battery. You can even choose between two sizes from 1.63-inch model and a 1.45-inch model for smaller wrists. Though this smart watch lacks its competitors' built-in sensors, but with a small price tag, this is worth to consider.
Compatibility:
This wrist watch works with android 4.3 and iOS 8.2 OS respectively.
Price:
It costs around $171.01 and you can buy it from here Amazon.
Conclusion:
If you like a functional, stylish or sporty wearable devices, this guide will help you to make a better decision. Did we miss something? If you have any other smart watch to add to this list, please write your reviews and help other readers with your valuable comments below.