Accessories
10 Christmas Gifts Ideas Under $100 for Your Friends Obsessed with Gadgets and Accessories
Once again Christmas is approaching! This is indeed one of the most wonderful times of the year and Some even consider this to be the most stressful time! Giving and receiving a gift the eve of Christmas is traditional and makes our relationship stronger also shows true affection towards the person.You have different people in your life and their interest also varies and You must purchase something that will be loved by the person. You will never like to compromise on selecting a gift with a budget for gift purchasing.If you are searching best gift ideas for techie person and computer geeks on this Christmas.So, this article will be definitely helpful for you! Here, we bring the list of top 10 gifts under your affordable budget for techies and gadget lover! These gifts come with an affordable budget and will be loved by any geeks and techie!
#1 Anker SoundCore Sport XL Bluetooth Speaker – Best gift for music lover
If your friend is a music lover, Anker SoundCore Sport XL Bluetooth Speaker would be a good selection. This Bluetooth speaker is portable and can be carried anywhere. This Para Bluetooth speaker has a variety of durable features like Waterproof, Dustproof and Shockproof for which your friend can carry this speaker to picnics or excursion.This Bluetooth has 15H long playtime and 66ft Bluetooth Range.This Para Anker SoundCore Sport Bluetooth is designed this speaker which will help your friend to play music absolutely anywhere with this unique features. The powerful sound quality will feel the peaceful environment with music! This Bluetooth speaker's price range is $69.99 on Amazon.
#2 iBFree Bluetooth In-Ear Headphones with Microphone and Remote

iBFree Bluetooth In-Ear Headphones with Microphone and Remote is another amazing techie product for music lovers. If you fear, your friend might leave the Bluetooth speaker behind, this headphone will be suitable! This will stay in his ears and can also easily fit into pockets. Sound quality of this product is excellent and additionally, it has Microphone that allows you to attend the calls.You also get a remote from this device. The sound quality of this headphone will not hit the sound quality of over-ear headphone but it is better than any average earphone. This iBFree Bluetooth In-Ear headphone is available in four different colors(Blue, Green, Red, Space Gray). Your friend will definitely love it and enjoy the music with great sound quality.Price of this iBFree Bluetooth headphone is $59.99.
More Info
#3 Audio-Technica AT-LP60 Turntable with Knox Carbon Fiber Vinyl Brush and Cleaning Kit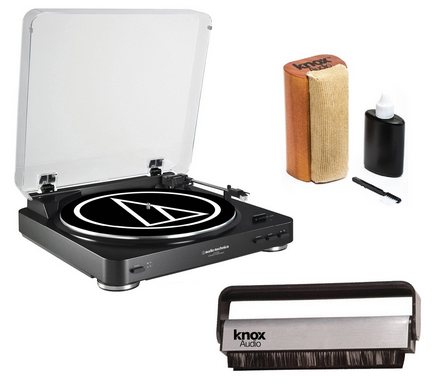 Do any of your friends have a keen interest in playing records? You can gift an Audio-Technica AT-LP60 turntable for this is a smart choice for Christmas! Audio-Technica AT-LP60 Turntable will play records of 33rpm and 45rpm. This Turntable uses a cartridge and needle, which can be easily replaceable also Speakers and stereo receivers are easily connected to this Turntable. The package of Audio-Technica AT-LP60 Turntable comes with Knox Carbon Fiber Vinyl Brush and Cleaning Kit. The cleaning kit helps to maintain excellent sound after playing the records for multiple times.You can buy this product for $98.
More Info
#4 Amazon Fire TV – Best Gift for Those Who Love Watching Movies and TV Series
If your friend is using a streaming box for watching a movie and playing games then you can gift Amazon Fire TV. Your friend will definitely get amazed at this gift! Amazon Fire TV offers 7000 Apps which include several leading video streaming channels like Netflix and Hulu.Amazon Fire TV supports Dolby Atmos audio and 4K resolution which will offer excellent viewing experience additionally it gives the 8gb Storage which will help you to store videos.The package of Amazon FireTV includes an Alexa Remote with which your friend can easily change the channels or Apps by giving voice command so your friend has no need to pressing the button to navigate different channels. Price of this smart tech product is $69.99.
More Info
#5 TP-Link Multicolor Smart LED Bulb BR30 – Smart home lighting system

If your friend is planning a smart home so this TP-Link Multicolor LED Smart Bulb BR30 is a good choice!This TP-Link Multicolor LED bulb is a standalone product and doesn't require any hub.Your friend has to just download TP-Link's App and install the bulb like any normal light bulb. This is a smart home lighting system for which your friend can set the ambiance of the room as per mood! The bulb can be turned on/off and controlled by the App. This Smart bulb comes within a price range of $49.99.
More Info
#6 CanaKit Raspberry Pi 3 Complete Starter Kit
If your friend is really fond of tech products with DIY skills, gift him/her a CanaKit Raspberry Pi 3 Complete Starter Kit. Canakit Raspberry Pi3 is a mini computer and Portable in size so your friend can be carried anywhere in a pocket.This Raspberry Pi3 kit can be used for creating a home server as well as several other projects. Raspberry Pi 3 projects for a beginner if your friend is beginner then they will love it for its excellent power to explore the engraved tech ability. You can get this product at $69.99 and this can be a perfect gift for your techie friend!
More Info
#7 Logitech M557 Bluetooth Mouse
Does your friend get irritated for his/her cluttered desk? You can gift him/her a Logitech M557 Bluetooth Wireless Mouse that comes with a price range of $22.99. This Bluetooth mouse will eliminate a wire from the desk and Connectivity of this wireless product is excellent and will free one of your USB ports.
More Info
#8 Amazon Kindle E-Reader – Best gift under $50

Amazon Kindle E-Reader is a perfect gift for people who are fond of reading books and novels! Carrying this smart tech product the person will be able to carry more than thousands of books rather than Carrying lumps of books on a trip could be difficult! Size of the Kindle is same as a book and that will not hamper the feel of reading a book and novels.Even this doesn't even hamper the reading experience as happens with a tablet or Smartphone.Amazon Kindle E-reader have E-link screen that makes it easier to read the texts at night without any pressure on eyes.Its battery lasts for longer time and the person can use it for a week-long without charging. You can purchase it at $39.99.
More Info
#9 Fitbit One – Best fitness tracker of 2017

Do you have a friend who is quite health-conscious and Fitness enthusiast then Gift them Fitbit One! This smart product is clipped into clothes and your friend can keep a track record of steps walked, calories burned, sleep and active minutes. This track record will automatically sync to the Smartphone and the overall fitness can be measured.This also has an inbuilt light alarm which will wake up your friend without disturbing others. This is best fitness tracker of 2017 and you can purchase this product at $232.32.
More Info
#10 Anker 40W/8A 5-Port USB Charger PowerPort 5 -Best gift under $50
There are many gadgets are available in the market which can be charged only on USB! If your friend or known person uses such products then gift an Anker 40W/8A 5-Port USB Charger PowerPort. This USB portable charger has multi-port USB charger with whom you can charge everything. This device has 2.4 amps port which will help to charge their devices faster than some adapters.Your friend can use this product for his/her holiday trip and vacation.This device comes within a range of $23.99.
More Info
There are much more tech products that come within the price range of $200 and can be handy to purchase! But the list of top 10 tech products defined above is quite handy and useful in day-to-day life. Whomever you gift any of these products will love it and Make his/her Christmas a memorable one with the best collection of tech gifts!