Have you ever heard of NFT marketplace websites?
NFT, referred to as the non-fungible token is a kind of digital asset that includes internet collectibles like music, art, and games. These tokens can neither be interchanged nor replaced. The real-world items are entitled to an authentic certificate created by blockchain technology that underlies cryptocurrency. With this technology, users won't be able to create a copy of a piece of content.
Various NFT crypto marketplaces have sprung up in the past few years to buy and sell. This technology of providing ownership for content has gained popularity in late 2017 when NFT sales started to boom. It went from a weekly sale of 100 to averaging around 15,000 to 50,000 per week. The second spike was posted two years ago in 2019-20 when sales went up to 30,000 to 80,000 per week.
Read here to learn about 18 different NFT marketplaces and how you can buy and sell NFT?
18 Best NFT Marketplaces to Buy & Sell Non-Fungible Tokens
1. OpenSea
It is one of the largest and peers NFT marketplaces. With a total trading volume of $6.5 billion, the OpenSea marketplace offers games, collectibles, music, GIFs, art, domain names, trade cards, etc. OpenSea marketplace is the largest and first marketplace for user-owned digital products. Its website witnesses 113,000 users, $354 million in trade volume, and 15.5 million NFTs. Some of its exclusive digital assets include Axies, CryptoKitties, Decentraland, ENS names, and more to get, sell, and find out.
2. KnownOrigin
At this online marketplace, you can find and purchase rare digital artwork. Every piece of digital art on KnownOrigin is authentic and totally distinctive. Creators can display, sell or promote their work on true collectors where the Ethereum blockchain protects it. All you need to do is just submit an application and become a creator or artist.
3. Enjin
Enjim marketplace is one of the well known marketplace where people can buy & sell their NFTs. It has 10 Million plus coin that supports the digital assets and 3.2 Million digital items traded with this marketplace. It also supports the decentralize metaverse in form of AR and VR.
4. Rarible
Rarible purchases and sells NFTs during sort of areas that include art, photography, gaming, music, domains, memes. This is a community-owned marketplace holding the ERC-20 RARI token. Using the RARI governance token the foremost active buyers and sellers can vote for platform updates and participate in decisions. The special focus of this site lies in art assets. The designers are allowed to present a preview look of their products.
5. SuperRare
Unique, One-of-a-kind, limited-edition digital artworks are bought and sold here. Each piece of art is created by a network artist. It is then tokenized as a crypto-collectible digital commodity that anyone can own and trade. SuperRare is one of the biggest NFT marketplaces for the artist that has established a social network for its users.
6. Nifty Gateway
A historic auction that is still remembered took place when Beeple sold CROSSROAD for $6.6 million at Nifty Gateway. And now this platform has the highest sales volume. Nifty Gateway makes use of "open editions," These are limited-edition books that are created for a short period and sold at a fixed price. No additional NFTs are issued once the window is closed. Collectors can buy NFTs with a credit card.
7. NBA Top Shot
It is known for gaining traction with the wider public. It comprises a set of digital trading cards that features NBA video highlight clips. Clips are stored securely after you purchase a pack. It's your choice you can view them or sell them on the NBA top shot marketplace. NBA top shot is very user-friendly. Creators Dapper Labs have made it easier for the mainstream user to initiate and use it.
8. Wazirx NFT
WazriX NFT marketplace is India's most trusted and well-known bitcoin and cryptocurrency trading and exchange platform. It has provided a platform for local creators to sell their artwork digitally. WazirX NFT marketplace provides all details and updates in the form of newsletters and regular blogs. By providing an Indian platform WazirX has given a reliable and trustworthy marketplace to sell and exchange the artwork.
9. Foundation
Foundation is a specialized platform that brings together digital originators, crypto natives, and collectors to advance culture. It refers to itself as the" new creative thrift." The primary immersion of foundation is on digital art. To join Foundation an artist must be invited by another artist. Each artist is only allowed to participate in one invite. Before they can rear an artist profile, it's warranted to mint an NFT or purchase artwork from the where.
10. Atomic Market
This open for all marketplaces can use the Atomic Asset standard to tokenize and make digital assets. You can also buy, trade, and auction them. AtomicMarket is an NFT where everything listed on one market is also listed on all others that make it a market with shared liquidity. You can both publish your own NFTs purchasable and browse existing listings on AtomicMarket. Genuine NFTs marked with a verification verge are easy to spot. Vicious collections have been blacklisted.
11. Async Art
Async Art has a "Programmable art" is a trademark of this blockchain-based artistic movement platform. Programmable art can be constructed, assembled, and traded. You have the option of both "Masters" and "Layers". Layers are the individual components that make up the Master image, which is a unique art piece. The artist finalizes what particular abilities each layer should comprise of. Any change to a Layer will be reflected in the Master image.
12. Mintable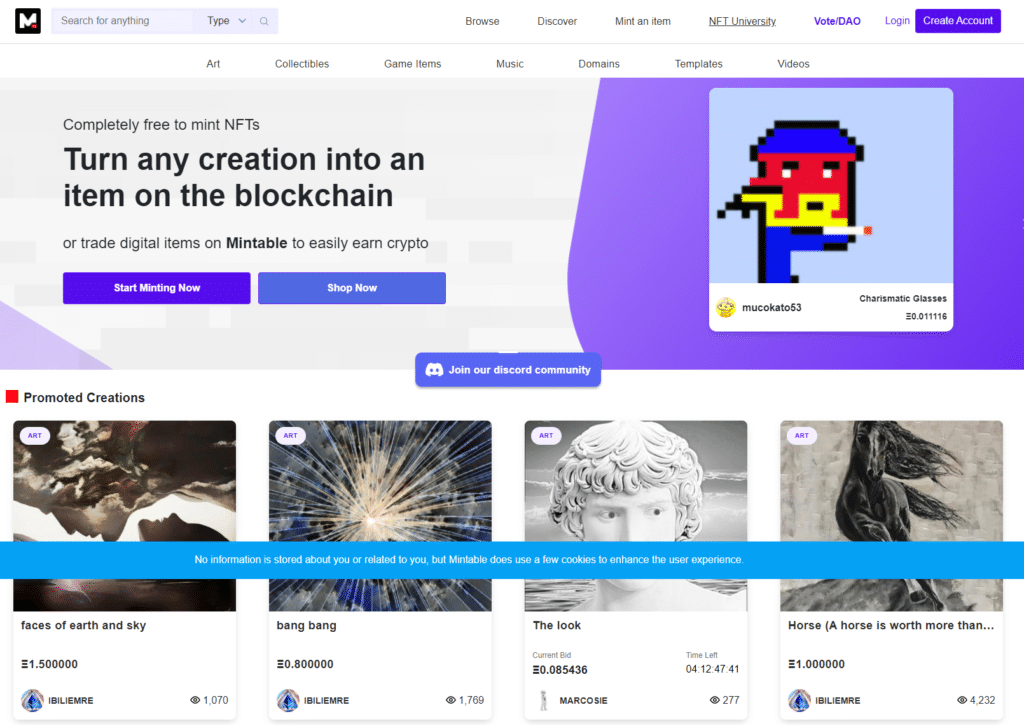 Mintable is like eBay's two-sided traffic for buying and vending NFTs. It is reared on the Ethereum and Zilliqa blockchains connected with MetaMask. It allows buyers to work cryptocurrency suitcases. It's warranted to create profiles and loading their pockets. Buyers can take featured points or whack on rummage sales. Content sires may simply convert artwork, audio, PDFs, screen, and other media into a blockchain item and rear a smart contract without having to render it themselves.
13. Makersplace
A site that is completely dedicated to digital artwork styled around collections and profiles of creators. MakersPlace has made a new sales record by auctioning Beeple's classic every day. For the initial 5000 days, it was sold for approximately $70 million. The site is comprehensive and easy to navigate. A digital auction or a fixed-price sale can be done either or a normal credit card.
14. AirNFT
AirNFT marketplace built on Binance Smart Chain and focuses on the best user experience to create, buy, sell, and use NFTs. It is an upcoming NFT marketplace designed to be fast, easy, and tech-savvy. The platform is a perfect combo of BSC edge in transaction speed, extremely easy to use and low fees to bring NFTs to everyone.
15. Axie Infinity
Axie Infinity is an NFT powered video game that plays host to the second-largest NFT marketplace. It has a huge trade volume of $2.1 billion. The game's built-in mechanics can be used to create new Axies and sold for selling on the digital marketplace. For new users, it can be a very complex service.
16. Crypto Punks
Crypto Punks is one of the oldest NFTs on the Ethereum network. It is a series of 10000 characters that are randomly generated using pixel art aesthetic and unique attributes. Here, digital artists, crypto traders, and developers can learn, share, connect and trade.
17. Bakery Swap
It is a minor NFT business compared to OpenSea. Maximum NFT businesses are constructed on Ethereum while BakerySwap is the first one to be launched on Binance Smart Chain. The NFT business makes up one section of the platform, which also allows dopeheads to trade and exchange liquidity means directly with each other. The NFT business is straightforward enough, with the usual MetaMask connection claimed.
18. Binance NFT Marketplace
This NFT marketplace is provided by the world's largest crypto exchange Binance. The goal of this company is to provide the NFT marketplace with incomparable offerings and partnerships. Binance account users can automatically make use of Binance NFT.
Conclusion
NFTs have real potential for transforming the digital creative world. Within a few years, it has captured a large part of the market. To a great extent, it provides a platform for artists to showcase their creativity. At the same time reducing the risk of digital money by promoting blockchain technology.