Leading smartphone company Xiaomi unveiled Redmi Note 4 powered by the Qualcomm® Snapdragon™ 625 processor today in Ahmedabad, Gujarat. The smartphone made its world debut in India, ahead of all other markets. The press brief organized today (15th February, 2017) to discuss the company's success in 2016 and also unveil the much talked about RedMI Note 4. The conference was headed by Mr. Manu Jain, the India Head for Xiaomi and Jai Mani, the Product Lead for MI India. The event took place in Hotel Radisson Blu, Ambawadi, Ahmedabad. While a lot of things were discussed in the press meet, the highlight of the event was the newest addition to the RedMI product line – the Redmi Note 4.
Manu Jain, India Head, Xiaomi said, "We are extremely grateful to everyone who contributed to the success of Redmi Note 3 in India making it one of the largest selling devices in 2016.  With immense appreciation and feedback received from our Mi Fans, we are now taking it to the next level with Redmi Note 4.2016 was also a huge success for Xiaomi as we crossed US$1 billion worth of revenue in the year. We are confident that and 2017 will be more significant as we strive towards achieving new milestones and introducing many more exciting new products in India."
Jai Mani, Product Lead, Xiaomi India said, "Redmi Note 3 was an exemplary product in terms of technology which created a stir in the smartphone industry in 2016. With the launch of Redmi Note 4, we want to take this success even higher by enhancing the technology behind its camera and processor. One of the many standout features of Redmi Note 4 is the Snapdragon™ 625 processor with 14nm FinFET technology, which ensures 25% more battery life than its predecessor."
The Xiaomi RedMI Note 4 starts from INR 9999 in India and is consistent with the company's tradition of feature rich phones under budget. In 2016, RedMI had crossed the $1 billion revenue mark in India with a portfolio of products that extends across smartphones, fitness bands, power banks, air purifiers, ear phones and other gadgets. The star of the company, however, has always been the RedMI Note series. Note 3's predecessors, namely the Redmi Note 3 and Note 3S had been the top selling phones in 2016 wherein, Note 3 saw a sale over 2.3 million units in the first six months. Borrowing from the success of the device, the Note 4 too sports a full metal body and comes with impressive specifications. The Chinese version of the Note 4 had already been launched last August and came with MediaTek SOC. The device manufactured for the Indian customers replaces this with a Qualcomm chip.
The RedMI Note 4 Smartphone is available in 3 different variant as mentioned below: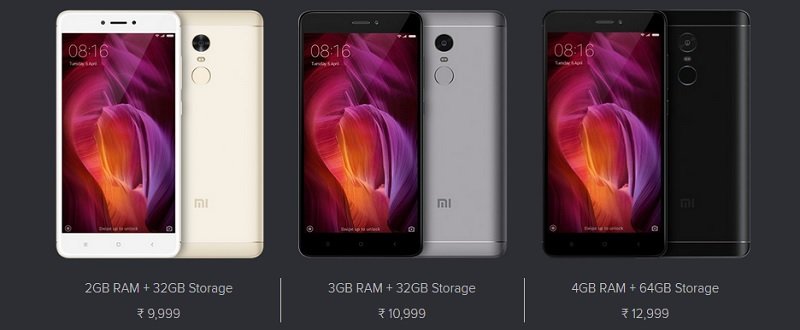 2GB RAM with 32 GB storage @ INR 9999/-
3 GB RAM with 32 GB storage @ INR 10999/-
4 GB RAM with 64 GB of storage @ INR 12999/-
All these devices are compatible with expandable external storage memory up to 128GB via an SD card
Important specifications of the RedMI Note 4
Look and feel
Similar to the Note 3, the Note 4 too comes with capacitive navigational buttons on the front panel, with a slim border. The screen is protected by a 2.5D curved edge glass and feels sturdier than the Note 3. The rear of the phone however gets several changes, featuring a design that feels closer to the Xiaomi Mi 5. Another important change is that the speaker has been shifted to the bottom along with the Micro USB charging port and IR emitter.
Processing
The Indian version of the RedMI Note 4  equipped with an Qualcomm® Snapdragon™ 625 processor with 14nm FinFET technology which is powerful than the processors based on 28nm technology. Due to this FinFET technology the processor consume less battery and as a result Redmi Note 4's 4100mAh battery provides 25% more life as compare to RedMI note 3 smartphone.
Camera
A 13 megapixel rear CMOS camera with an f/2.0 aperture and a 5 megapixel front camera with f/2.0 make it a powerful photography device. The camera also supports PDAF (phase detection autofocus), making your images sharper. You also have the option to shoot panoramas, tilt-shift photos, and use a timer. Low light images too have a decent quality.
Software
The Note 4 runs on Android Marshmallow 6.0.1 and this is also the device that introduces the powerful MIUI 8 beta. A Nougat preview is also being tested and will be released soon. The biggest advantage with MIUI 8 is running dual apps which mean that you can have two WhatsApp account for both the SIMs in the same phone. With Second Space, you also have the opportunity to have two different profiles on the phone, wherein each will also feature different wallpaper! However, there is no option currently to move data between profiles.
Security & Performance

Apart from the usual phone security features, the Note 4 also offers fingerprint sensor. The new smartphone is also achieves unprecedented thermal performance, remaining comfortable for use even under extremely demanding CPU tasks such as 3D gaming for extended time periods. It is tested by considering the Indian weather condition, especially in summer and the manufacturer did a good job in thermal performance. Here is the thermal performance comparison with Note 3 which clearly prove this claim.
Here are the Key Features of RedMI Note 4 in brief:
The Process is powered by Qualcomm Snapdragon 625 with 14nm FinFET technology (Octa-core 2.0GHz) which improve the performance of smartphone.
4100mAh high-density battery, 25% longer battery life as compare to Redmi Note 3
Powerful 13MP rear CMOS camera with PDAF, 5MP front camera
5.5-inch Full HD display, dual SIM (Nano- and Micro-SIM)
LTE and VoLTE support
Available in 3 variant; 4GB RAM + 64GB Flash, 3GB RAM + 32GB Flash, 2GB RAM + 32GB Flash
Rear fingerprint sensor
IR blaster
Available in Dark Grey, Gold and Black colour
MIUI 8 beta based on Android N will be available soon
Overall, while Xiaomi has tied to reinvent the wheel, you get a very powerful phone at a minimal price. It definitely is a great bargain, compared to other existing phones in the market that offer similar features. It certainly could be the most selling phone in 2017!