If one is lot into texting friends, family and relatives then the recent capping of SMS has become a great burden for the good conversation flow. Here are a few top mobile chat messaging applications which have been extremely useful and popular in recent times:
1. WhatsApp Messenger
WhatsApp was found earlier in 2009 developed by former Yahoo employees although charging $0.99 for one year has 1000 million monthly active users and is currently at the top mainly due to user-friendly interactive features. WhatsApp is most popular chat messaging application with many brilliant features and its amazing user interface. WhatsApp additionally supported over Nokia Series 40 and Nokia Asha platforms. This chat messaging application is most favorite app amongst the users having amazing features like Voice & Video calling, Share image/video and even document and many more. WhatsApp also selected amongst the list of top 5 free android applications
Download:
Android | iOS | Windows | BlackBerry | Others
2. Facebook Messenger
Facebook Messenger is developed by Facebook and released on 9th August, 2011. Facebook Messenger is instant messaging service which provides text and voice chat and integrated with facebook. Currently Facebook Messenger has 1000 million monthly active users and growing fast. Facebook messenger is available for many mobile platform as well as Desktop. In Facebook Messenger user can chat with multiple friends at the same time. Facebook Messenger made lots of changes in recent time and now allows users to record voice and send directly from app, take & send photos and videos, new stickers & emojis, inbuilt games and many more.
Download:
Android | iOS | BlackBerry | Desktop
3. QQ Messenger
QQ is instant messaging application developed by Tencent and its China's biggest IM platform. It was released in way back 1999 and provides text messaging, video & voice call, online & offline file transmission and many more features. QQ Messenger is important communication mode in China for personal and business use. QQ has 877 Million monthly active users and growing rapidly.
Download:
4. WeChat
We chat is a text & voice messaging service made by Tencent developing group belonging to China in January 2011. WeChat has more than 846 Million monthly active users and it's very famous in China. WeChat is very well known competitor of WhatsApp. WeChat have amazing features like real time walkie-talkie chat, audio and video chat, stickers and emotions.
Wechat Features
Free calls (Voice & Video)
Send video, images, text and voice messages
Group chats upto 500 members and Group video calls upto 9 members
Find nearby friends and people (Shake the phone to meet people)
Download:
Android | iOS | Windows | BlackBerry
5. Skype
Skype owned by Microsoft was released over a decade ago in August 2003 had over 300 million monthly active users. Skype involves Client-Server and Peer-to-Peer system making background processing usage thus entitling to its name (Sky Peer-to-Peer). Skype allows users to communicate via voice by microphone, Video chat via webcam and also provides instant messaging service. Skype is used by so many professional companies & its users. Now Skype allows video calls for up to 25 users.
Download:
Android | iOS | Windows | BlackBerry
6. SnapChat
Snapchat was co-developed by Evan Spiegel and Robert Murphy who were studying in Stanford University at the time of launch in July, 2013 and is well known for its feature of setting the time limit for recipients as to how long they can view the snaps. SnapChat is Very popular application amongst the US youngsters. Earlier SnapChat was trending topic because they turned down $3 Billion offer from Facebook. Currently SnapChat has more than 300 million monthly active users. SnapChat is also biggest competitor of other chat applications.
Download:
7. Viber
Viber developed by Viber Media and launched in December 2, 2010. Viber was first popular messaging application which allows free calls to it's users and got huge number of installs via word of mouth. Viber works on 3G & 4G networks and has crossed 246 million monthly active users. Viber is very famous for its free calls feature.
Download:
Android | iOS | Windows | BlackBerry
8. Line
Line application owned by the Japanese Line Corporation was launched in 2011 and has currently 217 million monthly active users. Line is also very famous in India for its free calls feature. Line messaging app has one more important feature – You can make group calls with 200 people. This application has some cool stickers which makes chat more funny and engaging.
Download:
Android | iOS | Windows | BlackBerry
9. BBM (BlackBerry Messenger)
BlackBerry Messenger application which was developed by BlackBerry originally for Blackberry devices. But in 2013 BlackBerry released it in iOS and Android platforms and it was in top list in various app stores for long time. BBM lover's welcomes this smart move by BlackBerry and so many users installed it in iOS and Android smart phones. The free application is recommended to be the most secure chat application. Currently Blackberry messenger has 100 million monthly active users.
Download:
Android | iOS | BlackBerry
10. Telegram
Telegram is also one more popular messaging app launched in iOS first in August 2013. After 2 months they officially launched alpha version in Android. Telegram has over 100 million monthly active users. Telegram is very powerful application because you can create group chats for up to 5000 members and users can share large video files and any type of documents (.Doc, .MP3, .Zip). Telegram is completely free without and ads and company claiming that they won't show any ads in future as well.
Download:
Android | iOS | Windows | Desktop
11. Kakao Talk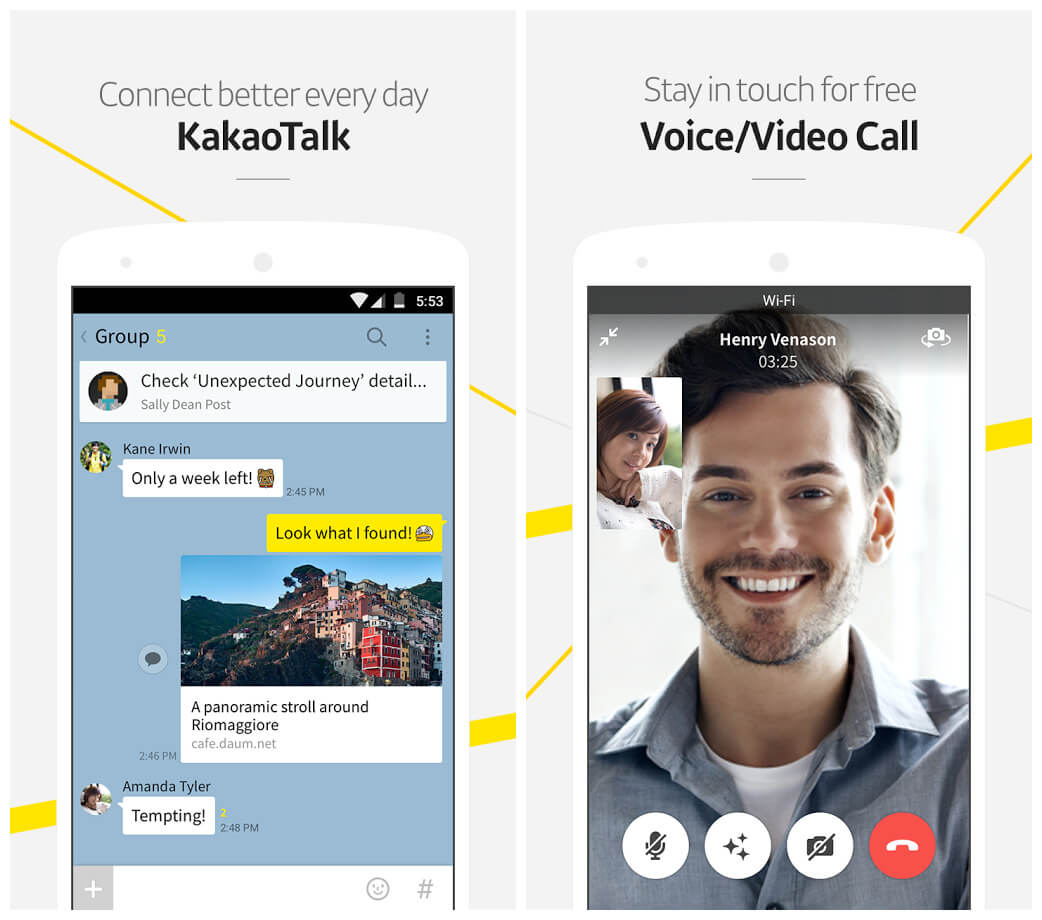 Kakao Talk launched in March 2010. This application is very popular in South Korea and around 93% smartphone holder using this messaging app. Kakao Talk is available in 15 languages and has 49 Million monthly active users. This application provides free chats and high quality voice calls and very reliable application.
12. Google Hangouts
Google Hangouts was launched on May 15, 2013 by Google and has replaced Talk, Google+ Messenger and Hangouts all-in-one application and is designed to be the future of Google Voice (PC to Phone, PC-to-PC and Video Calling based application). Google Hangouts is very popular amongst the professional users.
Download:
13. Hike
Hike, an Indian application was launched by BhartiSoftBank in the final quarter of the year 2013 and has 5 Million users in 4 months by investing just 7 Million dollars.Hike has very nice user interface and features like group chat, emotions and walkie-talkie available too.
Download:
Android | iOS | Windows | BlackBerry
14. Nimbuzz
Nimbuzz basically developed for SmartPhones, Tablets and Pc's in 2006 by Evert Lugt and Martin Smink has over 150 million users around 200 countries. Nimbuzz supports interaction of popular messaging services like Facebook Chat, Google Talk and Twitter. Nimbuzz application is also available in many languages like English, Spanish, French, German, Italian and many more.
Download:
Android | iOS | Windows | BlackBerry