When it comes to Cryptocurrency, Bitcoin is the name that will first appear in our mind. But the fact is; Bitcoin is not the only digital currency available in market! there are number of emerging Cryptocurrencies available in market with over USD $163.54B market capital at the time of writing this post. If you are the one who want to invest in Cryptocurrency or want to learn more about this industry, you are at right place. In this article, we will cover basic information about what is Cryptocurrency? and its impact on current industry. You will also get to know about different types of Cryptocurrency available these day. It will help you to plan your investment accordingly.

Today, the world is all about digital currency. It is here where encryption techniques are used to administer the units of currency. With cryptocurrency, every possible transaction is possible whether verifying the transfer of funds, independent operations or trading. Cryptocurrency market is booming day by day and due to non regulatory currency, it is always risky when you invest your money in Cryptocurrency.
The Impact of Cryptocurrency
The initial phase of block chain technology is to embrace the concept of currency derived from code. But with the hassle-free government oversight and merely through internet covenant, if trading could take place smoothly, what else does one want.
It is surprising to see that today the total value of transactions involving cryptocurrency is more than $1 trillion. What's more, the daily trade value is more than $2 billion and soon shall reach $100 billion and more by the end of 2017.
The importance of cryptocurrency can be understood very well when the figures in the beginning of the year 2017 showed $235 billion of total transaction and crossed $ 675 billion by the end of the year. The market has seen 15 times rise with that of 2016 cryptocurrency transactions. As per the recent development, there are few challenges are also there which includes SegWit2x scaling solution for BitCoin. Apart from it, various countries and regulatory are also against CryptoCurrency by considering the authenticity of this currency.
In-spite of all challenges, the market of CryptoCurrency is growing rapidly and here are few popular CryptoCurrency available in market to invest in.
Variations of cryptocurrency
To name a few of the examples of cryptocurrency are-
Bitcoin
Ethereum
Ripple
Montero
Dash
Litecoin
With other cryptocurrency growing its popularity, Bitcoin has taken over the industry. However, with the ongoing use of Bitcoin, the industry analysts fear that there is going to be a depreciated value of Bitcoin by the end of 2017.
If the current market is to be understood, Bitcoin's market capitalization has decreased over the years. In the year 2015, Bitcoin had 86% of the cryptocurrency market capitalization. 2016 saw 80% and now in 2017, it's been 72% only. Ethereum is slowly taking up the momentum after Bitcoin. As you can see in below chart, the Market capitalization of BitCoin has slipped to 57% these days.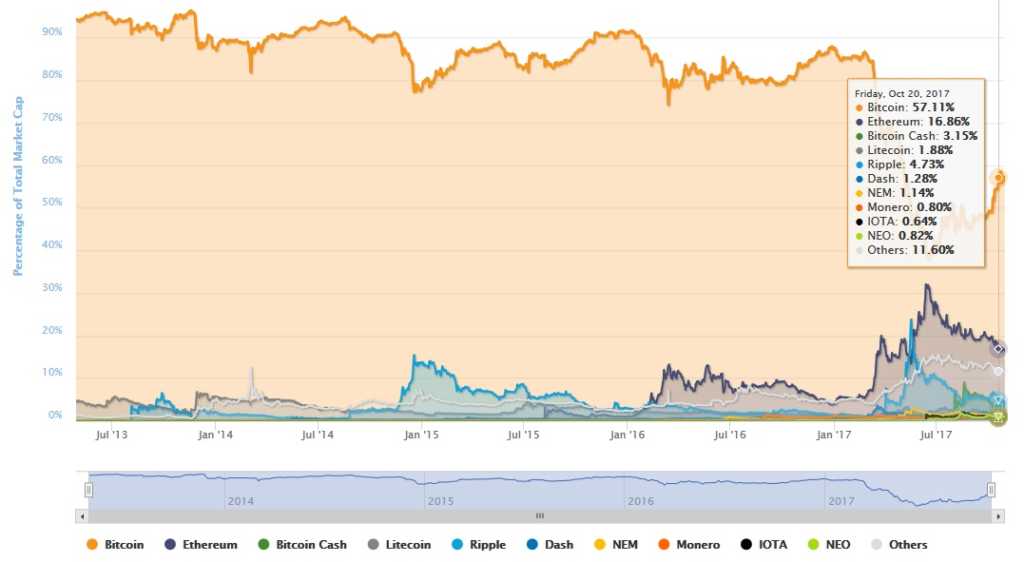 Synopsis
Today merchants take cryptocurrency as the easiest way of payment mode. It helps create liquid markets. The exchange prices are unstable; similarly, Bitcoin's exchange rate has seen changes over the years. There are risks and benefits in every form of the financial system. Cryptocurrency has changed the finance scenario for sure. If you are existing investor of Cryptocurrency, do share your views about future investment strategy.