The iOS platform comes with a number of features but it also means that your phone gets drained out of battery sooner. While the latest versions, iPhone 14 and iPhone 14 Plus have highly improved upon their battery life, they will easily fail when compared to some other phones (probably cheaper) in the market. For those concerned with plugging in their charger more often, here are some tweaks that can substantially improve the battery life of your iPhone Devices. Some of these tweaks might require sacrificing some functionality of the phone, but believe me, you would be better off.
Note: Please note that a few of the mentioned features may not available in an older version of iPhone devices.
Why Does iPhone Battery Drain too Quickly?
If your iPhone battery is dying all of a sudden when not in use, the reasons for the mobile battery draining fast are described below.
Updates on installed applications
Auto lock duration is too long
Not locking mobile screen for too long time
Number of apps using your location
Receiving excessive notifications
Installing too many widgets
High screen brightness level
Overpowering
Out of range for Wi-Fi and cellular data
12 Ways to Stop iPhone Battery from Draining Fast
If you're searching for information about this subject, here is how to stop the iPhone battery from dying rapidly all of a sudden.
1. Review Your "Battery Usage" Feedback
While there is no direct way to extend the battery life of an iPhone, there certainly is a new feature included in iOS 8 wherein you can monitor what's consuming up the charge. Go to Settings > General > Usage > Battery Usage and you will exactly know the apps that have been responsible for maximum battery drainage. This gives you an opportunity to either delete the apps (if you can) or look for alternatives with the same functions. This feature is not available in iPhone models which are not compatible with the iOS 8 operating system.
2. Reduce Screen Brightness
The LED screen of the iPhone consumes a lot of power. In case you have the right environment (especially at night and in darker locations); you can always reduce the screen brightness and still easily use your phone. To manage the brightness and display setting properly, you can save a lot of battery life on your iOS devices. To control the display and brightness Go to Settings > Wallpaper & Brightness or swipe up the control center from the home screen and reduce the brightness. There are very basic but important factors that can be applied not only to iOS but also to other smartphones to improve battery life.
3. Turn off Location Services and GPS
When you turn on the GPS or location services of your smartphone, most apps will try to connect to your exact location and this has been known to be a culprit in draining off the iPhone battery. You certainly don't need maps when sitting at your office desk or at home. The moment you need it you can always turn it on and look at the maps. The location services/GPS can be controlled from Settings > Privacy > Location Service. It will also help you to save your internet data that is being consumed by a different application to locate the exact location of your device.
4. Deactivate Vibration Mode
You must be surprised to see this point in our list but it is very true. iPhone devices require more battery to vibrate the phone as compared to ringing a device. A vibration profile of your phone requires more battery than the general ringing. You can easily control this setting through Settings > Sounds and turn off vibration.
5. Manage Push Notifications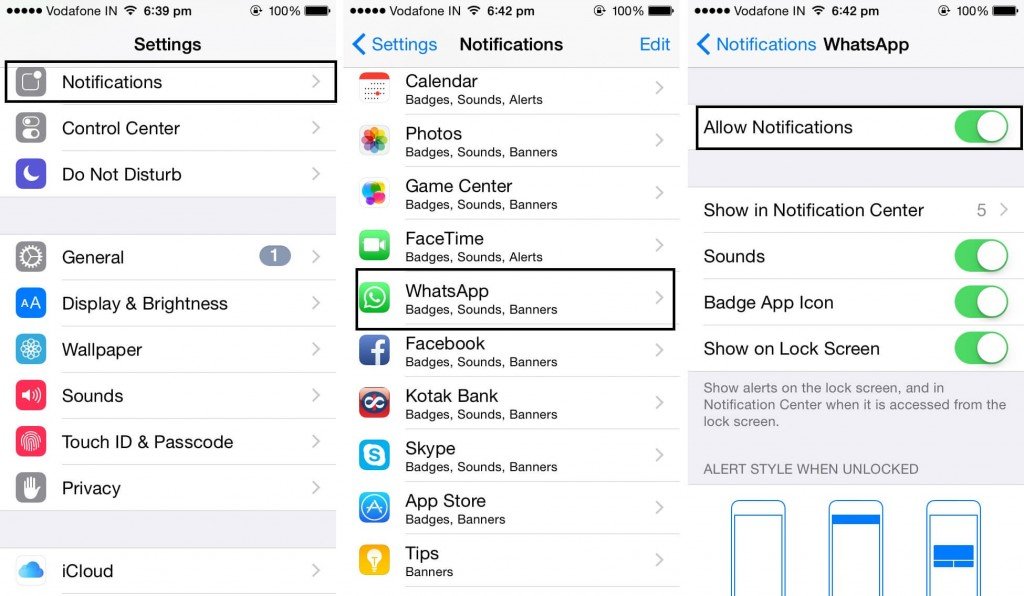 Push notifications to require the phone to sync with your apps/service provider at all times. While it's a great feature for the mobile user, it does drain up a lot of battery. When you are sitting at your office desk or at home in front of your laptop, you can always go for turning off push mail and email sync. Apart from a few important apps that you will use only on your phone (WhatsApp, etc), choose not to sync other apps. Do it from Settings > Notification Center.
6. Reduce Auto Time Lock
The more the amount of time your phone takes to auto-lock itself, the more battery it consumes. When sitting idle, you can turn to the minimum auto time lock (1 minute) for maximum efficiency. You can easily control the time of the Auto Lock feature by visiting Settings > General > Auto Lock.
7. Turn off Automatic App Updates
If you have enabled the automatic app updates, it will start updating the app as soon as the update is available on the iTunes store. It will not only consume the battery but your mobile internet data when you are out of the office and no wifi network is available. Never keep ' automatic app updates on when traveling or away from home. Automatic updates can take up a lot of power and will drain your battery life in no time. You can easily control this feature by Settings > iTunes and App to turn it off.
8. Disable Animation / Parallax effect
It is true that the iPhone parallax effect looks cool and attractive, but the animation is also the reason for the high battery consumption of your iOS devices. If you are not a big fan of such animation and want to save the extra bit of your iPhone battery, go to Settings > General > Accessibility and 'Reduce Motion' to kill these off.
9. Kill Dormant Apps Consumes Battery by Running in Background
We are using 100s of applications every day but we hardly kill the app. All the application that you use and does not kill manually will keep running in the background and will use some of the portions of your battery. Always choose to kill dormant apps as they continue running in the background, take up RAM, and reduce your battery. It is a very simple and easy process to kill the dormant app; Just Press the 'home' button twice, and swipe vertically to close all dormant apps that will be displayed and waiting in the background.
10. Keep off Your iOS Device from Extreme Temperatures
It is always advisable to keep off your iOS device from extreme temperatures; be they high or low. An environment above 1000 F or near freezing can suck up the whole battery. Always avoid extreme temperatures to extend the battery life of the phone. The iPhone batteries are made up of lithium-ion technology and extreme cold or hot temperatures can seriously ruin your iPhone battery in a short span of time.
11. Turn off iCloud media synchronizing
Apple iPhone is specifically designed to make backups of all applications and iPhone data to iCloud & iTunes once a day. You should put it disabled to prevent the iPhone battery from aging all of a sudden.
12. Checking Battery's Health in the Settings App
You should check the current battery health of your iPhone. Avoid charging your mobile device at high temperatures as it can cause battery damage. You should utilize built-in battery settings to keep a track of applications aging your battery.
Conclusion:
Do you know other ways to improve the efficiency of iOS devices? Do share your tips with us through email or write here in the comments. We will try to cover those tips in this article or may plan an entirely new series on those tips.
FAQs:
Reasons for mobile battery draining fast.
Updates on installed applications
Auto lock duration is too long
Not locking mobile screen for too long time
Number of apps using your location
Receiving excessive notifications
Installing too many widgets
High screen brightness level
Overpowering
Out of range for Wi-Fi and cellular data
How do I stop my battery from draining so fast?
Review your battery usage
Reduce screen brightness
Turn off location services and GPS
Deactivate vibration mode
Manage push notifications
Reduce auto time lock
Turn off automatic app updates
Disable animation/parallax effect
Kill dormant apps consumes battery by running in the background
Keep off your iOS device from extreme temperatures
Turn off iCloud media synchronizing
Checking the battery's health in the settings app