John is a social media marketing manager at big brand and manages its social media presence on Twitter, Linkedin, Facebook, Google business and Instagram accounts. He has manually designed social media publishing calendar and strictly following the same by manually publishing updates on all different account. Most of his time is spend on accessing all different accounts, publishing updates and individually replying the audiences. He hardly get time on creating social media strategies and looking for some help to save his time. And the real struggle is; when he is preparing the performance report to present his boss! Manual analysis of all social media account performance is really time consuming for him and additional skill is require to understand data and convert them into visual presentation.
If you are already aware about some of the big name in this segment and want one to one comparison, I recommend directly visit our article about Social Pilot vs Buffer vs Hootsuite now. Here you can have a detailed comparison of these 3 popular tools and can choose the one as per your requirement.
Same is the case with many social media managers who manually handling multiple accounts and result in poor performance. In this article, I am going to share 10 best social media management tools and will explain you how to save your time from social media publishing to enhance the productively.
In modern time, every organization, big or small, understands the importance of social media and being an active part of it. However, with a dozen of social media platforms out there, it becomes hard for an organization to manage all of them in the same competency. To our advantages, there are some great social media management tools to make the job of a marketer easier. Using a single dashboard, social media managers can stay active in all the integrates social platforms like Facebook, Twitter, Instagram, Pinterest etc. The process saves time, enables scheduling, helps better management of content, help brands stay active and also personalize content for followers and fans. Well, let's look at the top social media management tools available at our end and how they promise efficiency.
Comparison of 10 Social Media Management Tools
In this article we have picked up 10 social media management tools which includes:
Buffer
Sprout Social
Hootsuite
Mavsocial and
Meet Edgar
Agora Pulse
Sendible
Crowdfire
eClincher
Rather than writing about each tool, here we have focused on important features and then recommended tool which offers those features and so on. In this way, you will learn about important features and at the same time you can also find the best tools suitable for your business.
Here we go!
Social Media Post Publishing Calendars
Businesses and individuals need social media to engage in content promotion, community engagement, customer support and coming out with periodic offers. However, managing so many things would require multiple strategies, multiple people and also create multiple problems and challenges. The calendar feature in most social media tools allow everyone in the marketing/management team to know what is being scheduled and what others are doing. The calendar helps track a variety of elements like publish time and date and post images, text, campaign goals, campaign category and much more.
Thankfully each of the social media management tools mentioned above offer the social media post publishing calendar feature to streamline your social media marketing activities.
Custom Facebook Branding in Social Media Automation
Whenever something is shared on Facebook via third party tools, the post content is attached to a profile. It can however become quite irritating to have someone else's product/brand name in your company profile. Customized Facebook branding is a way of allowing such users to have their own brand name when sharing content. The automation tool allows being consistent with branding.
Note: After recent updates from various social media platforms, they imposed some restrictions on their APIs. We have sent email to all these brands for providing latest update on this feature. We will accordingly update this post soon.
Bulk Scheduling
Bulk Scheduling is among the most sought after feature of a social media management platform. It allows marketing agencies and brand managers to create, schedule & publish multiple posts by using CSV file. Every social media tool might have different process to create & upload CSV file. Marketers just need to prepare the list of posts in recommended editor and can directly upload to the social media tool. After uploading the file some tools will show you the preview of all posts and later you can select connected social media accounts where you need to publish the posts.
It is best understood by the situation when you want to post and hourly discount offer in all your social networks. Marketers often use bulk scheduling feature for ecommerce stores for better ecommerce social media marketing.
SocialPilot's bulk scheduling allows upto 500 posts in advance on all different social media accounts.
Hootsuite allows posting of a maximum of 350 scheduled posts across your social networks.
Meet Edgar also offers Bulk Scheduling features, catering up to 25 social media accounts and allowing for scheduling of 5,000 posts in your library.
Sprout Social also offers bulk scheduling feature limited to 350 messages. Here you can use this feature to upload upto 350 messages at a time with tags, link, images everything at one go.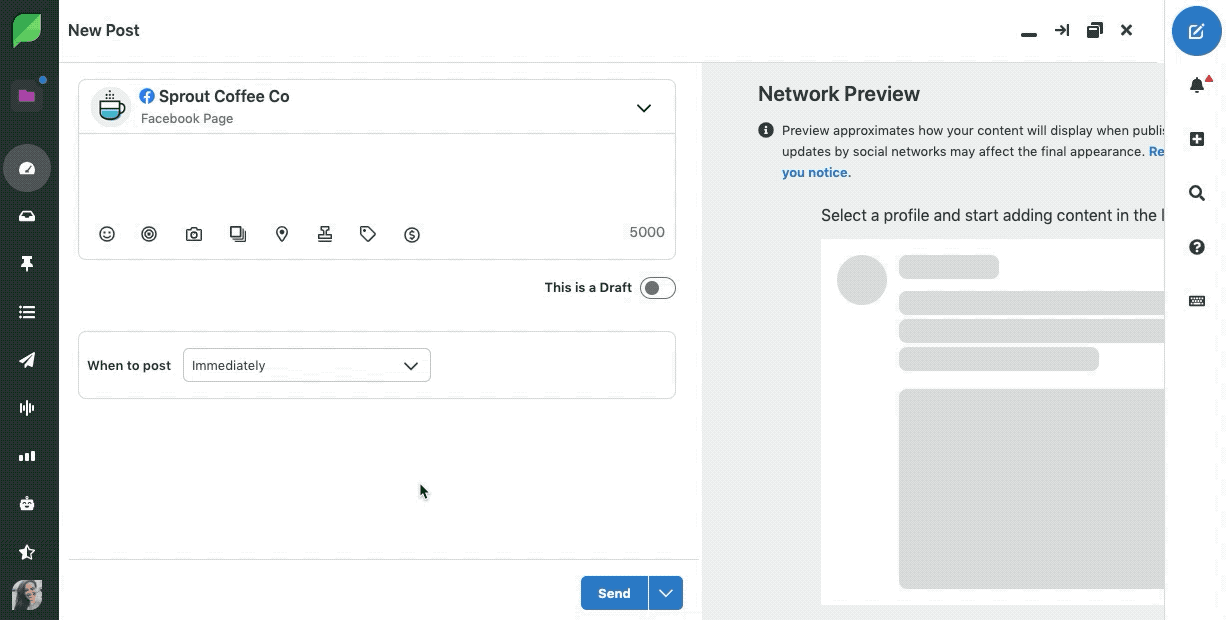 Team and Collaboration
Any business or brand working with an extensive network of enterprises, PR agencies, digital marketing agencies and consultants always faces complications in its promotions. A thoroughly described team of professionals is the only way out of the mess. Social media management tools helps to divide the task between these team members and assign roles for the content creation, distribution and management. This not only makes the task easier and saves time but also allows for followers to easily find content.
Thankfully, all the social media management tools here offer a feature for team and collaboration but you will have to subscribe with that specific plan.
Content Suggestion
Content suggestion feature is very crucial when you are managing multiple accounts. Here you can directly find popular content from all different categories and directly schedule to your account on a single click. Here is a good example from Sprout Social content suggestion feature.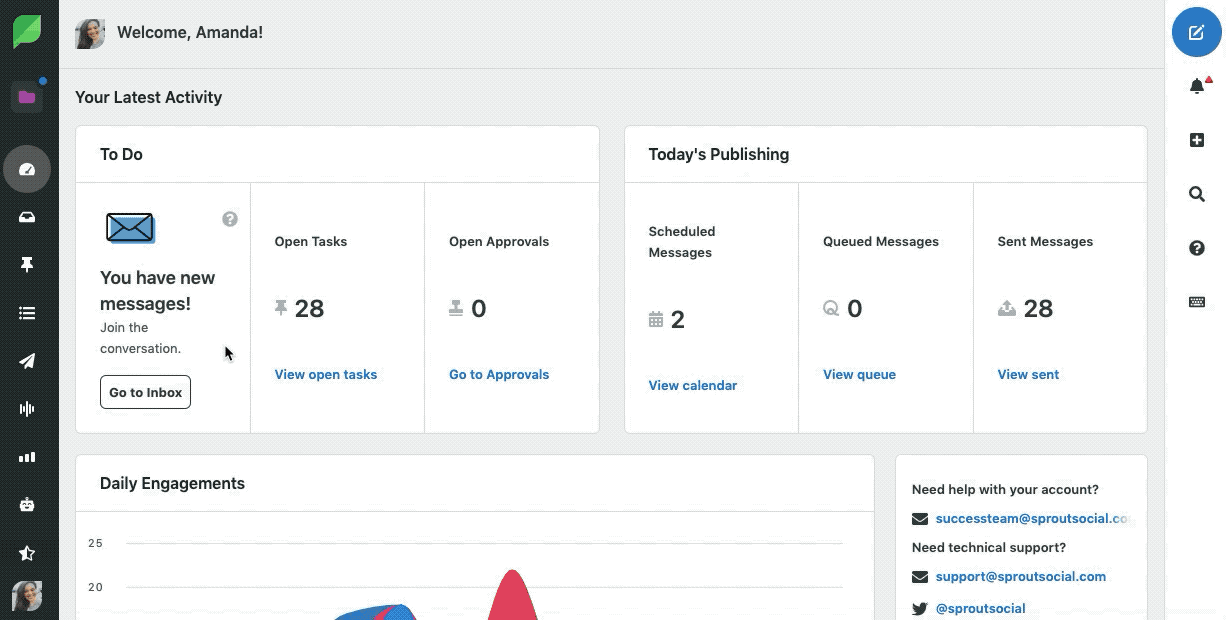 The aim of every brand and business in its social profile should be about sharing the more relevant, interesting and unique content. But, it can be a tricky task to scoop out such updates. Well, social media management tools offer a feature called "suggestion" that finds interesting feeds from across the networks and allow marketing managers to work on them. This really does make the take easier if you are looking to make an active and engaging presence.
SocialPilot, Bugger, Hootsuite, Agora Pulse, Sendible, Crowdfire, eClincher, Sprout Social and Meet Edgar offer content suggestions feature.
Browser Extension / Link Shortening
In special cases like Twitter, the browser URL can create a problem when you are seeking to share a link across your social profiles. The browser extension and link shortening features allow you to lengthen or shorten these URLs by attaching your bit.ly or goo.gle accounts.
SocialPilot, Buffer, Hootsuite, Sprout Social does an amazing job of browser extension and link shortening however, you will miss out on this if you are using Mavsocial. Meet Edgar don't have any default link shortening feature so you need to connect your bitly account to shorten links and track them.
RSS Feed
Feed automation has always been an exciting feature with social media management tools. They keep you social profiles active by attaching real time updates from your blogs and websites. Social marketers for brands can control their feed and the way they appear on social networks. RSS Feed management is one of the most helpful features for agencies that are working with several networks and blogs.
SocialPilot offers both automated and manual setup for RSS feed management. With Buffer, the process is completely manual and with Hootsuite it is completely automated. Mavsocial and Meet Edgar fall behind in this feature with little or no support.
Recently, we got the mail from one of the popular RSS Automation tool Twitterfeed that they are retiring after 31st Oct. After reading that news you might be interested in alternatives of Twitterfeed and these tools helps you to automate your social media posts via RSS Feed automation feature.
Video Uploader
Video is another form of content that is quite popular with brands across the globe. The support for video content is however offered only by SocialPilot, Sprout Social, Buffer, Hootsuite and Mavsocial. If you are looking forward to making video content an integral part of your social marketing Meet Edgar wouldn't be the best tools.
GIF Support
This expression when Social Media Automation Tool allows us to post GIF image as well. 🙂 @socialpilot_co pic.twitter.com/bh04kft5xz

— DigiFloor (@DigiFloor) October 19, 2016
GIF is a special image format where 2 or three images are played inside a single image file to say more. It is best for small advertisements and animations. Offered as an image format, all the above social media management tools support GIF uploads.
Social Media Account Performance Analytics
Social Analytics is again a very important feature when it comes to a successful social marketing. The analytics refers to the feedback of the success, reach and failure of various marketing strategies and campaigns. It's always an advantage to know how many people you had been able to reach with a particular campaign and what type of content brings you ore popularity.
Such social media analytics is offered by Buffer, Hootsuite, SocialPilot, SproutSocial, Mavsocial and Meet Edgar.
Social Media Profiles
SocialPilot offers you to link 9 social accounts – Twitter, Facebook, LinkedIn, Instagram, Google Business, Tumblr, TikTok, Pinterest and VK.
Sprout Social offer social media integration with Twitter, Facebook, Instagram, Linkedin, Google business, Pinterest and TripAdvisor.
Buffer offer 5 – Facebook, Twitter, LinkedIn, Pinterest and Instagram
Hootsuite offer for 6 – Facebook, Twitter, LinkedIn, Instagram, YouTube and WordPress
Mavsocial offers for 6 – Facebook, Twitter, LinkedIn, Instagram, YouTube and Tumblr
Meet Edgar offer just 5 – Facebook, Twitter, Instagram, Pinterest and Linkedin
Agora Pulse offer 6 – Facbook, Instagram, Twitter, Linkedin , GMB and YouTube 
Sendible offer 7 – Facbook, Instagram, Twitter, Linkedin , Pinterest, GMB and YouTube
Crowdfire offer 6 – Facbook, Instagram, Twitter, Linkedin, Pinterest and Youtube
eClincher offer 7 – Facbook, Instagram, Twitter, Linkedin , Pinterest, GMB and YouTube
Pricing
All these 10 social media tools offer different plans which includes mix of features. Here you will need to understand that some tools offers just publishing features and for analysis, you need to choose their separate plan.
SocialPilot offer plan from $25 to $83 per month
Buffer offers free plan with limited functionalities and their paid plan start from $15 to $99 per month for publishing. If you are looking for analysis related features, you will have to choose different plan design for them.
Hootsuite comes with both as a free and custom versions
Mavsocial offers both as a free and as a POA account
Meet Edgar offers two plan of $19 and $49 per month
Sprout social's plan start from $99 to $249 per user per month
Agorapulse plan start from $0 to $159 per month with multiple users as per the package. In addtion, it provides custom plan. 
Sendible plan start from $29 to $399 per month with multiple users.
Crowdfire plan start from $0 to $74.98 per month
eClincher plan start from $59 to $219 per month with multiple users as per the package
Kindly review each plan by considering the feature like post publishing, team collaboration, social media account connection and analysis. This way, you can utilize best value for money.
Number of profiles
SocialPilot – between 3 and 200
Buffer – between 1 and 150
Hootsuite – between 3 and 150
Mavsocial – between 1 to unlimited
Meet Edgar – between 10 and 25
Agorapulse – between 3 and 40 plus
Sendible – between 6 and 105
Crowdfire – between 1 and 4
eClincher – between 10 to 40
Number of posts allowed per day
SocialPilot – Upto 1000 per day
Buffer – between 10 and 2000 per day
Hootsuite – Not Available
Mavsocial – between 10 and unlimited
Meet Edgar – between 10 and unlimited
Sprout Social – Not available on their website
Agorapulse –  between 40 and unlimited
Sendible – between 100 and 500
Crowdfire – between 10 and 800
eClincher – depend on social media 
All the tools support both chat and email support options and having good user base already using these features.

| Features | SocialPilot | Buffer | Hootsuite | Mavsocial | Meet Edgar |
| --- | --- | --- | --- | --- | --- |
| Social Media Calendars | Yes | Yes | Yes | Yes | Yes |
| Custom FB Branding | Yes | No | No | No | No |
| Bulk Scheduling | Yes | Yes | Yes | No | Yes |
| Bulk Scheduling with Image | Yes | Yes | No | No | No |
| Team & Collaboration | Yes | Yes | Yes | Yes | Yes |
| Content Suggestion | Yes | No | Yes | No | Yes |
| Browser Extension | Yes | Yes | Yes | No | Yes |
| RSS Feed | Automated+Manual | Manual | Automated | No | Yes |
| Video Uploader | No | Yes | Yes | Yes | No |
| GIF Support | Yes | Yes | Yes | Yes | Yes |
| Link Shortening | Yes | Yes | Yes | No | Yes |
| Social Analytics | No | Yes | Yes | Yes | Yes |
| Visual Composor | Canva Integration using Browser Extension | Pablo | No | Yes | No |
| Optimal Scheduling | No | Yes | No | No | No |
| Click Tracking | Using Bit.ly | Yes | Yes | Yes | Yes |
| Reporting | Yes | Yes | Yes | Yes | Yes |
| Re-use Posts | Yes | Yes | Yes | No | Yes |
| Pricing | $25 to $83 PM | $15 to $99 PM | Free to Custom | Free to POA | $19 and $49 PM |
| Number of Profiles | 3 to 200 profiles | 1 to 150 Profiles | 3 to 50 profiles | 1 to unlimited | 10-25 profiles |
| Number of Posts Per day | 10-1000/Day | 10-2000/daily | No Data | 10- Unlimited | No Data |
| Advanced Scheduling | Yes | Yes | Yes | No | Yes |
| Support | Chat + Email | Chat + Email | Chat + Email | Email | Chat+ Email |
| Mobile Apps | Yes | Yes | Yes | No | No |
| API Integration | Yes | Yes | Yes | No | No |
| Queue Posts never get empty. Ready for reuse always | No | No | No | No | Yes |
Finally, it really depends on your precise needs as to which social media management tool to choose. It is necessary that you understand you needs well and look for the best. If you are not sure about it and needs help to choose the best tool for your social media management, write here by comment and I would love to share my views.
If you are already using any tool and found it worth sharing, do write here in comment and our editors will definitely give them a try.
Disclaimer: This post is updated periodically and may miss some of the features being offered by respective social media brand. It may happen that the information in this article is not 100% correct or outdated by considering the rapid change in functionality of the brand. If you want to suggest any missing part in this article, please write us here in comment or through our contact form. We will modify the content by reviewing your suggestion.