Do you know how any marketing campaign went viral? marketing involves various steps like planning, creation of media and further publishing their content in order to retain and acquire their customers. In today's social media age, it becomes very difficult for marketers to follow those traditional advertising strategies because today everyone need innovation with skills.
Now, for those who are not familiar with viral content or campaign; it means spreading of something organically, mostly by the word of mouth. Therefore, you can say that if you have created engaging content be it visual or texts which gives audiences any particular reason to share, then that content has some potential to become viral. Therefore, this will be seen by a lot of eyes as compared to the traditional marketing campaigns. Basically a viral video is a bit of online media, which becomes a sensation and all of the below mentioned examples are proof of it.
Regardless of its industry or market, every brand likes to make marketing content that goes viral even in a short span of time. Today, various users upload hundreds of videos on YouTube every minute and share huge on Facebook every day.
Below mentioned are some of the best examples of viral marketing campaigns in which organizational goals are met with new ideas and creativity:
#1 Evian – Babies Campaign
One of the best and the unique marketing campaign, which went viral is Evian's roller babies campaign. This video consists of computer animated babies who are doing roller skating. It has also been viewed more that 70 million times till date. Basically, in this video babies are performing their routines where a title card indicates that drinking Evian water would make you feel as young as those babies. Evian launched other videos as well like adult see's babies in mirror and dances with them. Check AvianBabies channel on YouTube to check all baby videos.
#2 Blendtec's Campaign – Blend Everything
Another unique marketing campaign, which went viral is Blendtec campaign. It has done a very innovative thing with a cell phone. With its this advertisement a well constructed iPhone can not stand in front of the power of its strong spinning metal blades. Basically, this marketing campaign is made about a food blender. They created a video which shows that this blender can blend everything which shows a blending of an expensive iPhone.
Therefore, you can say that it went viral because it catches the user's interest to watch funny things on social media.
#3 Lay's – Do Me a Flavor
Another successful visual marketing campaign is done by Lays. It basically created a feeding frenzy across all the social media with a tag line of do us a flavor which challenges their consumers to create a new flavor for Lays chips.
With this superb idea they got millions of ideas through various social media networks and messages. After that a panel of chefs selected 3 best out of it and this company launched all the three flavors in the market and named cheesy garlic bread the winner of the contest after they received more than a million votes against that flavor.
Therefore, this campaign has 2 benefits for consumers out of which first is that it let them know their opinion matters a lot for the company and secondly, it gave them a chance in product development.
#4 Philips Air Fryer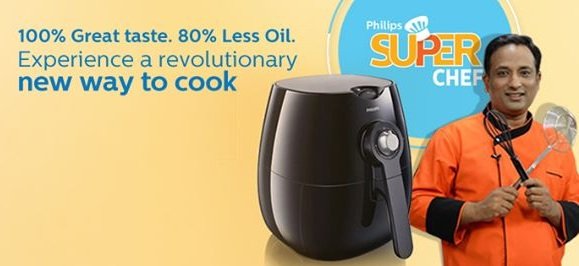 Another successful marketing campaign is done by Philips which introduced its innovative kitchen appliance named air fryer. When it was launched there were very few public who knew about the health benefits or its usage. This superb product allows you to cook all fried foods with 80% less oil. But people were not aware of this.
For this, the brand with its digital agency led an awareness campaign to launch some relevant content about it and instead of launching their own cooking show from scratch, the company roped one of the famous YouTube chefs named Sanjay Thumma already run a channel on YouTube named Vah chef with more than 350K subscribers.
#5 Dove – Sketches Campaign
Dove's real beauty sketches campaign is the other unique marketing campaign which went viral. Its promotional video has generated record breaking online interest by making more than 115 million views. It has also uploaded its video in 25 languages in 110 countries. In their video Gil Zamora artist who draws many women from behind the curtain. Therefore, in most of the cases, the sketches based on some strangers point of view correspond to more accurate descriptions than that of women's own self descriptions.
With this campaign, the brand generated almost 3.9 million views in its first month, which further added more than 15000 new subscribers to their brand in 2 months.
#6 Burger King
Another unique content marketing campaign was held by the brand Burger king. This brand was a part of the launch campaign of Tender crisp sandwich. Their website was meant to reach to the people who don't see commercials of the Tender crisp on television.
The website was launched with a tag line of chicken the way you want it while providing entertainment value to people who were not at all interested in the tender crisp sandwich. Therefore, when you type commands on their website, a person in the chicken dress will follow your commands and it cleverly seemed to anticipate all commands given by the you.
#7 GoPro – Fireman Saves Kitten
Last but not the least unique marketing campaign, which went viral is GoPro "Fireman saves kitten". Its HD videos with surfing and skateboarding were popular, but the company's firemen saves kitten  video made a social blast by documenting a superb different act of bravery.
Their video shows how a person rescued and unconscious cat while wearing HD camera of their company which was attached to his helmet.  This video got more than 1.5 million views in a few weeks with a huge success. The clip was heartbreaking which demonstrates the GoPro camera in action and showing that how effectively the product the captures your memorable moments.
Therefore, these are some of the best and in fact, you can say unique content marketing campaigns which went viral. You can also choose the one of their strategies to launch your product.