A lot of wearable fitness trackers are available today with great features including sleek designs and great display. These trackers have the latest technology in the fitness-tracking wearable and are a sports freak's dream come true.
In Wearable devices industry Fitbit Company has very popular name and building advanced fitness and activity trackers from last few years. Fitbit launched range of its fitness activity trackers like fitbit flex, fitbit charge, fitbit charge HR and latest one was fitbit surge. As we know that not one is perfect and there will be always some alternate products may offers different or advanced features.
Here in this article we have filtered some of the best alternatives of Fitbit trackers which may suits with your budget and quality you wanted.
#1 – Garmin Vivofit :
The Garmin Vivofit is a good tracker if you do not want to take it off. With a great battery that can last for over a year, this waterproof band can even be worn while taking a shower. The Vivofit tracker can track distances, calories, steps and sleep. It can also be paired with a heart rate monitor that is sold separately to track work out details. The activity bar on the tracker informs when you have been sitting for a long time. The Vivofit can sync with Android as well as iOS app wirelessly and can also sync with a computer.
Price: $74.99
#2 – Microsoft Band :
The Microsoft Band can work with android, iPhone and Windows phones and has been designed as much more than a fitness wearable. It tracks sleep, calories, steps and can also send emails and call notifications, social media updates and calendar notifications. It also includes GPS mapping, workout coaching, continuous heart-rate monitoring and sensors that can measure the intensity of the sun.
Price: $108.50 (Large Size)
#3 – Striiv Fusion :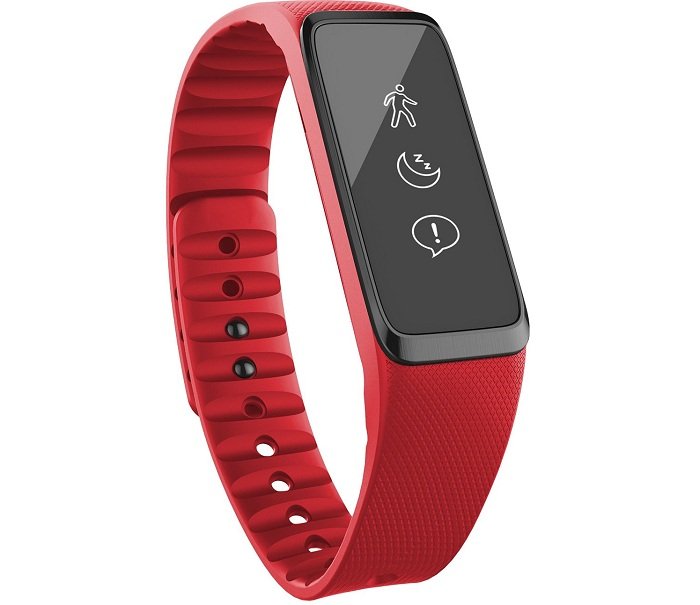 The Striiv Fusion is a smart watch as well as a fitness tracker. It tracks calories, steps, sleep, and much more. The features also include calling as well as text alerts. The smart watch also has a vibrating alarm, weather reports and meeting reminders. It is available in vivid attractive colors that can be wear by both men & women.
Price: $63.26
#4 – Jawbone UP3 (Black) :
The update on the original UP model, the UP3 is an advanced fitness tracker. The new model has advanced activity and tracking capabilities much better than the classic version but the best update is its ability to record the resting heart rate along with activity monitoring. The heart rate is tracked through the temperature and skin monitoring sensors on the tracker. The battery can last up to 7 days and it is also water resistant.
Price: $87.92
#5 – Misfit Shine (Grey) :
The sleek and minimal fitness tracker, the Shine has a metallic orb. It tracks calories, steps, and sleeps. It can also track activities including running, swimming and cycling. The waterproof, circular device can be worn on the wrist or as a necklace and can also be clipped to the clothing. The watch battery of the Shine lasts four months.
Price: $59.60
Over to you:
These are few FitBit alternatives available in market from $59.60 to $108.50. Are you looking for some alternatives? do share your thought on why you are looking for FitBit alternatives here by comment.