Design
7 Top Online Marketplaces to Hire Graphic & Logo Designers
Graphic design has been driving advertising campaigns and goals for a long time now. Marketers and businesses are constantly looking for creative people who can help bring a transformation in their brand value and recognition. Graphic design marketplaces have evolved as a helpful platform for both, businesses looking for creative professionals and designers looking for work. Internet has enabled designers reach out to a global audience, showcase their work and get rewarded with recognition and projects. Such platforms help designers to work on projects in their own genre and build a niche of their own. Consequently, several freelancers and design teams have been able to build a strong client base globally and get comfortably paid for their efforts and talents.
For the businesses and advertisers, hiring a designer from such marketplaces attaches several advantages. Not only do they get to scrutinize and select from the works and portfolio of thousands of designers but they can also reach out with their precisely tailored instructions and budgets. It can be conveniently said that there would be someone who would be willing to work on your project at a price you have quoted.
How to hire designers from marketplace
#1 Work portfolio : Graphic design marketplaces are a popular way to showcase work and get projects from global client. As a result you get to see the best work in each designer's portfolio and making a choice gets easier.
#2 Reviews : Every project completion comes with client reviews and testimonials. These are valuable elements of choice.
#3 Skills : Skills listed with a graphic designer's portfolio also include things like being conversant in several software tools, drawing, 3D modeling, photography and others. These things can really strengthen the candidature for some projects.
#4 Experience : Graphic design marketplaces have designers who come with a range of experience. You might be looking for highly experienced professionals or freshers who charge low.

#5 Knowledge of tools : Every design project requires a different set of software and hardware toolset. The first criteria while hiring a designer is to ensure that the candidate is conversant in the preferred tool/technology.
#6 Budget : The fee you pay to your designer depends on his experience, skills and your expectations from the project.
#7 Work completion ratio : Every designer portfolio integrated into such marketplaces provides you with vital stats like work-completion ratio. You certainly wouldn't want hiring someone who wouldn't be able to complete the work.
Popular Marketplaces to Hire Designer
Set out in 2006, Behance is currently one of the most popular graphic design and art marketplaces globally. The main aim of Behance team has to be able to lift the barrier between opportunities and talent. A free platform for creative professional, it allows for building up a portfolio for a global clientele. More than 5,908,502 projects are appreciated by global clients every month. Behance helps a wide range of creative professionals including Animation, Advertising, Automotive Design, Branding, Cartooning, Culinary Arts, Calligraphy, Drawing, Digital Photography, Film, Fine Arts, Illustrations, Jewelry designing, Motion Graphics, Music, Painting, Street Art, UI/UX, Web Design, Writing and several others.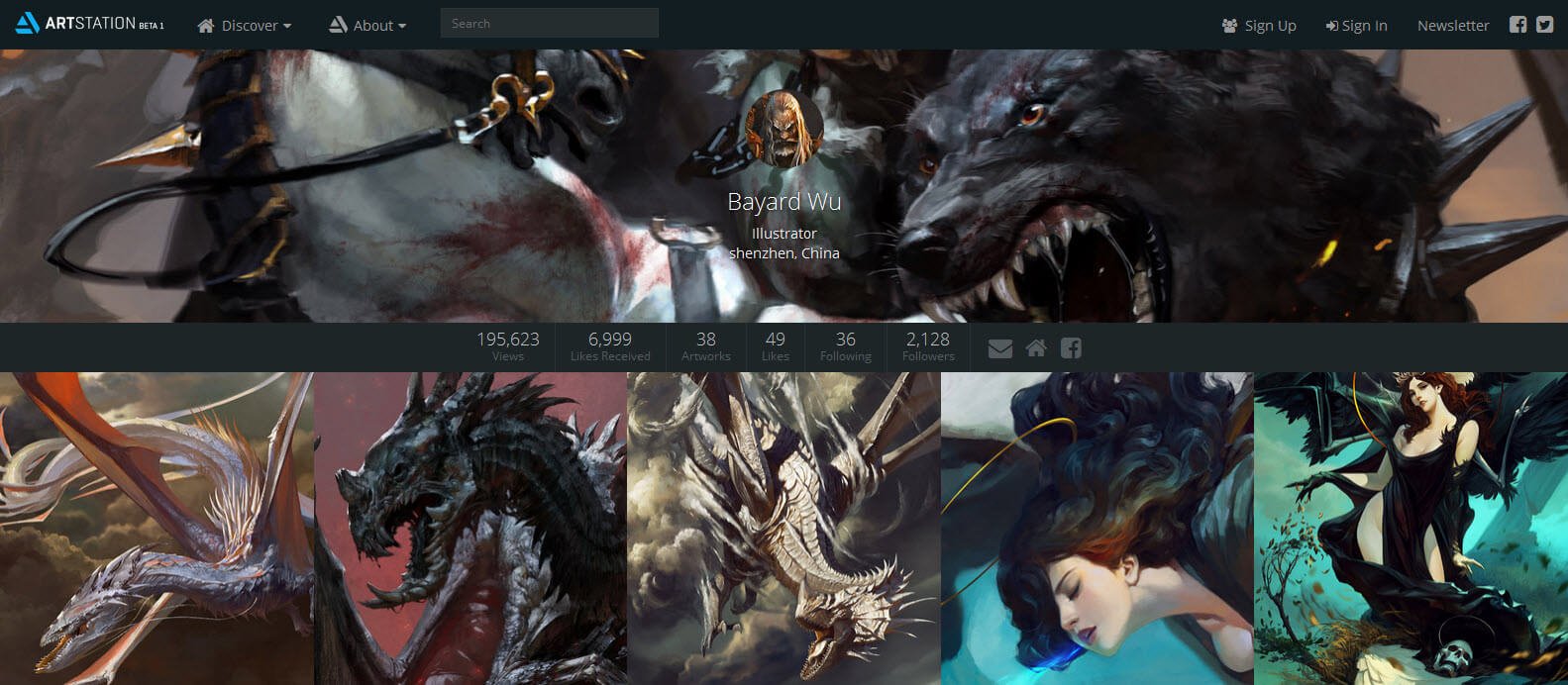 ArtStation is a growing community of digital artists who work upon images, videos, and modeling. The platform reaches out to a global clientele in the media and entertainment industry, making it easier for artists to showcase their work and win high paying freelance projects.
LogoTournament is dedicated to the creation of the best logos and web templates. This is the platform which provides amazing opportunities to logo designer to express their talent to various businesses. Started by Tyler Quinn, LogoTournament has been able to partner up with several online stores and other businesses across the globe.
Another popular platform for buying and selling graphic design, BrandCrowd is special because it allows designers to create custom designs that can be browsed and used by interested businesses. If you are a creative logo designer then this platform is for you. The platform has been making the process of buying and selling quite easy over the past couple of years.
99designs is an innovative marketplace that takes up design projects in several niches and allows freelancers to submit their work. 99design will showcase a set number of submissions depending upon the package a client chooses. Further, 99designs also launches several logo designing contests wherein designers complete with global professionals.
CrowdSpring presents itself as a one-stop creative solution for logo designing, web designing, company naming, product naming, package design and writing assignments.
AwesomeWeb is the perfect platform clients and design professionals from across the globe working on precisely tailored web design and development projects. Creative professionals can work full time for AwesomeWeb from their own homes, getting regular projects.
Creative marketplaces like these have been able to rightly suit professionals who love to work at their own homes and in their desired hours. This helps brings out the best in them, further meeting the expectations of all stakeholders.
Did we miss anything? feel free to write us or drop comment here in this blog post to suggest any creative marketplace that you think are best suitable for this blog post. Our team will manually review the website and will include them in this post.