Apple
Apple Watch Series 1 & 2 – Price, Features, Apps & Many More!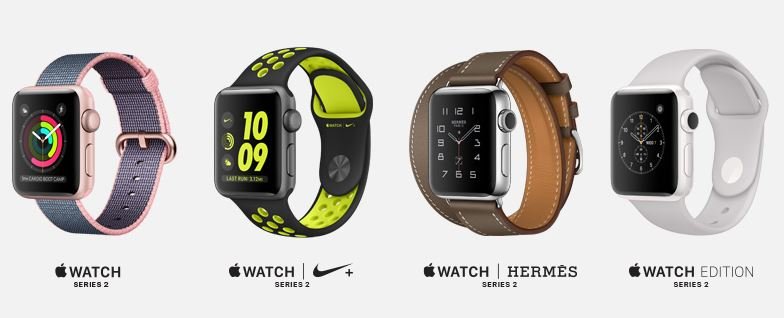 Apple watch received great response after its launch and you will be surprise to see the initial sales figure. Yes, they have shipped over 3.6 millions units in first 3 months. According to IDC, the sales has dropped to just 1.6 millions unit in latest quarter; which is really disappointing and force Apple to launch the revised version of Apple watch (series 2).  One begins to appreciate the genius called the Watch from Apple at the moment it is taken out of the box. Having it on your wrists is even more exciting. The 'gadget of the future' Apple Watch comes in a premium stainless steel polish and complimented by a black stainless steel case. Till date, the watch is available in five different versions (Availability of the model is vary from country to country).
Apple watch (Series 1) – from $269
Apple watch (Series 2) – from $369
Apple watch Nike+ (S2) from $369
Apple watch Hermès from $1149
Apple watch edition from $1249
When you measure the case vertically, it would either be (272 by 340 pixels) 38 mm or (312 by 390 pixels) 42 mm and neither size is either oversize or undersized in both the series of Apple watch. The gadget is weighty and solid and bears the trademark oblong shape with rounded corners. When compared to analog watches, it would be presumably thicker from front but in no direction it seem to add extra space/weight. The Apple has designed this watch perfectly balanced and will sit firmly on the wrist even if you choose to ride a dirt bike!
The display of the watch is protected by sapphire crystals and you can also choose among three types of leather straps to go with your purchase – a Milanese Loop, a link bracelet and a high performing fluoroelastomer strap. A range of design choices too are available including professional wear, sporty gadget, etc. Further, you can choose from a huge variety of Apple Watch colors by its series explained above.
Apple Watch Availability
The Apple Watch was announced last year in the 9th of September at the Flint Center for the Performing Art in Cupertino. However, it was officially released last month on 24th April in just 9 countries. Every few were lucky enough to be accepted for a pre-release order. Currently Apple watch (series 1) is available in almost all major countries and series 2 is periodically releasing. According to recent announcement, Apple watch series 2 is going to launch in India on 29th Oct.
You can buy one from Amazon.in
Apple Watch Price
The Apple Watch price (S1) has been reduced to just $269 (which was $349 during launch) in the US. This will be the price you would pay for the 38 mm Sports Edition. However, for the 42 mm Watch, you will need to pay lil bit extra in the US. Further, the Apple Watch series 2 and other collection is placed between the price range of $369 and $1249 for the 38 mm. Again for the 42 mm, just add lil bit extra. Lastly, the Apple Watch Edition which has been created from 18 carats of gold will start from $10,000, but will be limited in supply. For more information regarding Apple Watch price one can explore details on Apple Store.
UK prices for the Apple Watch are £299/£339 for the sport edition, £479/£949 for the Watch Collection and £8,000 for the Watch Edition. Here the price of this smart watch will be different from country to country but the difference will be minimum.
Apple Watch Features
After the launch of Samsung galaxy gear smart watch, the speculation was very high from Apple customers. There were different leaks published by various tech websites and finally it launched with all amazing features explained below:
Apple Watch (Series 1)
Apple Watch (Series 1)
—
Built-in GPS
Splash resistant2
Water resistant (50 meters)
Wi-Fi (802.11b/g/n 2.4GHz)
Wi-Fi (802.11b/g/n 2.4GHz)
Bluetooth 4.0
Bluetooth 4.0
Heart rate sensor
Heart rate sensor
Accelerometer
Accelerometer
Gyroscope
Gyroscope
Ambient light sensor
Ambient light sensor
OLED Retina display with Force Touch
(450 nits)
Second-generatiSecond-generation OLED Retina display with Force Touch
2× brighter (1000 nits)on OLED Retina display with Force Touch
Ion-X glass (strengthened glass)
Sapphire crystal (stainless steel and ceramic cases)
Ion-X glass (aluminum cases)
272 by 340 pixels (38mm)
272 by 340 pixels (38mm)
312 by 390 pixels (42mm)
312 by 390 pixels (42mm)
Buy Now
Buy Now
Compatibility: Probably, the most advantageous and outstanding feature of the this Apple watch is its ability to sync with the iPhone 6 and Iphone 7 series devices. Other devices that would be compatible with the Watch are iPhone 5 and iPhone 5c. Now, you can synchronize the data between your iOS device and Apple watch.
In-Built Apps: The Watch has been integrated with a variety of apps for messaging, calling, emailing, calendar, mapping, photo, music, workout and activity tracker. However, the health and fitness app with the Watch has been catching all the attention. The watch keeps count of all your activity and unconscious workout including climbing down the stairs or standing up and chatting with friends during lunch hours. Everything is presented in a well formatted statistics that encourages activity. Other unique apps of the Apple Watch are the ambient light sensor and the in-built camera.
This will also allow an exciting opportunities for iOS developers to facilitate the user by developing app with additional functionality.
Features: The Watch has a custom version of the iOS that supports touch navigation but the UI can also be controlled using the digital crown in the watch, as one would have controlled a clock. The new "Taptic Engine" presents a highly improved mapping experience wherein you get buzzing vibration on your ears that offer the right directions. This feature can also be used as a 'heartbeat' alert. Combined with Siri, Apple Watch users can command messages right on their wrists. Smart replies allow you to choose from pre-written texts. The Watch also features a heart rate sensor that will be able to give you constant feedback about the health. The device doesn't offer a great battery life but does have features that tend to save more power when not in use.
One more important note to all Apple users that the Apple Watch is water resistant but not a waterproof. It means you can wear Apple Watch during exercise, rain and even when you wash your hands. But as per Apple you can't submerge entire Watch as it is not recommended. If you are planning to buy sports edition Watch then understand this point that leather bands are not water resistant.
Innovative Apps: The health and fitness app is certainly the most innovative of apps in this genre ever made. The Watch keeps count of everything, from the number of steps you walked today to the distance you travelled and the calories you have burned. The device will even suggest good workout and diet plans based on your regular habits. Another app worth mentioning is the Apple Pay. It's like a mini bank that you can use to make payment on store or transfer money to other's accounts.
Apple Watch for Developers
The Watch has been built on a highly developer friendly platform called the WatchKit. It slows for extending and enhancing the functionality of the Apple Watch. We will keep updating this post with additional information about Apple watch prices and its availability in different countries. Meanwhile, keep sharing your experience using Apple watch with us through comment here.
Images from Apple Official website