Tom has just launched his first website and very much concern about the security. But the biggest question for him is to from where he should learn about internet security essentials? If you are also looking to learn about basic but very important internet security tips, this article is for you.
According to Splashdata "password" is world's #2 most commonly used password on net! While this is not the only thing which attracts hackers, it also point out to little knowledge of webmaster about the information security of their website. If we take some extra care while working online, internet security breaches would have been far less and hackers would have had a hard time getting into the accounts of others. It's more of a numbers game and hackers do manage to find someone more vulnerable.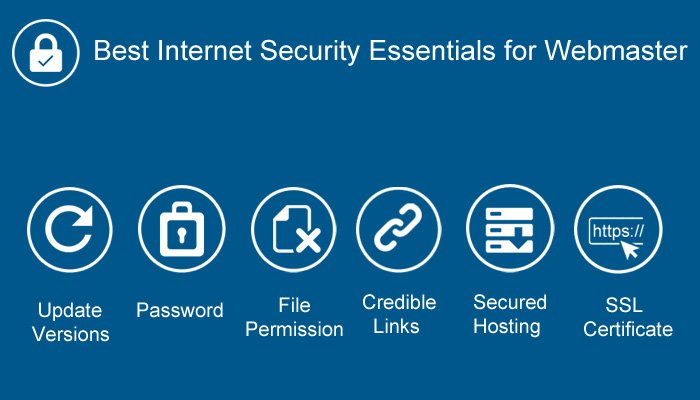 However, here's a list of such best internet security essentials that will help you to improve the security of your website and can decrease the chances to get hacked.
#1 Use updated versions of software [Keep Updating]

The simplest possible way to keep your website free from bug is to have the latest version of CMS and antivirus platforms. Regardless of whether you running your website on WordPress or using Windows/Linux/Mac as your operating system, updates come with the latest bug fixes and other security features. Whenever a new version is released by vendor, do update them as it comes with previous bug fixes and can improve the security of your website information.
Before you update your existing version, make sure you study supported version and compatibility. It may happen that your website stopped working or you may also face some database related error and your website may stopped working. If you are not sure, better you ask your website developer to check the compatibility and according update version.
#2 Creating strong password
Many websites ask for passwords that contain characters, numbers and special characters. If you are keeping your pet's name as the password, a hacker with little research on your personality can easily access your account. If possible then create different passwords for different platforms. Creating a strong passwords always helps webmasters to secure accounts from hackers and other cyber attacks. Strong passwords for your cPanel or FTP accounts make your site less vulnerable to attacks. Splashdata has published the list of most commonly used password in 2018. Here is the top 10 passwords!
| | |
| --- | --- |
| 1 | 123456 |
| 2 | password |
| 3 | 123456789 |
| 4 | 12345678 |
| 5 | 12345 |
| 6 | 111111 |
| 7 | 1234567 |
| 8 | sunshine |
| 9 | qwerty |
| 10 | iloveyou |
The most recommended way is to create stronger password which only only use capitalization but also includes special characters with some unique pattern which is not a common and very difficult to guess.
#3 Locking down file permission
It is important to know what your folder and file permissions are set as. Some of the web applications need them to be set as open "777" for installation but most of us forget to put it back to closed "755" (folders) and closed "644" (files) after the installation is complete. This can create more access routes to your important server data. If you are not sure about file permission, never hesitate to consult an expert to close such open door for hackers.
We found that, file permission is of the most common ways hackers accesses your website directory to install malicious script. Make sure you are aware about the file permission of each and every folders hostel on your website.
#4 Check your links regularly

Make sure you are only allowing credible sites to be linked from your website. "Open redirects" have been said to be the major cause of attacks. Putting a bad link into your site will effectively put you in bad credit and into the grasp of perpetrators. If you are running a website where guest contributors or someone else is also publishing the content, make sure you closely monitor the links and accordingly publish the content.
#5 Looking beyond shared hosting
For many of us, websites are the means of livelihood. In that case, no amount of security and strong passwords can make you feel comfortable enough against threats. When the website is critical to your operations, VPS or dedicated server hosting can give you the required peace of mind. VPS or dedicated server hosting are more secure as compare to shared hosting but it will also priced a lot. It is also the only way you can create custom firewalls and personalized security measures. The webmaster takes a more active role in such hosting process.
#6 Use SSL certificate on your website

SSL Certificates are not anti hacking tool but having one ensures that data traverse between your web server and user's pc are encrypted and should be free from man in middle attacks (MIM). When it is installed on your website, it will encrypt the entire local-server communication to secure the data. Generally, SSL is used to secure the transaction on ecommerce websites where hacker can no access the confidential information of customers. SSL Certificates also add to the credibility of a website and make both the webmaster and customer feel that he/she is operating in a safe environment.
Before you buy SSL, make sure you learned about this effective ways to save money while you purchase SSL. It is proven ways and works for all types of SSL certificates.
Hackers mostly look for websites that aren't locked down tightly and webmasters need to make it a habit to keep everything updated and thoroughly scrutinized. In this age of information, you can never make your information 100% secure but by taking small measure you can definitely decrease the chance of such information security breaches. For any webmaster, data is everything and you don't want it in the wrong hands!
According to you, what are other important security essentials for webmasters to decrease the security related issues?