eCommerce
Importance of SSL Certificate in Ecommerce Business
You would certainly have heard of SSL certificate encryption and comes across the secured address bars (https) in important websites like government authorities, banks etc. For online shoppers, this recognition ensures that their information is safe and their transactions are secure. One of the most popular and recognized SSL certificate type is EV SSL (extended validation type) which is also know as "green address bar"  SSL. It is very well recognized by buyers and as a reason, ecommerce website owners considered this type of SSL over others. Below image depict the green bar SSL of Paypal which clearly shows the company name in green address bar:
SSL or Secure Sockets Layer is a cryptography technique that helps establishing an encrypted connection between the client and the server via a symmetric key. This way, the encryption is able to protect sensitive information while it is being transferred over the web. SSL certifications are used by several websites including online shopping portals, banking websites, and other web addresses that vouch for information safety/credibility. Sometime, your website may gives https error if the ssl is not installed properly. In this article, we will discuss about the importance of SSL certificate in eCommerce business.
SSL for ecommerce websites
There are many importance factors affect the success of an eCommerce website and SSL certificate is one of theme. SSL is a widely used feature for ecommerce websites which deal in online transaction with customers and store sensitive information like credit card data, personal information of buyers etc. There are two primary reasons why ecommerce websites should invest in an SSL Certificate.
Information security: Obviously enough, every customer and visitor in an ecommerce store will want to keep their information private. While they would be requires to use usernames, passwords, credit card information, addresses, etc and unsecured encryption would mean that the chances of identity theft increases. It is the responsibility of the merchant to provide a completely safe experience for the customers.
Building trust: Internet security has always been a big concern among users. Every day we used to hear some kind of identity thefts and hacking. Users consequently have become more careful and will only order products and services from a site that offers a degree of protection. As per the recent survey published by CreditCards.com, over half of the CC holder refuse to purchase from the website after breach. SSL Certification is like a trust seal and instills in confidence among buyers.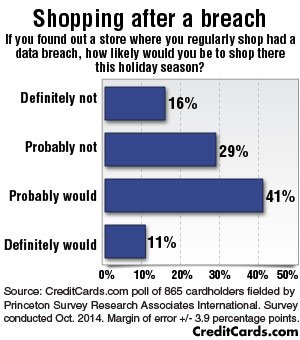 Does your ecommerce website really needs an SSL Certificate?
As explain, there are various reasons you must install an SSL on your eCommerce website but still here are few facts that you must know before you buy any SSL certificate for your eCommerce website.
Credit card information: Online merchants will have customers paying through their credit cards and other electronic payment options. It becomes their responsibility that no one else is able to intercept this information exchange and misuse the same. Ecommerce websites requiring credit card information need to process the same through an offline POS machine or charge it manually on the merchant account website. An SSL encryption ensures that the credit card information traverse between customer's browsers and eCommerce website server is encrypted and must not hacked through Man in Middle attacks.
3rd party payment gateway: In case you use a 3rd party payment platforms like PayPal, you won't directly need an SSL encryption but it does act as a trust seal. Also ensure that the customer is able to see the green address bar or HTTPS when he/she enters the credit card information to be forwarded to the payment gateway.
Login forms: Websites asking for login forms (usernames and password) require an SSL encryption such that a third party isn't able to impersonate the user. Also, many of us are in the habit of using the same passwords for several different websites. Keeping a loose string in any one of them exposes all accounts that the user holds. If you are worried about the investment, you may as well use cheap SSL certificates with login forms.
In-short, if you are eCommerce website deals with sensitive customer's information, you must have your website secured by an SSL certificate. Moreover, Google has recently announced the positive weight for SSL secured website in their organic search result. This will definitely give some extra traffic boost to your website in Google search result.
SSL in all the above cases ensures transparency, requiring little interaction from end users. An SSL encryption is an extremely easy experience for both the users and the administrators. To add to the importance, many governments have in fact made it a rule for ecommerce websites to have customer information accessed to and requested for through secured encryption only. When it concerns the security of an ecommerce store, SSL is a handy solution and instills in the confidence. While it doesn't require in depth technical knowledge it can at the same time be accessed by all kinds of websites looking to use the internet in a more profitable way.
We strongly recommend having an SSL certificate installed on your eCommerce website but at the same time, we would love to hear your thoughts on this topic. Do share what you think about SSL security and eCommerce industry.