Update: This article featuring Cheap wildcard SSL certificates providers (Resellers) is updated on 2nd May 2022 where we added new brands offering wildcard SSL and updated the price of different SSL certificate authorities based on latest information we received from those SSL providers or an authorized SSL resellers.
John is launching a new ecommerce website where he is planning to host admin panel and blog on sub-domains. His developer suggested him to buy 3 domain validation SSL over 1 wildcard SSL to secure those sub-domains separately to save money.
Is it right suggestion? What if we suggest to buy single wildcard SSL certificate and not multiple domain validation SSL in this case? Read on!
This article is divided in two parts:
Direct list of cheap Wildcard SSL provider
Detailed article explaining What is SSL, Wildcard SSL and the detailed description of each Wildcard SSL certificate provider
If you are familiar with part 2 of this article, you can directly find the list in first part and can visit their official website to complete your buying process.
One SSL certificate that secure unlimited sub-domains is commonly known as wildcard SSL certificate. In his article, you will learn about proven ways to find best SSL providers / resellers who offers same Wildcard SSL certificate at cheap price.
Part 1 – List of Cheap Wildcard SSL Certificate Providers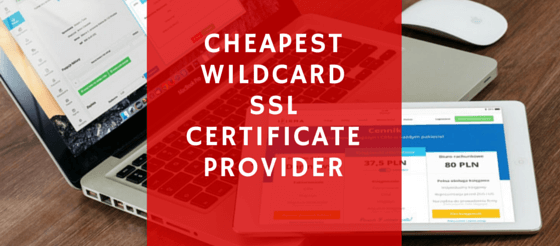 Are you looking for the trusted and cheap wildcard ssl certificate providers selling all different brand's wildcard SSL? You are at right place! Here we have listed cheap wildcard SSL certificate resellers you can use to save money when you buy an SSL.
DigiFloor team have studied various wildcard SSL certificate providers and compared certificate features, prices and certificate authorities. Our goal behind this exercise was to provide a list of cheap wildcard SSL certificate providers who are offering best Wildcard SSL without compromising the quality and trust. Based on our detailed analysis, we have compiled a list of cheapest SSL providers to save your hard earned money.
For those who already aware about SSL certificate and its benefits, can quickly check below list of:
World's most popular and known Wildcard SSL certificate providers (CA or Resellers) offer best support and Cheap Price
If you want to learn more about SSL certificates, Wildcard SSL and all useful information associated with it, checkout below paragraph.
Part 2 – Detailed information about SSL and Description of each Provider
What is SSL Certificate?
Secure socket layer aka SSL certificates keep both business and customers safe while online browsing and online transactions. This increases the confidence of customers towards the business by validating business identity and authentication with the help of SSL certificate information. SSL is a protocol encrypted with 128 or 256 bit key that provide the secure connection between browser and the server. Here browser would be the place where you will be accessing the website and server would be the space where your website is hosted. There are many types of SSL certificates available in market ranging from simple domain validations to extended validation certificate. Today, we will discuss one of such type of SSL certificate which is known as Wildcard SSL that can protect unlimited sub-domains hosted on single domain. Recently we received an email from our readers asking for best and cheap price wildcard SSL certificate in market. This is how we come-up with this article explaining the topic with recommended wildcard ssl providers shorted by their selling price (after coupon / offer). Before we list the providers, let us explain you what is wildcard SSL.
What is Wildcard SSL certificate and Why They are Expensive?

The basic difference between the general SSL and Wildcard SSL certificate is; if you are using the general SSL certificate then it will secure only single domain/sub-domain of your website like:
subdomain1.domain.com or domain.com.
If you have other sub domains like subdomain2 then you will have to buy another SSL certificate. Just imagine if you are running a big website which uses 14-15 sub domains then you have to use 14-15 SSL certificates. Is this economical or productive solution? I don't think. Managing 14-15 SSLs is not an easy job. But don't worry; I have a solution for this.
Wildcard SSL provides the cheap and effective solution for this issue. It allows you to secure multiple sub-domains on single domain. So if you are having multiple sub domains also, no need to buy different SSLs, a single wildcard SSL can do this for you. Before we recommend any provider, it is very important for you to understand the difference between CAs and their authorized re-sellers.
Wildcard SSL are bit expensive as compare to single domain SSL by considering this additional sub-domain validation and security feature they are providing. But if you choose the right reseller to buy your wildcard, you will not have to pay more for the same certificate.
There are two types of Wildcard SSL certificate are available in the market:
Domain validation wildcard SSL certificate (DV Wildcard)
Organization validation wildcard SSL (OR Wildcard)
Both will do the same process by protecting your website with multiple sub-domains but the validation process will be different. In OR validation wildcard SSL, the certificate authority will do the validation at organization level before issuing the SSL. Here the process will be totally depending upon certificate authority which you choose to buy from.
Certificate Authority vs Authorized Re-sellers
Certificate authority (CA) is an entity that issues digital certificates by verifying the legal or required ownership of the website. The digital certificate offers an ownership of a public key by the subject name of the certificate. The CA issues the certificates that mainly contain a public key and the identity of the user. This key is kept secret by the end user who has generated it. CA issues the certificate and the companies' resale those certificates are commonly known as resellers. Most of the CAs like GeoTrust, Symantec, RapidSSL, Thawte, Comodo running a reseller program bide by strict guidelines. There are third party businesses who qualify for this program are eligible and authorized to resell the same product offered by CAs. Here the product and certificate authority will be same but the price will be very low as resellers purchases those certificate in volume.
You don't really need to afraid of buying from authorized SSL resellers as you can get same product at cheap price means double benefits.
Also Read – 6 Best Internet Security Essentials for Webmaster
Cheap Wildcard SSL Providers / Resellers:
There are multiple re-sellers selling wildcard SSL certificates online. But you should first investigate about those companies, especially about their support. We manually reviewed the price of different wildcard certificate sellers (CAs and Resellers) and depending upon the price and customer reviews, we have filtered out best providers listed in this article mentioned below:
#1 SSL2Buy
SSL2BUY is one of the most popular SSL certificate reseller in the world providing their services in more than 69 countries. It's a global SSL certificate provider at very cheap rate and their customers rate their services best in class. SSL2BUY offer wildcard ssl certificate at just $40/year (when you buys wildcard ssl for 2 years) which is far below as compare to other competitors in same segment. The actual price of this AlphaSSL wildard SSL is $149 on their official website but you can buy the same product at $40 when you buy for 2 years. If you are looking for other wildcard SSL, don't worry; SSL2BUY offer promo codes for you to buy other wildcard SSL at cheap price.
Here is the list of different wildcard SSL offered by SSL2Buy along with its prices:
| | |
| --- | --- |
| Product Name | Price |
| AlphaSSL Wildcard SSL Certificate | $34.00/yr. |
| Comodo PositiveSSL Wildcard | $54.40/yr. |
| RapidSSL Wildcard | $67.20/yr. |
| Comodo Positive Multi-Domain Wildcard SSL | $122.40/yr. |
| Comodo EssentialSSL Wildcard | $84/yr. |
| Thawte Wildcard SSL | $232/yr. |
| GlobalSign Wildcard SSL – Domain Validation | $320/yr. |
| Comodo PremiumSSL Wildcard | $320/yr. |
| GeoTrust True BusinessID Wildcard | $360/yr. |
| GlobalSign Wildcard SSL – Organization Validation | $480/yr. |
Apart from these, SSL2BUY also offers GeoTrust quickSSL and Symantc wildcard SSL at highly discounted price as compare to certificate authority and their other competitors.
SSL2BUY Review: We have personally tested SSL2BUY support system and they are very responsive in resolving technical issues. If you are looking for best price + great support, SSL2BUY is highly recommended in our list.
#2 NameCheap

Namecheap is an ICANN accredited domain registrar, Internet Security and web hosting company, based in Los Angeles, California, US. It is leading brand claims to have over 3 million domain names under management. Namecheap is one of the most trusted SSL certificate provider in the market and known for its reliable solution. Company provides wide ranges of wildcard SSL certificates from different CA mentioned below:
EssentialSSL Wildcard; Price: $59.99/yr.
Comodo PositiveSSL Wildcard; Price: $49.99/yr.
PremiumSSL Wildcard; Price: $120.88/yr.
Before you buy any wildcard certificate from NameCheap, do check for coupon code they periodically publish. You can save additional money on your SSL purchase for sure. Please note that, Namecheap has recently stopped selling all SSL products from Symantec brand. If you are looking for wildcard SSL from Symantec brand like RapidSSL, Thawte etc. You will have to check for other providers we have listed in this articles to choose from.
#3 CheapSSLShop
As name suggest, CheapSSLShop is among the very famous cheap ssl certificates providers in market. Apart from the wildcard SSL they do provide other SSLs like GeoTrust, Symantec, and Comodo SSL etc. at the very less price. CheapSSLShop also provide 30 days money back guarantee and 24×7 excellent supports. Company provides different types of wildcard SSLs and their lowest price wildcar is Comodo positive ssl wildcard which is available at just $59.50/year.
Here are few of their other SSL certificate with price:
| | |
| --- | --- |
| Product Name | Price |
| Comodo Positive SSL Wildcard | $45/yr. |
| Comodo Essential SSL Wildcard | $50/yr. |
| RapidSSL Wildcard | $68/yr. |
| Thawte Wildcard SSL | $239.20/yr. |
| GeoTrust Wildcard SSL | $303.20/yr. |
| GlobalSign Wildcard SSL | $519.20/yr. |
If you are looking for non AlphaSSL wildcard, CheapSSLShop can be your best choice to go with.
#4 SSLs.com
SSLs.com is an awesome platform to buy SSL certificates. The two unique features that I liked about them is the comparison feature using which you can compare brands and buy and the other is the knowledge base which helps you to find the best SSL that suits your business.
Checkout their main wildcard SSL:
| | |
| --- | --- |
| Product name | Price |
| EssentialSSL Wildcard | $70.88/yr. |
| Premium wildcard ssl | $134.99/yr. |
| Comodo PositiveSSL Wildcard | $38.88/yr. |
If you are not aware, SSLs.com is a NameCheap company only catering SSL certificates in all different categories. You can also buy single domain, multi domain SSL from EV certificates to wildcard SSL.
#5 Trustico
Trustico is an SSL provider that deals with reliable and high quality product at reasonable price. Trustico has been authenticating individuals and business websites with top most brands like RapidSSL, GeoTrust, Comodo, Thawte, and Symantec. All products from Trustico ensure that the data online will remain secure from data sniffing and other threats. The company also provides diversified wildcard certificates that can secure unlimited sub domains of your company. Checkout their main wildcard SSL:
| | |
| --- | --- |
| Product name | Price |
| Trustico Wildcard SSL | $213.75/yr. |
| Comodo SSL Wildcard | $289.75/yr. |
#6 ClickSSL
ClickSSL is an Internet Security provider company based in United States. ClickSSL provides the option to bargain the price and that make it more interesting. Using ClickSSL's deals page you can find great deals and offers on the SSL certificates. Below are some of the most popular wildcard SSLs provided by ClickSSL.
Comodo Positive SSL Wildcard Certificate – $96.60 / Year
RapidSSL Wildcard Certificate – $115.09 / Year
Comodo Positive Multi Domain Wildcard SSL – $65.60 / year
Thawte Wildcard SSL – $288.97 / year
GeoTrust True BusinessID Wildcard – $330.37 / year
#7 Gandi.net
Gandi dot Net is a new addition to our cheap wildcard SSL certificate provider list with its pricing start from $160 per year for Wildcard SSL. Gandi is a hosted SSL certificate authority operated by Comodo and offers 24 hours certificate issuance time. Not just SSL certificates but Gandi also offers web hosting, domain registration and email hosted solutions to their customers. Here is the brief about their SSL certificate pricing:
#8 ServerTastic
ServerTastic provides an easy online web security solution that matches every need of small and large enterprises. ServerTastic as a reseller of top branded certificate authority has been in SSL industry since 2004. The company has portfolio of over 12000 customers including hosting company to single server administrator. ServerTastic is providing top quality SSL certificates ranging domain validation to wildcard certificates. You can get wildcard certificate at affordable prices from different CAs..
| | |
| --- | --- |
| Product name | Price |
| RapidSSL Wildcard starts at | $139/yr. |
| GeoTrust True BusinessID Wildcard starts at | $349/yr. |
| Thawte Web Server Wildcard starts at | $399/yr. |
#9 Godaddy Wildcard SSL
Godaddy is world's No.1 domain registrar with over 52,575,502 domains and leading web hosting service providers. It also has over 11% market share in SSL certificate industry and very trusted brand when it comes to wildcard SSL certificate. Godaddy offers 1 wildcard certificate at $269.99/year and you can also get additional discount by using promo codes that is periodically publish by Godaddy.
| | |
| --- | --- |
| Product name | Price |
| Godaddy wildcard SSL | $269.99/yr. |
#10 SSLPoint
SSLPOINT offers a wide range of cheap SSL certificates from industry-leading Certificate Authorities with ultra-fast issuance: Comodo, GeoTrust, Thawte and Symantec. SSLpoint provides site seal as well as 256 bit encryption of data. They provide 15 days money back guarantee. Few of the major wildcard SSLs are below.
| | |
| --- | --- |
| Product name | Price |
| Comodo PositiveSSL Wildcard | $74/yr. |
| RapidSSL Wildcard | $85/yr. |
| Thawte Wildcard SSL | $319/yr. |
| GeoTrust True BusinessID Wildcard | $299/yr. |
| PremiumSSL Wildcard | $179/yr. |
| EssentialSSL Wildcard | $99/yr. |
#11 GarrisonHost
GarrisonHost is a Hosting and Server related company which provides Hosting, Domain Registration and SSL certificates. They do provide the wide ranges of certificates but their Wildcard SSL certificate is very famous as their price is too low compared to market. They have 30 days money back guarantee on all types of product. They offer same AlphaSSL wildcard certificate at $45 which is bit higher as compare to SSL2Buy.
Product Name: AlphaSSL Wildcard SSL Certificate
Price: $45 per Year
#12 RapidSSL Online
RapidSSL Online is one of the most reputable companies in the internet security market. They provide the wide ranges of SSLs with the proper guide. Their 24×7 support can help you to select the best SSL as per your business needs. They too provide SSLs ate discounted price.
| | | |
| --- | --- | --- |
| Product Name | Price | Discounted Price |
| GeoTrust True BusinessID Wildcard | $366.33/yr. | $308 |
| Thawte Wildcard SSL | $349.00/yr. | $296 |
| Symantec Wildcard SSL | $1582.67/yr. | – |
| RapidSSL Wildcard | $124.00/yr. | $105 |
Let's encrypt is a revolutionary certificate authority (CA) run by Internet Security Research Group (ISRG) offers Free, Automated and open SSL certificates trusted by most of the browsers these days. They have recently started support for Wildcard SSL and you can install one on your server without paying anything for this wildcard SSL.
Conclusion:
As explained earlier, the basic functionalities of wildcard SSL certificate is to secure all sub-domains hosted on a same domain with single SSL certificate. No matter whether you buy it from certificate authorities or from resellers, you will be issued all the certificate from respective CAs only. Here you can definitely save money if you choose the authorized resellers listed here plus FREE support is added benefits. I am sure this list will help you to save some extra $$$ when you buy wildcard ssl certificate for your website. Do share your experience with these providers by comment and guide other readers to choose the best among-st this list.
Disclaimer:
The list provided in this article are just for information purpose only, DigiFloor or DigiFloor team is not responsible for any damage caused to you or your brand from this wildcard SSL provider. Pricing of the products are manually reviewed at the time of writing this article, it may happen that the price is different when you visit the store. Do check at your end before you make any purchase decision. DigiFloor may associated with few brands as an affiliate partner and earns commission from sales generated through reference but the listing is done purely based on pricing and not to earn commission. If you find any provider offering cheap wildcard SSL; do share their name here by comment, we would love to include them in this list.