Recently I received an email from one of our readers who was searching for an app to send free birthday ecards online to her friend. Actually, the question is pretty simple but to answer it, I had to spend almost 5 hours testing many iPhone applications which offer animated greetings and other attractive features FREE of cost. After spending half a day, I found a few free birthday greeting apps listed below. I am sure, they will also help you to design great birthday wishes cards to impress your loved one.
Here we go!
#1 Birthday Greeting
Right from midnight cakes and candles to the last-minute wishes, everything seems to be special on birthdays. The world of the internet and social networking has even increased the number of birthday wishes one receives throughout the day. However, if you have been looking to do something cool and apt for your friend on another part of the globe, this free Birthday Greetings application is available at iOS store.
This revolutionary iPhone application will change the way you send greetings to your loved one and offers a unique feature to make this greeting adorable. Equipped with numbers of greetings editing features provide Independence to customize preinstalled greetings or you can capture your own photo to use in greetings. If you are a social person who loves wishing people, this can be part of your daily useful application collection.
The Birthday card maker app allows you to create customized messages and even add pictures and send over a complete greeting card to your loved and dear one online. There are several ready-made birthday wishes designs that you can choose from but alternatively, you can also spend some time creating your own e-card!. You can also invite your friends by making birthday cards online and inviting your friends for a birthday party.
There are a number of ways to share your feeling for others, and especially if you are looking into birthday wishes, the Birthday Greeting iPhone app developed by Nitin Gohel is a great way to personalize. Starting the app requires you to tap on the welcome screen after accessing the app.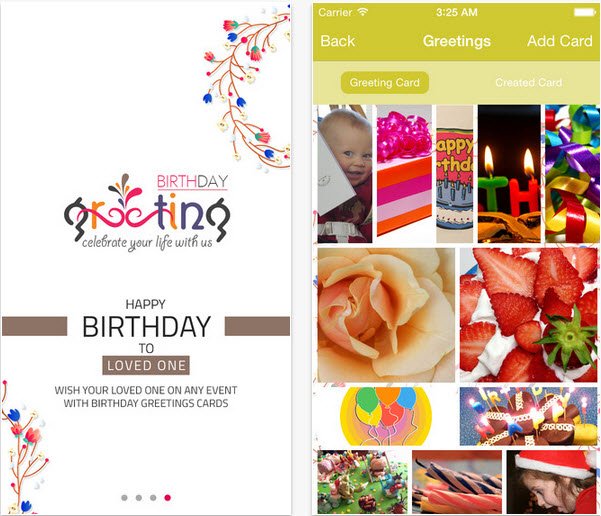 Birthday Greetings App Features
Birthday Greeting eCard Flip/Rotation
Card Crop
Insert Smiles/Stickers
Effective Text
Card Filtering
Blur Editing
Color Editing
Card Resizing
Sharing on Social Media and Email
Here you will see a variety of ready-made birthday cards. If you want to wrap up the wish in an instant, just choose any of them and hit "send". However, if you want to get a bit deeper and include some personal messages along with the greetings card, tap on any card and navigate to the "edit" button. Picture editing tools include changing "colors", font color, font style, font size, adding stickers, and several other inclusions.
Once you are satisfied with the personalized design, click on "done" and save the ecard. You can send the birthday greetings card online via WhatsApp, Twitter, Facebook, email, and other platforms.
The best thing about this Birthday Greeting app is that it is available for free and will be a unique surprise for your friend. The application hosts some of the most unique birthday card designs you have ever seen.
Checkout this app review and see the detailed description on the Apple store now.
#2 Happy Birthday Cards Maker
This one is my favorite birthday wishes card maker app you can also download it to try the second option. Equipped with various features, this app can also help you to design birthday cards like a pro. This app is a free birthday card invitation maker that helps you create cards online with multiple designs for your friends.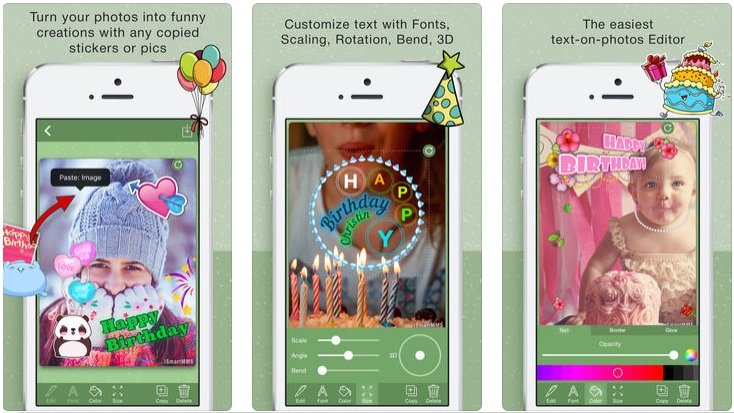 Some of the most amazing feature of this app:
Clear and attractive interface you can easily use like a pro
You can use your own image added by your phone library/image gallery or camera
Preserve history
Allows you to resize images with various cropping patterns and filters
It preserves the quality of images
And many more!
This iPhone app also offers in-app purchases and hence, you may have to pay in case you want to use some of the paid features.
#3 Birthday Wishes & Cards by 123greetings
123greetings is one of the leading names when it comes to online birthday greetings ecard. This iPhone app is owned and operated by 123greetings, received over 4.7K ratings on just iOS platforms average of 4.7.
They are offering huge collection of beautifully designed free ecards from over 25 different categories. You can directly send the birthday greetings online from application without worrying about downloading the image. Check out all the amazing features now.
#4 Birthday eCard & Greeting
One more free birthday app for iphone which gives you an enormous amount of options to send wishes to your nearest one. App offers beautiful designs by professionals. Nowadays, people share birthday cards from free birthday apps.
Here are the steps to making a birthday card or invitation card to invite people in your party
Choose a birthday card from various options of the layout.
Express your message in form of words and write wishes.
Send out the birthday card to anyone through a social media app
Features
100+ clip arts to decorate your birthday cards
Easy steps to follow
You can use any social media platform to send this birthday card to anyone
#5 E-cards & Greetings
This iPhone app is not only to create a birthday card but you can also create special occasion-based cards like anniversary, New Year, Easter, greetings, and other types of events. This Ecard is easy to send to anyone.
The main feature of this feature is to provide a large number of galleries to select various types of layouts for different purposes. This app has enough options for not only kids, students of schools and college but also in the professional field.
Features
A large number of various options for different events
Easy to follow and user-friendly UI
#6 Happy New Year Greeting Cards Free
Happy New Year special greeting card iPhone app is one of the best New Year ecard options to use and make a custom card to share your feelings in the form of an online card. You can also create as per your choice with the help of an offline cards layout.
Features
40+ offline and online greetings cards are available.
Totally custom greetings card.
Share Diwali greetings cards through social apps.
Over to you:
No matter which free birthday greetings app you use but the important point is; how you convey your birthday greeting message to your loved one. Stay safe, Stay blessed!