Jose is a small business owner with a team of 25 people in his company. His account team is always complaining about business expense tracking as they find it difficult receiving:
Timely bills from the employees who traveling around for business purpose
Tickets and other food related expenses bills
Other require details from the team to claim their expenses
At the other side, employees also had to wait for their payment and sometime they found it very difficult to get the payment they really spend on business activities. Apart from these, there are many points which Jose want to improve and seeking help with effective business expense tracking and management. If you are also looking for the help in this regards, you must read this article where we are not only providing solution but also have listed best business expense management software for you to reduce paper work and to improve the efficiency in business expense tracking.
In this progressive and inventory era, the opportunity for the newer businesses has increased. In turn many new entrepreneurs are emerging with excellence. New businesses are brimming with optimism each day. For the advancement of the business, one has to-be updated with the newer Technologies and inventions in that field. So, in this advancing epoch, manual works have to be replaced by digital applications.
Manual work comes with a variety of challenges. All the businesses have started using various types of software to make their tasks semi-automated, automated or easier. Things like visitor management software have been introduced which requires minimal human input to maintain records. To stack the company's monthly expense one has to collect the raw data, compute it, check it for errors and keep it for the records. Thus, it is a lengthy procedure and also increases the chances of mistakes. To ease this, different applications and softwares are being launched and applied. These softwares are attracting tycoon's attention as they save man power, increase the accuracy of the work and don't demand any holidays or sick leaves.
One such fantastic software to talk about is the Expense management software. This expense tracking software keeps a perfect track of all the smallest of expenditures, Reimbursement, payments that have to be done to vendors, employees or the clients.
Best Expense Management Software
Business expense tracking software are widely used nowadays both in small and large businesses to handle their financial functions. They offer full-featured functionality for all businesses, thus eliminating mistakes and repetitions of works of similar kind. Expense management software just keeps the record of the expenses held in the operatory and is not concerned with the accounting part.
The market is flooded with varieties of such expense tracking software; To pick the right amongst them, according to your utility, is challenging. Here we introduce you to some of the best business expense management software available in market to solve your biggest problem.
#1 Finly
It empowers the companies to develop a proactive spend culture while providing finance teams with tools and data that enables them to have real time insights into their spends.
Thus overcoming the problems like
Paper Submissions
Cash Leakage
Working Capital Requirement
Top Features
Greater Policy Compliance
Increase in Productivity
Faster Expense Reporting
#2 HapPay
HapPay is the best expense management software for managing business payments, reporting expenses, eliminating fraudulent spends, and controlling cash flows. It has-been awarded as the top expense Management software In 2017. Happay expense management helps the companies to track and control employee's costs.
Features
Petty cash
Travel and entertainment
Reimbursements
Employee allowances and flexi-benefits
Vendor payments
#3 Fyle
This business expense software provides finance leaders a go-to place for consuming quality content on technology and process in business finance. Fyle is a leading expense management platform for enterprises and individuals.
This Expense Management Software provides tempting features like
Stitching your receipts in a single PDF
One-click downloading & Share
Customizing Fields & Categories
Managing Project or Client Based Expenses
#4 Abacus
Abacus expense software allows its users to report real time expenses. This is a large as well as small business expense tracking software and is the easiest way to automate reimbursements, reconcile corporate credit cards and to implement the organization's expense policy.
It is the best expense tracking software, which allows you to easily do the following
Submit expenses anywhere, anytime from your mobile phone or internet
Connect personal and corporate cards
Take a picture of your receipt and then to throw it out
Make automatic expense creation and suggestions
Learn your behavior to suggest categories, merchants and more
See your travel expenses by trip on your dashboard
Assign delegate access to commercial cards to expense for others
Free direct deposit reimbursements to your bank account
Track mileage with origination and destination points
Boost productivity with their slack integration
#5 Spendesk
Spendesk is an ingenious way to track and manage all of the company's expenses, thus allowing you to regain control over its spending. This procurement software provides some of the fascinating features as-
It is easy to use and to roll out
It saves time managing purchases and subscriptions
It gives real-time insights into your expenses
It provides one-click export to accounting software
It also gives benefit from premium customer support
#6 Fresh Books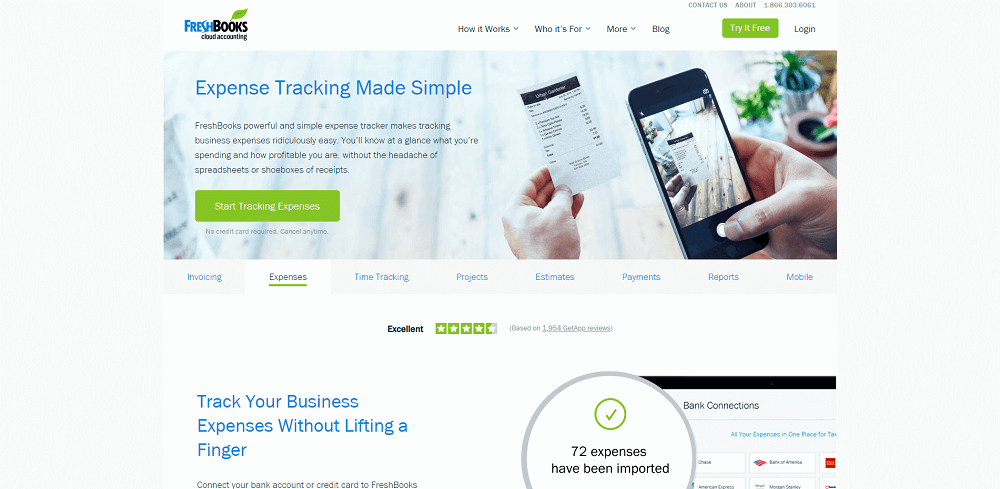 This expense software eliminates the headache of Keeping spreadsheets or shoeboxes of receipts by allowing you to keep an eye on your company's expenses and managing them. Freshbooks software besides expense recording also allows accounting. Categorization of expenses in FreshBooks eases your accountant's work to file tax, thus escaping complexity. Freshbooks review presents its Popularity for accounting.
Its magnetic features are
Multi-currency expenses
Auto-categorization of expenses
Tax friendly categories
Easily assign recurring expenses
Automatically import expenses from your bank
Easily mark expenses to re-bill to a client later
Snap and store Pictures of receipts in the mobile app
Secure receipt storage in the cloud so mobile and desktop are always in sync
#7 Chrome river
Chrome river expense is a fast, fluid, mobile web app that offers global organizations the latest in travel and expense management. They are compatible with smart-phones, tablets, laptops, and desktops. Chrome river Technologies have powerful analytics and expense reporting capabilities which excellently serves mid-size to sizeable global enterprise organizations. They have multiple products that focus more on accounting than expense management.
Chrome river Expense Management Software provides luring features like
Automated spend control
Automated approval routing
Credit card integration
Configurable screens, policies, and routing
Split allocation coding
Integration with leading financial systems
Mobile access and approvals
Cash advance and personal expense handling
Online dashboards and self-service inquiries
Enforced client billable expense policies
Final Words on Expense Management Software
Documenting, Disbursing Money, processing reimbursements and saving all the receipts in one place is not an easy task at all. Receipts are either not in the proper shape or lost at times. These expense management softwares for small business as well as for large ones have helped a lot to solve this problem. Thus, allowing the organizations to manage its expenses end to end without any difficulty. There are also various other social media account management tools that allows various businesses to manage their social media at one place.
If you have something that you would want to share related to these softwares, feel free to comment below. Do let us know which one did you choose and how was your experience.