Application
20 Most Selling & Popular Mobile App Source Codes @ Chupamobile
Mobile apps have revolutionized the digital world but one does need to realize that building a successful app is really a tedious process that requires investing a lot of time, expertise and money. While an app is the key to win, it takes a lot of brainstorming, coding, designing and more. Consequently, another interesting trend has emerged in the developer community. Known as app re-skinning, it's a process that cuts short the development process. Developers can use pre-written source code to give a whole new dimension to their app – be it a game, an ecommerce app or music player. It's just about changing the visuals and interface of an existing mobile app to come up with a whole new platform. App re-skinning also isn't against development ethics, as these source codes are readily available on reputed mobile apps marketplaces and written by coders for the purpose of re-skinning.
Why to Buy App Source Codes?
There are several advantages that app re-skinning offer and include reducing development time, minimizing source code errors, maximizing revenue and so on. All you need to ensure is that the source code is acquired from a reputable source and that it has been check against possible bugs and hidden scripts.
Using such app source codes, you can readily come up with a new app and start earning revenue and recognition. The first step to success is finding the most suitable source code for your needs. For example, all ecommerce apps have a similar sources code/script. You will just need to adjust the elements, redefine the visuals and add a few new functionalities to come up with an app that you have visualized. In any case, the source code helps you with a start that doesn't need to be boring and time consuming.
Why Chupamobile?
Chupamobile is a leading & trusted brand in mobile app source code marketplaces with over 4000+ active source codes and templates. They mainly offers source codes for iOS and Android platforms and compatible with Unity & Swift framework. With over 15000+ happy customers, they are emerging as one of the best place to buy & sell iphone android source codes online.
Here is the list of most popular apps source codes to buy from Chupamobile:
Most Selling Mobile Apps from Chupamobile:
#1 – Jelly Garden Match 3 complete Unity Project + EDITOR
This source code is in the lines of the popular candy games we like to play on our smart phones. The source code already has an extensive 100 levels but you can also choose to add more! The source code is also accompanied with a powerful editor tool that helps further development and scripting. This is perfect for users who have little programming skills bit have a revolutionary idea for game design!
Features & Requirements:
Cross platform android and IOS
Level editor
GUI helper
Leadboard
Facebook "share" button
Easy for re-skin & improvement
#2 – Cookie Blast Mania Match 3 Template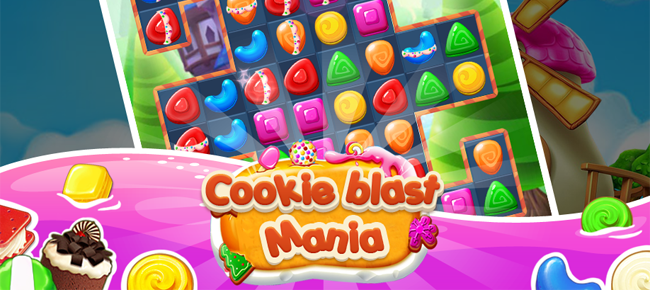 Another exciting arcade game, here you have cookies in place of candies. The source code is ready to be published but you can always add to the existing 100 levels in the game. The source code has been integrated with Facebook ladder boards that you will just need to define.
Features & Requirements:
Cross platform (Android and iOS)
Visual level editor
Easy to re-skin
Unity 5
#3 – Tower Defense (3K Downloads, $200 Daily)

Tower Defense is another arcade strategy game that anyone would love. The game already contains characters, videos, AdColony, Chart Boost and more. You can publish it as it is to earn from ad revenues!
Features & Requirements:
Chartboost
Multiplayer mode
Vungle
Free Updates
#4 – Slither.io


A multiplayer version of the legendary snake game, Slither.io will certainly be a huge success. The goal is the same – to feed your snake as much as you can without hitting a wall or banging onto other snakes!
Features & Requirements:
Cross platform ( iOS / Android )
Game made with Unity 5.3
Social sharing
Chartboost
Game configuration UI
Also Read: 8 Useful Mobile Applications to Simplify Your Daily Life
#5 – Social Network Template App (iOS + Android)
If you have been looking to come up with your own social network, this source code would be the perfect start. The platform will help you connect to thousands of users.
Features & Requirements:
Universal iPhone/iPad app
Share photos to other social networks
Leave hashtags and user mentions (Tags)
Enable or Disable location services
#6 – Catch Them


Inspired from Pokémon Go, 'Catch Them' is a similar multiplayer game that allows users to search for creatures in virtual reality. You always have the option to define new characters and levels in the game, while giving it your branding.
Features & Requirements:
Gameplay on Customized real world map
Arena gameplay view and combat logic
Character creation
Profile overview
Easy to use application navigation
#7 – Farm Business Version 2
If you have played Farmville on Facebook, you already know what this game is about. A simulation game, this would be an addictive product from your end, earning you huge revenues from ads!
Features & Requirements:
Connect and share through Facebook
Integrate the advertisments easily.
Intergrate IAP easily.
#8 – Toon Racer 2
If you are a fan of racing and have always wanted to build your own tracks, here's the source code to work with. A 3D first person racing game, Toon Racer offers in –app purchases and add to add to your revenues.
Features & Requirements:
Unity 3D Engine, compatible with Unity 5 (export to iOS, Android and more)
Tilt and Touch controls
Integrated Game Center Leaderboard
Integrated Facebook Sharing SDK
Retina images
#9 – Photoxo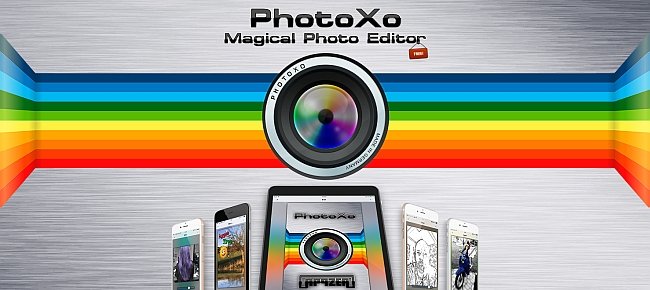 If your target audience comprises of photographers and users who like to snap on their phone regularly, here's a helpful app that can come from your end. Photoxo is an image editing app with all the basic tools needed for the job.
Features & Requirements:
One touch predefined and adjustable Filters
Customizable Effects
Image mirroring
Universal App for iPhone, iPad and iPod touch (>= iOS 8.0)
#10- Sweet Halloween
Sweet Halloween is a Bubble Shooter game that is perfect for casual gamer. Your revenue stream through this source code development would comprise in-app purchases and ads.
Features & Requirements:
IAPs crossplatform (Android, iOS)
Animated GUIs
Animated Powerful Boosts
Requires Unity3D 5.3 or higher
Also Read: GameGorillaz – Online Marketplace to Buy iOS/Android Mobile Games Source Code
Most Popular Mobile Apps from Chupamobile:
#1 – Juice Fresh Match 3 Complete Project Editor


This is one of the most popular Bubble Shooter game source codes that developers have been using to create their own original game interface. The theory is the same! Use it to create your own arcade.
Features & Requirements:
Chartboost
Leadboard
Cross platform (Android and iOS)
Easy to reskin
Facebook sharing
#2 – Super Kong Saga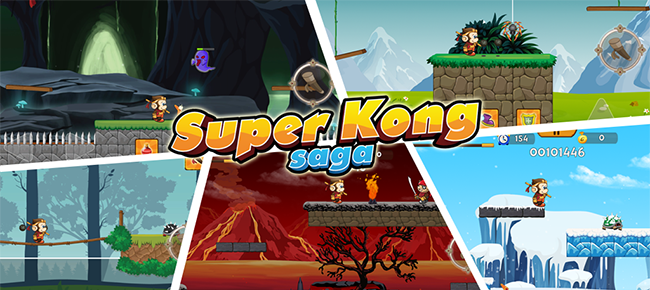 The game can be referred to as the legendary Mario game we loved to play as kids. Fun and addictive, the game defines several environments and you always have the option to add more. There are already several types of weapons and powers defined in the source code to make it an interesting buy.
Features & Requirements:
Great high-resolution graphics
Leaderboards
Retro platformer/side-scroller gameplay
#3 – Custom Emoji Keyboard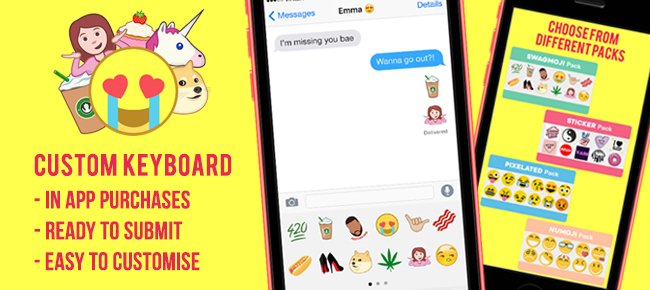 Now, this would be a source code, if you are trying to offer a keyboard extension to your user. The keyboard here will add several new emojis to a device's default keyboard and is a popular buy among young audience.
Features & Requirements:
Custom emojis ready To use
Keyboard extension
Easy to customise
Compatible with iPhone, iPad, and iPod touch ( iOS 8.0 or later)
#4 – Places Near


A navigation based app, this comes with a powerful backend that allows users to search for places and save them for future reference. The revenue stream is largely in-app ads.
Features & Requirements:
Categories and places with a modern UI
Map view and directions with the maps app
Ready for tracking with Google Analytics
Ready for localization
#5 – 7 Minutes Workout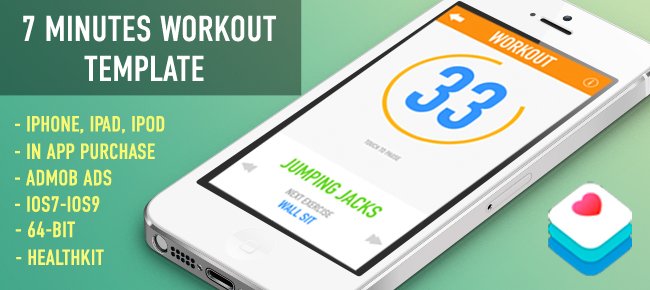 This app is targeted towards fitness enthusiasts and works around in-app purchases and ads. This would be a perfect buy if you are trying to add credibility to your fitness brand.
Features & Requirements:
Customize your own workout settings
Text-to-speech available
Simple native UIKit elements
Runs on iPhones, iPads and iPods
#6 – Quiz App Starter Kit


Featuring text and picture based questions; this app can be targeted to all kinds of audience and would be a great platform to profit from in-app ads and purchases.
Features & Requirements:
Multiplayer crash
Portrait for all screens
Leaderboards
Sharing on Facebook and Twitter
Compatible Android version 4 and above
#7 – One Pic One Word
A picture based quiz app, it could be an interesting product for both the younger and older audience. The source code already offers Facebook extensions, multilingual support, AdMob integration and more!
Features & Requirements:
Chartboost
Support multiple languages
Easy to use
#8 – Word Search – A Real Free Addictive Puzzle Game
This app is just like playing crossword puzzles, but in a more simplified form. Even so, the game is addictive and the genre is popular among serious users.
Features & Requirements:
Easy to change the game skin
Easy to understand and update
Localization
Rewarded share on Facebook and Twitter
Supports all iphone resolutions (including iPhone 5)
#9 – Banana Island – Bobo's Epic Tale


Another arcade game, the source codes integrates several power ups, weapons, scenarios, levels, hurdles and more. Use the source code as it is or make it even more difficult!
Features & Requirements:
Side-scrolling adventure game
Cross platform (Android & iOS)
15 languages supported
#10 – Mega Jackpot Slots Classy Vegas Style Casino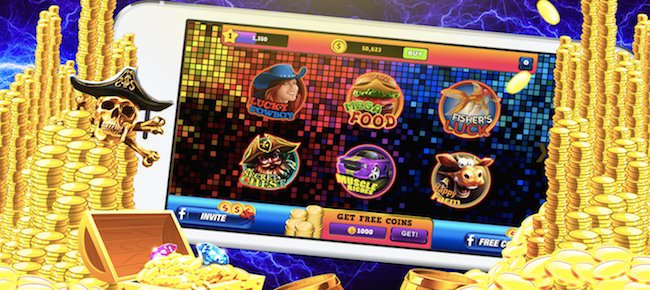 A source code for casino game, this is perfect if you are looking to make money through in-app purchases.
Features & Requirements:
Invite friends for coins on Facebook
Share for coins on Facebook & Twitter
Local Notifications
Source codes from sites like Chupamobile ensure that you don't need to build an app from scratch to turn a $1000 investment into a $100,000 business and counting!
Niraj Bariya
Niraj Bariya is working as Online Marketing Professional in IT Industry having over 3 years of experience. Niraj Bariya loves to write about technologies, gadgets & reviews and online marketing.