Facebook's advertising revenue has been contributing about 96% to its quarterly profits, nearly $7.1 billion and the largest part of this revenue has been coming from video ads. It's not new that Facebook has been trying to build a video empire for some time now but looking at the profits, Mark Zuckerberg is already set to make videos a full-fledged business! In 2016, it was for the first time that Facebook ad revenues surpassed TV ad revenues and the growth continues. In its quest to find new channels of advertising, mid-roll video ads is a striking opportunity.
Facebook Video Statistics 2016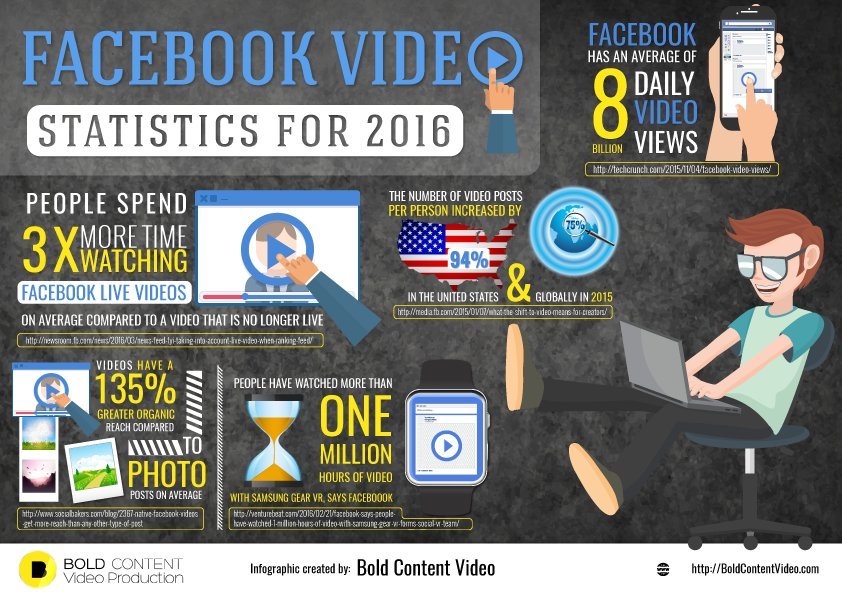 Infographic Courtesy – Bold Content Video
In the soon to be launched mid-roll ad, publishers get a chance to play an advertisement after the viewer has watched the content for at least 20 seconds. As of now, Facebook would be selling the ads for publishers and offering them a 55% of the revenue generated. This is in fact the same proportion that video publishers get when they upload with YouTube. According to Facebook, users were watching more than 100 million hours of video every day by the end of 2016. However, Mark Zuckerberg has been strict about not allowing pre-roll ads at the start of clips. Consequently, there was little in terms of ad revenues for publishers. This has discouraged several publishers, including top brands and sports leagues invest resources in creating video ads for Facebook. It was only recently that Facebook had started allowing sponsored videos and publishers like Buzzfeed immediately generated advertisement dollars.
This won't also be the first time that Facebook would b working on creating revenue opportunities for its video publishers. Back in 2015, the social network offered a separate video section that allowed publishers to monetize standalone ads. In 2016, there were instances when Facebook tested mid-roll ads in live videos. However, this time, its planned to make the biggest impact as Facebook would be using its News Feed as the main distribution platform.
Mid-roll ads wouldn't be new to the marketplace (some YouTube videos already allow it) but Facebook would be using the strategy to court publishers that aren't yet active on the social network and have stayed with competitors like YouTube. The new ad strategy will also be attracting several new advertisers. Brands would be able to define the content category that shows their ads for a more targeted marketing. They won't however be allowed, as of yet, to be choosy with individual publishers.
The 20 seconds playback before the ad insertion will ensure that advertisers aren't wasting their ad-budgets. Also, since dollars have been fast shifting from traditional platforms to digital channels, Facebook video ads can completely change the media market. Smart phones are already pushing advertisement budgets on video, display, social and search marketing and with more than 500 million active users, the numbers won't be small!
We will just need to see how end users respond to the new video feature, especially when it involves pausing the main content and playing an advertisement.