Are you looking to buy GoPro action camera but finding it overrated? Are you looking for few best gopro alternative camera which can provide similar features in budget price? This article is for you. Before I start listing alternative action cameras, let me briefly tell you about action cameras.
Action cameras are specially designed to record action while being engrossed in it. These cameras are normally compact in size and rugged. Most of smart action cameras comes with water proof case and other features to use in burst mode and time lapse at just an easy click. You can get 4k video shooting experiences in this cameras and it supports micro SD and micro USB connectors.
Now the question is, which is the best smart action camera? Yes, when the thing comes to best action camera you can easily say that GoPro Camera is always at the top position. GoPro is a popular and most reliable smart action camera in the market and many people recommend this action camera because of its outstanding performance. Though it's little bit costly than other competitors but no doubt this is the best. If you are one of them who is looking for a action camera and want alternative of GoPro smart action camera then you are at the right place. In this post we are going to discuss in details about the best 7 smart action cameras as the alternative of GoPro action camera with their Full specifications, Images and top Features. So let's start without wasting any time.

Xiaomi Y1 4K+ is one of the best action camera of 2018 which is a alternative of GoPro camera. If you mark closely then you can easily mark the great features and amazing video recording quality on this smart action camera. With built-in Sony IMX377 image sensor this 12MP camera has ability to record 4K full HD videos at 60fps. Also, with Built-in Electronic Image Stabilization (EIS) delivers, you can record smooth and perfectly steady shots. You can easily get features like voice control, raw image capture and live streaming on this camera. This camera comes with 2.2" gorilla glass retina touch screen. The 1200mAh battery of this camera lasts longer. This camera supports SD memory card slot with Type C USB.
Procus is a leading brand in India offers variety of products which includes but not limited to VR headphone, Sports action camera, premium headphone, action camera accessories etc. Procus Rush is one of the most popular action camera you can buy instead of GoPro in around $100!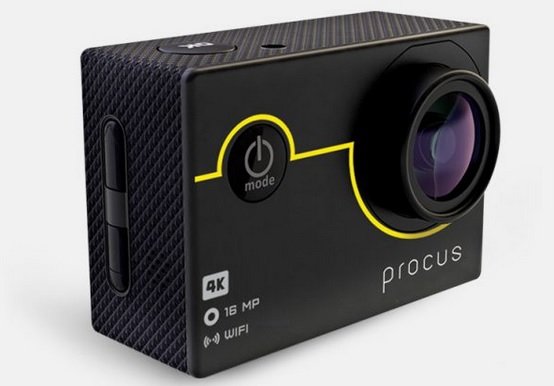 Some of the best features you will have are:
16 MP 4K camera
Wifi Connectivity
Comes with 2″ LCD screen
Offers video and photography mode
It can support upto 64GB of card
Now a days, they are also offering combo package in which you can buy various accessories like mount, clamps, 3M tap, ribbon, switch, helmet pedestal at highly discounted price. Checkout reviews and decide.
Akaso EK7000 is the most cost effective 4K smart action camera which is also one of the cheap GoPro alternatives. This camera is having 12 MP with 170 degree wide angle lens which always give you wide angle video and photos. This is 100 feet waterproof camera having 4 premium shooting modes likes time lapse, burst shot, camera and video. It comes with two 1050 mAh rechargeable batteries which provides good battery backup.

Garmin Virb Ultra 30 is another good action camera which is a competitor of GoPro camera. This is an ultra HD 4k smart action camera which takes shots at 30 fps. You can get an amazing 1.75 inch touch screen display with this camera which is very responsive. You can record 1080 pixel 120fps and slow motion at 720pixel 240 fps which is a great feature for sure. It has 3 axis image stabilization and steady video shooting capability. You can get some extra sensors with GPS which always enhance the performance of this popular action camera.

Sony is a reputed brand and its FDR-X3000/R model smart action camera is always one of the better GoPro alternatives . This camera comes with 12MP Exmor R sensor, Zeiss lens and F 2.8. It can shoot 4K high definition videos at 30fps. You can also record super slow motion videos at just 240fps with best quality. This camera is water proof and splash proof up to 197 meter and you can get WI-FI, Bluetooth, GPS, NFC, HDMI, and USB port facilities with this device. Yes, you can also get a good quality micro jack.
SJCAM offers a wide range of action cameras. If you have budget around $200 then you can go for SJCAM SJ7 STAR 4K smart action camera. This camera has 2 inch TFT LCD touch screen. This camera is 12 Megapixel and can record high definition 4K video recording. You can get 1000mAh battery with this amazing low budget action camera with some other amazing features like gyro stabilization, slow motion and Time lapse record. This camera comes with a waterproof casing and it can bear 3 meter shoot under water. It comes with 3 classy colors like grey, black and rose gold.
APEMAN 4K action camera is another good low budget action camera which can be used as the alternative of famous GoPro Camera. This is a 4K HD action camera which is 20 MP and provides 170 degree wide angle lens. It supports 64 GB micro SD card and comes with HDMI output support. You can record time lapse, loop recording features in this budget action camera. You will get a 2 inch HD LCD and built-in WIFI features which is just amazing. When the thing comes to battery you will get 2 rechargeable 3.7 V Li-ion battery of 1050mAh. According to the testing record each battery lasts around 60 minutes. This action camera is well available on Amazon and you will get 30m depth waterproof limit for this action camera.
Price – New not available. Used $75

FitFort action camera is second best budget friendly smart action camera on the list and so it surely gets a spot on the list of GoPro alternatives. This is a 4K HD action camera which prices around $63.99. The 12 MP cameras with 170 super wide angle camera lens will always give you amazing quality photo and video shoot experience. You will get two 1050mAh rechargeable batteries with this action camera which provides almost 90 minutes backup. It is IP68 Certified Rugged Waterproof. You will get 2.4 G wireless remote control facility which covers up to 10 m or 33 ft of range. Overall this is a perfect and best rugged smart action camera for swimming, surfing, drifting, water sports, diving purpose.
Final words on Best Action Camera which are GoPro Alternatives
All the above pro action cameras are good as per their own features and quality concern. It's quite hard to select one of the best among those above 7 listed cameras. So it's always better to choose the best one according to your requirement and budget. Just understand your need, budget and go for any one camera of the above list if you need a good GoPro alternative.