The latest Smartphones with incredible and convenient features are in no way comparable to traditional mobiles. But the latest phones get defeated when it comes to battery performance. Smartphones nowadays are available in different sizes as well as specifications. 3G/4G technology, Dual SIMs, higher storage capacity, impressive picture quality, and excellent sound quality with several other multimedia features drain out the battery power. In order to overcome that we need a Battery Saver App.
We use apps for nearly everything from setting alarms to planning our holiday trips to make it the most cost-effective. As a matter of fact, people have also found easy ways to make money online using applications.
Though we are witnessing the fast progress of technology, but yet we are unable to find the key to enhancing battery health, performance, and life. Today, a Smartphone's battery maximum lasts for one day. Several apps are also released every day, but most of the apps consume high battery life draining out the charge. Along with this, many apps utilize the phone's resources like CPU, Display, etc. If you are worried about the apps that drain battery power, you can use the battery saver apps. It is a big challenge to pick the right and good battery saver app. On this list, you can find the best battery saver apps that make your battery last longer (not fast-charging apps) for Android phones along with their feature description.
|  Smart Action Camera  | Total Downloads | Total Number of People who Rated the App | Rating |    Google Play Store      |
| --- | --- | --- | --- | --- |
| Greenify | 10 Million | 297,765 | 4.4 | Install |
| Power Battery | 50 Million | 798,177 | 4.5 | Install |
| Power Clean (Optimize Cleaner) | 100 Million | 2,575,557 | 4.6 | Install |
| Accu Battery | 5 Million | 127,252 | 4.7 | Install |
| Battery Doctor (power Saver) | 100 Million | 8,183,467 | 4.5 | Install |
| Battery HD | 10 Million | 522,357 | 4.6 | Install |
| Avast battery saver | 10 Million | 2,58,612 | 4.4 | Install |
Top Rated Battery Saver Apps for Android Devices
1. Greenify – Best Battery Saver App for Android 2022
Greenify is the best battery saver app available for Android devices.
It is a free app that identifies the power-consuming apps running abnormally in the background.
The app optimizes background processing as well as memory use.
Greenify app forces the apps into hibernation mode when not in use.
This extreme battery saver app accelerates the performance of the device preventing battery consumption.
It is light on CPU and RAM.
It doesn't save the personal information of the users.
2. Power Battery – Best Battery Optimizer & Life Saver
Developed by LIONMOBI, Power Battery is definitely one of the best Android Battery Life Saver apps out there in the market.
It detects the battery-draining apps automatically and fixes the problems.
The one-click optimization feature of this app solves the battery problems of the device.
Power Battery has a 2 mode of low battery reminder with which user can easily find out that their phone is running out of battery & need charging.
Power Battery app for Android has 3 power saving modes, i.e., Speed Mode, Continuous Mode, and Trickle Mode. This feature controls the voltage input and improves battery life.
The Battery Charge Monitor feature of the Power Battery provides detailed information about battery consumption.
Apart from saving phone battery, this app has a couple of helpful features such as Junk cleaner & memory booster.
The android user can generate a battery report, including power saving info, power consumption info, live battery status, battery history charge time, etc.
3. Power Clean (Optimize Cleaner) – Phone Battery Booster & Cleaner
Power Clean is a professional device cleaner and powerful battery saver app.
It quickly scans and deletes Junk files automatically and blocks them from affecting the device.
With a single tap, the app cleans the phone's memory and storage space.
It also detects and cleans duplicate photos in the device.
The battery-saver app also integrates antivirus features that scan and cleans the virus in the device.
It ensures 24/7 virus protection that protects the device's security.
This highly influential app boosts up the game speed and outstands as an Optimize Cleaner.
You can source the device information which helps to optimize the device's performance.
Power Clean battery saver app boosts up the speed of the device by cleaning up the RAM.
4. Accu Battery – Smartphone Battery Saver App
Accu Battery is amongst the top Android battery saver app.
It quickly detects the battery stats with high accuracy in comparison to the device's system.
This battery-saver app measures the actual battery usage sourcing information from the battery charge controller.
Accu Battery also analyzes the battery power and provides battery usage information.
With this Android battery saver app, the device charges fast.
The best part about this battery-saver app is, it has an inbuilt Charge Alarm feature that sends notifications about the full charge.
The user can see the wear of the battery that it sustains in each charge session.
Accu battery boosts device performance and promises a healthy battery.
5. Battery Doctor (Power Saver) – Best Battery Optimizer for Android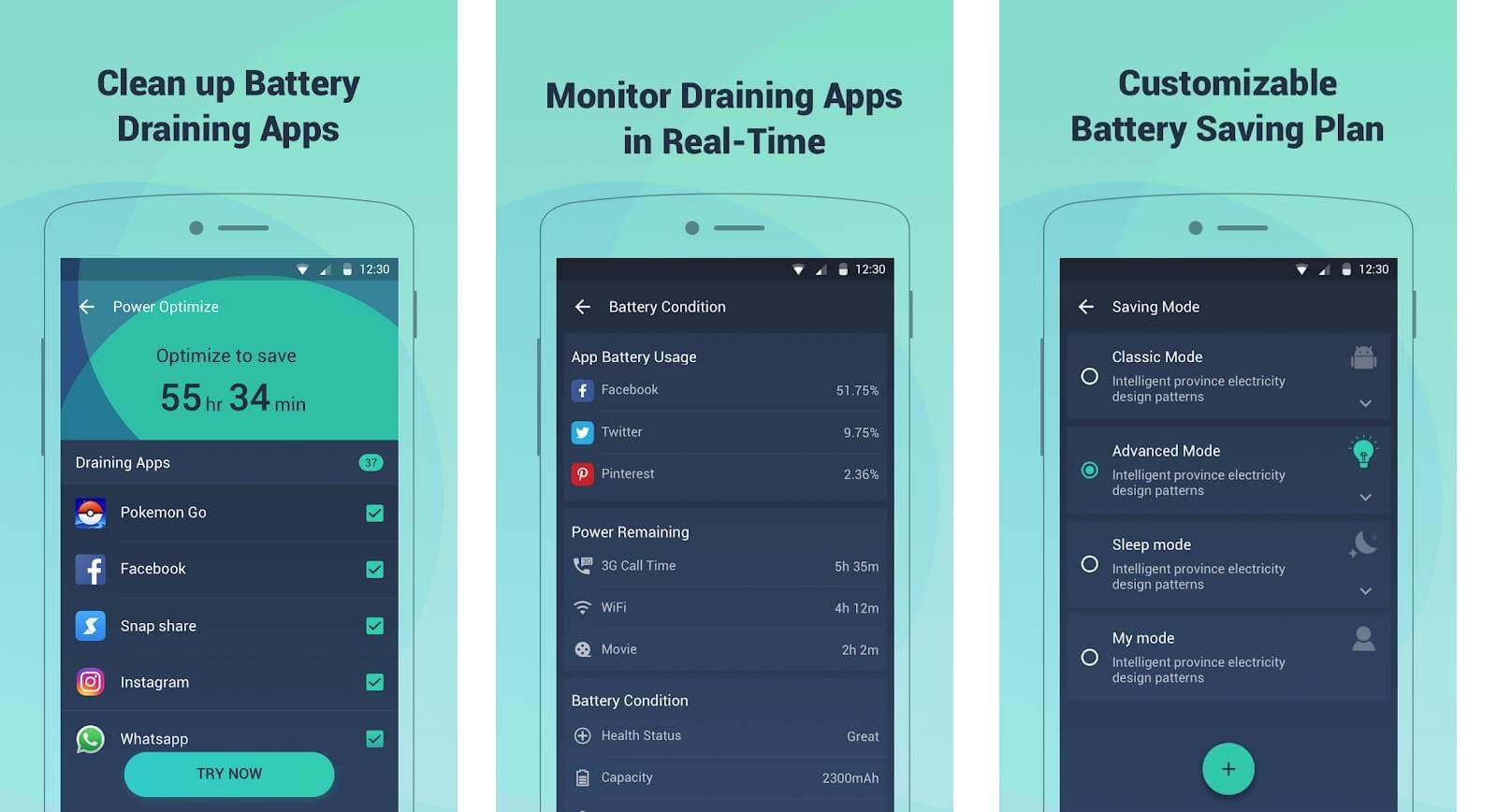 Battery Doctor is a superpower-saver app designed for Android devices.
Users can set up a low power threshold for the device.
Battery Doctor also features easily disabling unnecessary apps or abnormally running apps in the background that drains battery power.
Controlling the brightness of the app is easier with the app.
The battery saver app provides information about battery temperature, voltage, and battery technology.
With just one tap, the users can optimize the battery power and stop the over-consumption of battery power.
This Android battery-saver app supports 28 languages and gets designed with a user-friendly interface.
6. Battery HD– Smartphone Battery Monitor App
Battery HD is the best battery monitor app for Android devices.
This battery monitor and saver app has an excellent user-interface design.
Battery HD app lets to know the hours the battery will support for listening to music, watching videos, recording videos, clicking photos, talk time, internet browsing, LED Flashlight, 2D & 3D games, standby mode, etc.
The app can get placed in the notification bar as well as inside a widget.
With precise battery monitoring feature makes it act as a battery saver app for Android devices.
The full battery calibration feature makes

this app more unique.
7. Avast battery saver – Best Cell Phone Battery Saver App
Simply open the Avast Battery Saver app and press "Stop Apps" to instantly boost the performance of your Smartphone.
Thanks to the application's adaptive energy estimate feature, you'll know exactly how much is battery life left in your phone.
With the Avast battery-saver app, activate pre-allocated profiles to optimize your Smartphone's settings to suit your requirement.
Plan when you'll have to connect your phone to a charger on the basis of your phone's utilization.
Capable and simple to utilize, Avast Battery Saver gives you complete control over your gadget.
This battery saver app gives you 5 profiles to choose from Emergency, Smart, Home, Work, and Night.
Use Adaptive Smart Profile to let the application change your phone's settings as per your standard utilization.
Get notifications and alerts to change to an alternate profile on the basis of your activity and battery level.
Easily switch from the various profiles and manage them inside the application itself.
What's the Takeaway?
There are top applications for each and every of your function like organizing your day, scheduling, To-Do, and many more. But when it comes to the battery you have to be really choosy about the type of battery saver for the Android phone you use. The available list of battery manager apps described above is some of the tops in the market out there. Now you can use any of these apps as per the device specifications and your requirements.
All these best android battery-saving apps are most installed and updated. User ratings for all these apps are pretty high, you can check them for yourself when you go to the Google play store. Using any one of these apps, you can personally experience the effectiveness of the features and ensure the longevity of the battery power and life! Keep your Android devices protected, secure, clean, and fast performing along with enhanced battery life! Enjoy extended battery life by installing a smart battery power-saving app!
FAQs:
Which are the best battery saver apps for Android smartphones?
Here is the list of the best 7 battery saver apps for Android phones:
1) Greenify
2) Power Battery
3) Power Clean
4) Accu Battery
5) Battery Doctor
6) Battery HD
7) Avast battery saver
Do battery saver apps really work?
Yes, they do work. The battery-saving apps enable less battery power mode by as much as 50% and improve the battery life and help extend battery life by 20%. These apps run frequently in the background and search for battery consumption.