Google has recently introduced rich cards via the webmaster tool, an innovative way to improve content visibility in mobile search result. The new SERP extensions are an enhancement of snippets and the main aim of the SERP extension is to improve the search experience of mobile users.
Like physical cards that act as the entry point and through which you may get more details thereafter, Google has now introduced online search cards known as "Rich Cards" the latest form of search result on the search engine. The cards have been built on the existing format of the rich snippets and are in some ways similar to rich snippets (which display an image and summary information beneath regular results). Rich Cards also use schema.org structured markup that helps display the content in more visual format that is a more engaging experience especially for the mobile users.
The Rich Cards appear as horizontally movable carousels and these are very easy to browse simply by scrolling either left or right which makes searching an extremely easy task. These carousels contain cards either from same site or even from numerous sites.
The Rich Cards are a new opportunity for existing site owners as this will help them stand out in the search results and they may be successful in attracting more targeted users especially in cases where a preview helps improve the user experience through prominent image like for recipe sites. Another benefit of the visual format is that it helps the users find their targeted item quickly without having to browse much.
Cards are useful in cases where you need to display content in a collection of text, images and movies and when direct comparison is not required by the user. This content is also able to support content that may have variable length like comments and interactive content like a +1 button.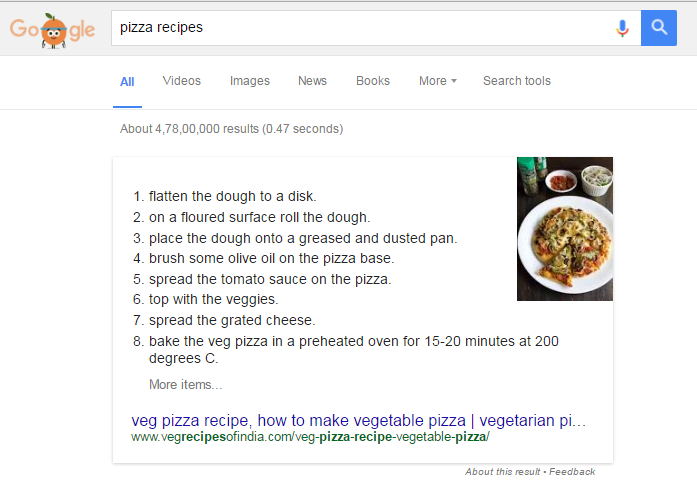 Google has initially started showing its Rich Cards for just two categories of content namely recipes and movies. The cards have been initially targeted for mobile search results that too for google.com in English. Google is currently in the process of further experiment with other opportunities that will provide the chance to publishers to be able to display their content with a richer preview.
How to get Rich Cards:
You need to go to the Google search console and under the 'Search Appearance' section, you will find 'Rich Cards' which is a section where Google will be showing your schema, rich snippets, AMP, app indexing and other enhanced search listings. This will be useful in enhancing the user's search experience and provide better opportunities to the publishers who will be able to display their content in a much better and interactive manner.
Google has also provided a new gallery where the users and intended publishers can explore the available Rich Card types and can identify where their content fits in. They can now browse the new gallery which has screenshots and also contains code samples of each of the markup type. The users can also find out the fields that are essential to mark up in order for a Rich Card to appear and there are additional fields available that will enhance the user's Rich Card experience.
The users can also see preview in the revamped Structured Data Testing tool of the final look of the Rich Card in Search (this is currently only available for movies and recipes).
The users can also monitor the performance of their Rich Cards, rich snippets by using the Rich results filter in their Search Analytics, and this will help them track how their rich snippets and Rich Cards are doing in the search along with tracking the clicks as well as the impressions for both.
So, publishers can now go for the new Google search results experience with their Rich Cards and rich snippets in order to create better search experience while publishing and also while browsing.