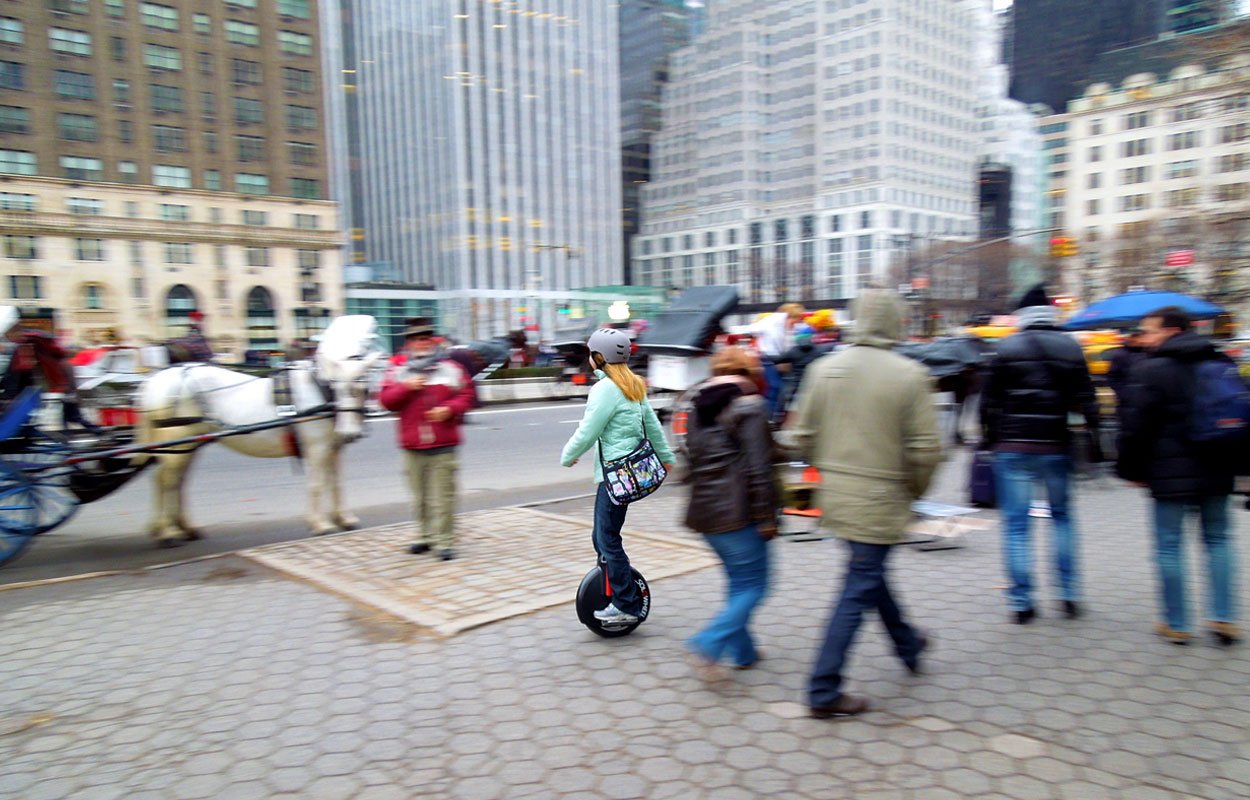 Transportation is become a costly and cumbersome affair with each passing day. For a car or motorcycle owner, getting to the office or the cafe means tackling the traffic and being at the mercy of other vehicles to move forward. On the other hand, people who commute through public means of transport have to go via busy buses which again are at the mercy of the traffic. While a cycle is considered a healthy, cost effective and easy alternative, it doesn't get you fast enough. However, we have a better alternative from Inventist, called the Solo Wheel. The vehicle is similar to the Honda U3, the eniCycle and the UnoMoto. All of these come as single wheel, self balancing personal transport systems. The only difference between these vehicles and the SoloWheel is that the latter doesn't come with a sitting system. It's more like a motor enabled roller skate wherein the user stands upright and uses his foot to maneuver the road.
The Solowheels makes traveling highly convenient and portable. The total construction weights just 26 pounds and makes it easier to carry it along everywhere. Whether you are traveling to office or taking a long walk or going to the school/college, the solo wheel is a cost effective and stylish solution. It integrated fordable foot platforms and is powered by Li-ion batteries. a fully charged Solo Wheel can take you 12 miles and the vehicle is complete gyro stabilized making the ride easier and safer.
The Solowheel is certainly a one of a kind of invention. The battery of the Solo Wheel takes about 45 minutes to get fully charged and can be set on a normal plug point. Whether you are going to your office or a cafe or the college, just set it somewhere to have it ready for the ride back home. Further, the Solo Wheel is also equipped with a regenerative system that will put back the power into the battery if you slow down or the downhill terrain works to take the wheel down by itself. This way you can extend the range of use.
Inventist scientists and engineers say that the Solowheel is very easy to learn and use. Since the feet stays very close to the ground, there would also be little trouble in controlling the speed, balance and steering. To start the vehicle, you just need to lean forward with both feet on the wheels. When you are looking to slow down, just lean backwards and the system works for itself. It's so much like the Magic Wheel system. As we can already see, the Solo Wheel can be quite of a fun and has reasons to become popular among school kids, college goers and hikers.
The Solowheel comes in many color variants like red on black and white on black and brings in quite of an appeal.  At the time of writing this post, the cost of Solowheel at Amazon.com is US $1795.
Buy Solo Wheel Now from Amazon.com
Image & Story Courtesy: inventist.com