Well, we all like to pastime playing Games with friends and family, don't we? Games are a medium to relax your mind, and have fun with your friends. You don't need a PC with extraordinary specifications dedicated to gaming. There are a lot of games that you can play with basic hardware features. Free browser games are small and can be played online easily. These games are not very complex and have basic controls. Some of the browser games can turn out to be a real-time killer. There are numerous browser games available and each comes with a different story and unique concept. There is one thing that can be assured and that is you won't be bored while playing these browser games because there are so many options to choose from.
Best Browser Games
We have compiled a list of some of the best browser games that you can play with your friends online.
Slither.io – Blast from the past
Slither.io is one of the best games from the past. This game will take you down to your memory lane and make you feel nostalgic. It is a snake game, the same as the one people used to play on their phones before. Slither is the same game but with some minor changes. You have to move the snake in the direction of dots. Whenever it gets in contact with the dots its size increases gradually. There is a twist in this game and that is, there will be other snakes also and you to be careful so that you don't run into them or else your game will be over. You can also change the skin of the snake in the game as per your preference.
Overall, it is an amazing game to kill your time and you can easily consider this game a blast from the past.
Street Skater: A Retro style skating game
As the name suggests, it is an endless skating game. You play as a skateboarder in this game. It is a simple retro style game with old graphics. The main objective of the game is to collect as many coins as you can. You can also perform stunts while playing like by double-tapping the space bar you can do a kickflip. There is not much use of any buttons except the space bar. The best thing about the game comes when you hit an obstacle and you die. Your whole body will break into small pieces and as soon as you realize what happened, your pieces will be lying on the ground. Certainly, it is the most amazing part of the game.
Super Mario Bros: The greatest game of all time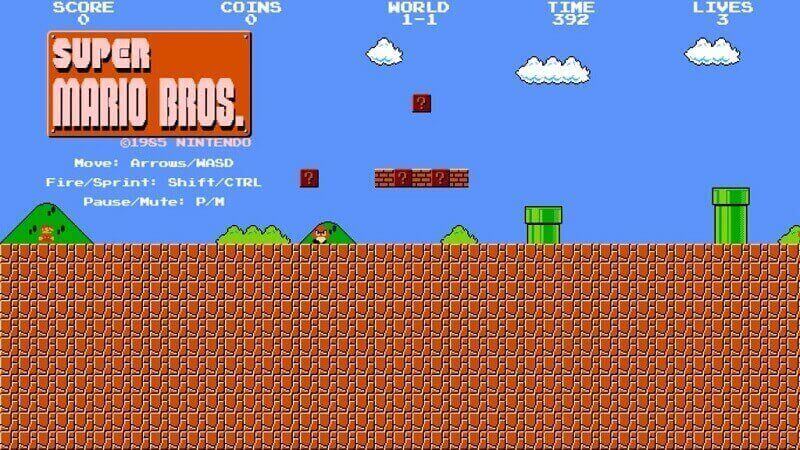 We all are aware of the Super Mario game. It is one of the most classic games that everyone loved playing in their childhood. Now, you can easily play this game on your computers. The game has a total of eight worlds and every world has 4 stages in it. The main aim of the game to save the princess. There is a boss that you have to fight at the end of every world in order to enter the next world. The controls are simple and you have to control all the movements with the help of the keyboard. Hence it is one of the best ways to relive your childhood and enjoy your time.
Blast Arena: Perfect strategy game
It is highly recommended and the most addictive game. It is a multiplayer game that has a maze and you are surrounded by a wall from all sides. You need to clear your way by planting bombs and blasting them. You will not be alone in the maze, there will be other players also who will be doing the same thing that is clearing the surroundings. In between, you have to try to kill your opponents by these bombs only. So you have to also use strategies. All these things make Blast Arena a perfect game to play.
Skribbl.io: An amazing drawing and guessing game
Skribble is an amazing fun game that you can play with your friends or family. You can also play this game online with random people. When you enter the game it will ask you to choose a character and a name. You can invite your friends by creating a room, which is completely free. After everybody joins, you can start the game.
The game is very simple to play, there will be three words on the screen and you have to select one out of them and draw it on the screen with the help of a mouse. The rest of the players or your friends have to guess the word based on the drawing and if they guessed it correctly then points are awarded. Similarly, there are turns for every player. One player draws and others have to guess it. You can select the number of rounds until that round the game will continue, for example, 3, 5, or 10 rounds.
Doom: Horror themed FPS game
Doom is a first-person shooter game that is developed by id software. Although the graphics are not that good still it is one of the most popular games. You can play this game with the help of a keyboard and mouse. The objective of the game is that you have a gun in your hands and you are supposed to kill the enemies that are in fact demons. It is quite a basic game but it is one of the most popular browser games of all time.
Chrome Dinosaur Game: An evergreen chrome game
Almost everyone is familiar with this game. You can play this game only on chrome and when there is no internet connection. It is a simple game but at the same time quite interesting and compelling too. Controls are simple as you only have to use the space bar and the arrow keys. When the game starts the speed of the dinosaur is quite slow but as the game progresses it becomes more difficult and the speed becomes very fast. There are only trees as obstacles in the beginning but later on, birds also come flying to make the game more difficult. It is a true test on attentiveness and concentration. This is one of the main reasons why this game is highly recommended.
Pocket Tanks: An interesting artillery game
Pocket tanks is a game in which you have to use your brain the most. You play against an opponent and you are given a certain set of weapons to hit them and kill. For shooting the weapon, you have to adjust the angle and the power so that it hits your opponent. Now, you won't be able to shoot all your weapons continuously, there will be turns for that. Overall, it is quite an interesting game that keeps you involved thoroughly.
These are some of the best browser games that you can play online and even offline. If you think we missed out on some amazing browser games then let us know in the comment section below and also share your favorite game.