Well, we all like to pastime playing Games with friends and family, don't we? Games are a medium to relax your mind, and have fun with your friends. You don't need a PC with extraordinary specifications dedicated to gaming. There are a lot of games that you can play with basic hardware features. Free browser games are small and can be played online easily. These games are not very complex and have basic controls. Some browser games can turn out to be real-time killers. There are numerous browser games available and each comes with a different story and unique concept. There is one thing that can be assured and that is you won't be bored while playing these best free browser games because there are so many options to choose from.
Best Browser Games to Play with Friends Online – Single & Multiplayer:
We have compiled a list of some of the best free browser games that you can play with your friends online.
1. Quick, Draw with Google – Best Online Game to Play with Friends:
This is one of the best single-player browser games. Developed by Google, this online game lets players draw a picture of an object or an idea in just 20 seconds, then a neural network AI will guess your drawn picture. The player gets six drawing attempts. After finishing that the player can compare the drawings with millions of other people's drawings.
2. Prodigy Math – Best Online Browser Games to Play with Friends:
Prodigy Math is a secure online portal where students can practice math in a fun and engaging way. They can answer adaptive math questions to win battles and finish quests. This is one of the best multiplayer browser games to play with friends. In this learning platform, students can go for daily or seasonal quests and earn rewards.
3. Dragon Awaken – Best Browser Fighting Game:
If you are a fan of heroic fantasy and online gaming, then Dragon Awaken is the perfect game for you. You will be immersed in its world of epic dragons, powerful armor, and world-class heroes. Through the continuous development of skills and strategies, you will explore this fantastical land with countless adventures and unlock new surprises each step of the way. The beautiful graphics coupled with the semi-turn-based battles will keep you coming back for more.
4. Mars Tomorrow – Best Browser Computer Game:
This is a massive online game to play with your friends. You can play this game directly from your browser, there is no need to download anything. In this game, players can build an economic emperor. Every action of yours will show an impact on planet mars in the game as well as on the other players. This is certainly a fun and exciting game that will help you discover new tactics and earn rewards.
5. Powerline.io – Best Free Browser Online Games:
Being a modern approach to the classic Snake game, Powerline is an excellent online game that you can enjoy alone or with friends. You can play this game in real time with numerous players across the world. The mobile version is available in both the Google Play Store and the Apple app store.
6. Gartic.io – Best PC Browser Game:
This is a fun guessing and drawing game that you can enjoy playing with your friends and family. In each round, you can draw something and other players can guess what that is. The game offers some groups of words that you can choose from and draw. In the game, you can create your own personal room, share links among a maximum of fifty of your friends, and invite them to play. You can choose a theme for the room and change the language as well.
7. Line Rider by Google – Best Web Browser Games:
This is a classic engaging single-player browser game. To play the game, you need to draw one or more lines for the sled rider and press the Play button. The rider will ride on the track you have drawn. If the rider falls or cannot move forward because of the track, you lose. Therefore you need to strategically draw a line that is smooth enough for the rider to ride the sled. It is one of the most simple online browser games, and there is no goal to achieve.
8. Wanderers.io – Best Fun Browser Game to Play with Friends:
Are you looking for a cool, fun online browser game? Wanderers.io is the perfect option for you. That is a survival game where you can take charge of wandering tribes, accumulate resources, improve abilities, earn rewards, and grow the tribe community. The more management skills you have the better the way you can thrive in the wild. This is a multiplayer game and you can team up with other tribe members to score as high as possible.
9. WILDS.IO – Best Browser Game to Play with Friends:
This is another fun browser game to play with your friends. In this game, you have Viking-style characters and play out in the wild, defending yourself against all wild animals and creatures. There are bots and other players from opposing teams that you also have to defend from. The more you score, the more gold you can spend on collecting weapons to survive further.
10. BrowserQuest – Best Online Game to Play with Friends:
BrowserQuest is an incredibly innovative game, designed to demonstrate a number of modern web technologies. It provides an immersive experience that players from all around the world could enjoy from their web browsers. Since it was built in JavaScript and ran on Node.js, developers had access to relatively cutting-edge technology which enabled them to create beautiful interactive worlds. BrowserQuest lets players explore a fantasy world and adventure on their own or with others. Working together with fellow players and making use of the in-game chat system, gamers can defeat monsters, uncover new treasures, and complete challenges to unlock achievements.
11. Frogger Classic – Best Single-Player Browser Game:
This arcade game is one of the most simple and addicting browser games available online. This timeless challenge involves dropping a frog off at one of five slots at the top of the screen, all while avoiding obstacles along the way. Traveling up from the bottom, you'll have to navigate through the roads filled with motor vehicles ranging from cars and trucks to dune buggies and bulldozers. In addition, you'll face dangers in the form of various aquatic creatures moving in the water down below like logs, alligators, and turtles. With a finite amount of time in each level, you'll need to act quickly to get the frogs safely home before your timer runs out!
12. Wordle – Best Free Browser Games:
If you're looking for a fun, engaging, and challenging game to test your vocabulary and problem-solving skills, then Wordle is perfect for you. Developed by Josh Wardle and owned by the New York Times Company, this web-based game offers a unique way of exercising your word knowledge. The aim is simple: within six tries, guess a five-letter word that is updated every day. After each guess, you receive feedback in the form of colored tiles – green for correct words, yellow for letters that are in the word but not in the correct spot, and gray for those that aren't included at all. With quick thinking and careful consideration of each letter, you can be a pro at Wordle easily.
13. Street Skater – Fun Browser Games to Play with Friends:
As the name suggests, it is an endless skating game. You play as a skateboarder in this game. It is a simple retro-style game with old graphics. The main objective of the game is to collect as many coins as you can. You can also perform stunts while playing by double-tapping the space bar you can do a kickflip. There is not much use of any buttons except the space bar. The best thing about the game comes when you hit an obstacle and you die. Your whole body will break into small pieces and as soon as you realize what happened, your pieces will be lying on the ground. Certainly, it is the most amazing part of the game.
14. Super Mario Bros – The Greatest Game of All Time: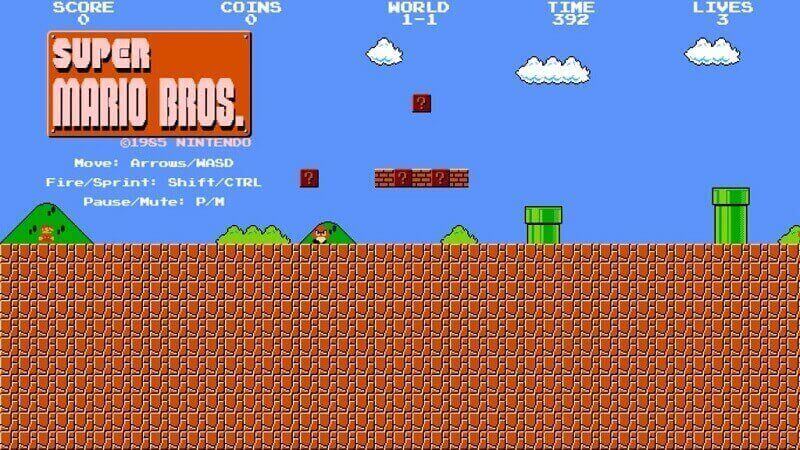 We all are aware of the Super Mario game. It is one of the most classic games that everyone loved playing in their childhood. Now, you can easily play this game on your computer. The game has a total of eight worlds and every world has 4 stages in it. The main aim of the game is to save the princess. There is a boss that you have to fight at the end of every world in order to enter the next world. The controls are simple and you have to control all the movements with the help of the keyboard. Hence it is one of the best ways to relive your childhood and enjoy your time.
15. Blast Arena – Perfect Strategy Game:
It is highly recommended and the most addictive game. It is a multiplayer game that has a maze and you are surrounded by a wall from all sides. You need to clear your way by planting bombs and blasting them. You will not be alone in the maze, there will be other players also who will be doing the same thing that is clearing the surroundings. In between, you have to try to kill your opponents with these bombs only. So you have to also use strategies. All these things make Blast Arena a perfect game to play.
16. Skribbl.io – An Amazing Drawing & Guessing Game:
Skribble is an amazing fun game that you can play with your friends or family. You can also play this game online with random people. When you enter the game it will ask you to choose a character and a name. You can invite your friends by creating a room, which is completely free. After everybody joins, you can start the game.
The game is very simple to play, there will be three words on the screen and you have to select one out of them and draw it on the screen with the help of a mouse. The rest of the players or your friends have to guess the word based on the drawing and if they guessed it correctly then points are awarded. Similarly, there are turns for every player. One player draws and others have to guess it. You can select the number of rounds until that round the game will continue, for example, 3, 5, or 10 rounds.
17. Doom: Horror-Themed FPS Game:
Doom is a first-person shooter game that is developed by id software. Although the graphics are not that good still it is one of the most popular games. You can play this game with the help of a keyboard and mouse. The objective of the game is that you have a gun in your hands and you are supposed to kill the enemies that are in fact demons. It is quite a basic game but it is one of the most popular browser games of all time.
18. Chrome Dinosaur Game – An Evergreen Chrome Game:
Almost everyone is familiar with this game. You can play this game only on Google Chrome and when there is no internet connection. It is a simple game but at the same time quite interesting and compelling too. Controls are simple as you only have to use the space bar and the arrow keys. When the game starts the speed of the dinosaur is quite slow but as the game progresses it becomes more difficult and the speed becomes very fast. There are only trees as obstacles in the beginning but later on, birds also come flying to make the game more difficult. It is a true test of attentiveness and concentration. This is one of the main reasons why this game is highly recommended.
19. Pocket Tanks – An Interesting Artillery Game:
Pocket tanks are a game in which you have to use your brain the most. You play against an opponent and you are given a certain set of weapons to hit them and kill. For shooting the weapon, you have to adjust the angle and the power so that it hits your opponent. Now, you won't be able to shoot all your weapons continuously, there will be turns for that. Overall, it is quite an interesting game that keeps you involved thoroughly.
These are some of the best browser games that you can play online and even offline. If you think we missed out on some amazing browser games then let us know in the comment section below and also share your favorite game.