Team collaboration plays an important part especially when your team is working from home. And when it comes to team messaging app, Slack is one of the top app with major market share. Obviously the best product also has its own cost and if you are looking for the cheaper solution, this article is for you. We will be sharing 10 slack alternatives in this article with their features and other important details. Reach on!
The slack is the king of team communication application, as everyone from CEO to developers and big brands to startups using them for collaboration. In fact, there are many communities that are operating over slack and are also very successful in respective niche.
Slack is regularly adding new features to make itself bigger and useful to everyone. Recently they acquired HipChat and Spaces, and is continuously growing its market share in group collaboration apps industry.
Slack is freemium and limits you to 10K message history, which is not enough even for a small company. If you are having bigger team and looking for higher limit, you will have to buy their paid plan.
If you are having limited budget, you can definitely try few alternatives to slack offers similar features for free or at less price.
List of the best slack alternatives
This list comprises of the applications that offer basic team communication services like voice, video calls and team chat with great control over the teams. Some of them are paid, free and even open source, you can choose the one that best suited your needs and budget.
#1 Mattermost: Best opensource slack alternative
Mattermost is an excellent tool for team collaboration as it is an opensource and self-hosted, so you are in control of your data.
It offers similar UI and controls as slack, so this would be the easiest application you can switch to. In the free version, you can easily use it with 100 peoples.
If you have more people, then you will need an enterprise version which is still cheaper than paying for the whole team in slack.
The application is available on all major platforms and has a Linux deployment and docker option for the server.
This also offers unlimited integration across a wide variety of apps.
There is only one disadvantage which ironically makes it more secure, that is Self Hosting.
Other than those minor problems people on AlternativeTo have said that this is basically a clone of slack.
#2 Rocket.chat: Opensource enterprise team chat
Rocket chat is a great alternative to slack because it also provides the option to use a hosted service.
I would recommend setting up your own server to be in control of your data.
The rocket chat provides a customizable UI with great features like Data Importer (To import your data from Slack or HipChat), Market Place (sell or buy apps that are made for this platform).
This has a self-hosted version that supports up to a team of 1000 people and has features like unlimited message history, unlimited integrations, read recipients, and live streaming.
Rocket chat has a concession program for organizations that do good for the community and help people around the world. They also provide discounts for Educators and Developers who create and support the open-Source community.

#3 Zulip: Team chat with an email threading model
This is a unique entry as it does limit you to 10K messages and 5GB of data storage, but the features that it has are truly amazing like the threading system which makes it easy to have a conversation about multiple things at once.
A great example of this can be seen in the above image as to how it can be useful.
Besides that, the color-coded channels and great integration with most of the big apps via zapier and IFTTT is great. If an app isn't listed then you can easily integrate it using zulips' powerful REST API.
The free plan almost had all the features and the limits can be removed by buying the enterprise versions or by self-hosting it on a server.
#4 Microsoft Teams: Group chat & Collaboration
Microsoft Teams was paid until now. Recently, they decided to give it for free with limited services.
Before it was bundled with Office 365 and could be bought individually for 5$ per month.
It may not boast big numbers but because of the reliability that comes with the name, it is a perfect addition to this list. This is simple enough for a small company or organization.
It has unlimited message history in teams, 2 GB limit on the storage of a single user, 10 GB of limit across all teams. There are also features like video and voice calls, security, and screen sharing.
You can pay more to get more but this basic plan is enough for most of the small companies and you can integrate over 250+ applications available for the team.

#5 Discord: Chat Room for gamer and teams
Mostly known as the chat and voice conference for games, this app is great for gamers as it's free, secure, and multi-platform.
The slack has a more enterprise approach whereas the basic feature of both apps (slack and discord) is the same, that is 'team chat'.
Basic file sharing and team conversations can be done easily in discord.
There is no fee; no limits on users and control over the channels is very good.
It has no integration with others like Zapier or anything else but honestly, most of the companies don't use it.
#6 Fleep: Group chat like slack and Task manager like Trello
Fleep's idea for team collaboration was a mix of slack and Trello, task management and team chat combined with file sharing.
There are many integrations to choose from but this is not completely free as it limits a lot of its features in the basic free version. So, it may not be suitable for enterprise or big business.
In the basic plan, you get unlimited message history, up to 3 group conversations, and 10GB of file storage.
This is noticeably faster and cheaper as well in comparison to other slack alternatives.
#7 Flock: Best slack alternative from India
Flock is one of the great slack alternatives with cheaper price. This Indian platform provides almost the same services as Slack in the basic plan but it really shines in the features section.
The basic features include team chat, file sharing, video and audio calls, and advanced search.
It also offers much-needed features like directory of the entire company, advanced email functionalities, notification control, bookmarks for messages, Polls, To-do lists, deadlines, code snippet share, and integration with GitHub and Google Drive which makes this an enterprise targeted service.
The pricing is pretty low at 199 Rs for 1 user / month and 399 Rs for the same with advanced features for the enterprise.
#8 Glip: Free Team and Task Management
This is an app by RingCentral and they provide all basic features required.
They provide most of their features for free except for 24/7 live support, limited video sharing (This includes video calling) and data retention.
Other than that, features like unlimited messages, unlimited guests, storage, unlimited integrations, task management, and third-Party integrations are all free.
The price for the advanced features are 5$ for 1 user and is paid monthly.
#9 Riot.IM: Best Customizable Slack alternative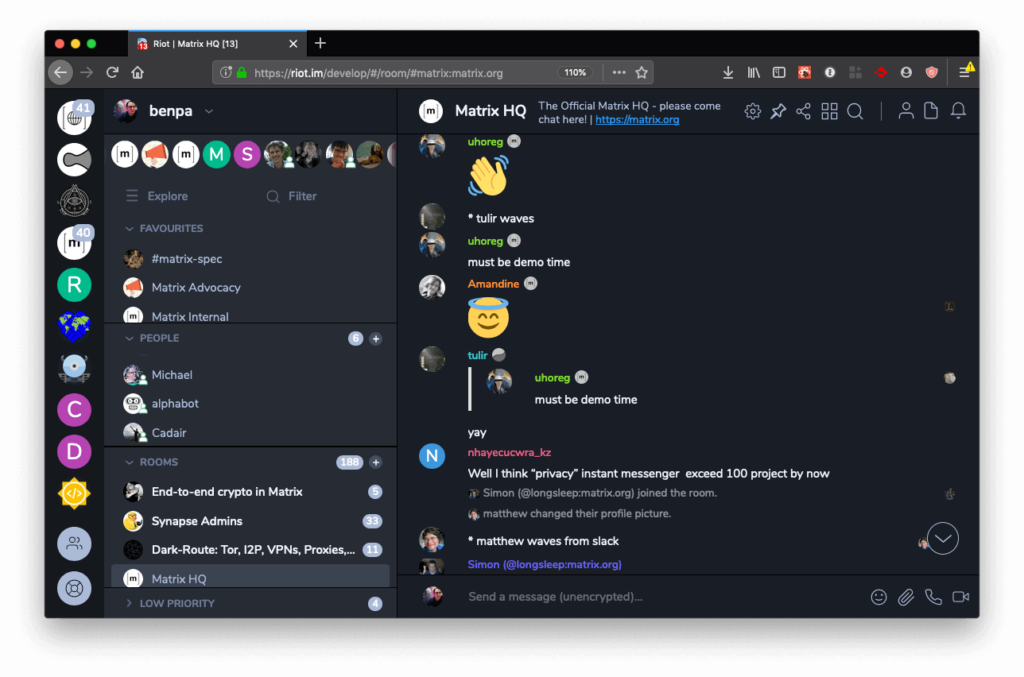 Riot.IM is trusted by 7M+ users and is an open-source solution based upon the Matrix protocol.
This is an awesome solution that is secure and customizable as per your needs.
They have put all the features you would expect in a team collaboration tool like customizable chat, video calls, integrations, file sharing, and a really neat feature called bridging which bridges the Riot app with Slack and lets you answer and handle conversation from the app itself.
Riot gives you complete control over your data by giving you an option to host it yourself.
For enterprises, there is a service called Modular.IM which gives you a hassle-free single click setup of the server with a monthly price starting from 10$ for a small server to 1500$ for large enterprises and communities.
#10 Ryver: Automated Enterprise Team chat
Ryver has a similar approach to a previously listed app Fleep.
It mainly integrates a Team collaboration tool with a task manager.
In the enterprise version, it integrates the automated workflow with unlimited users. The other features include Team chat, Topic-based conversations, voice calls, and video calls.
The price starts at $49 for basic plan and goes up to $399 for the fully-featured Enterprise version.
Wrap up
Before you buy any of these slack alternative app, make sure you also aware about the additional investment require in self hosted platform. Just compare the pricing and infrastructure cost before you make the decision. There are really great tools available in market, you only need to identify them.
If you are already using group collaboration tool which is not listed in this article, do write us or share here in comment. We would love to cover more tools here.