Playing a virtual reality games is a dream of all gaming nerd but the biggest question is; which one is the best VR game one should start with? In this article we will show you 10 amazingly awesome VR games going to thrill you for sure.
Every gaming developer and gamer across the globe pretty much agree to the fact that virtual reality is one of the rapidly growing industry and will be the future in gadget technology. While there will always be a space for non-VR entertainment, VR will certainly bring about a huge change in the industry. To get transported into a three dimensional environment of entertainment is the dream of every gamer and virtual reality is the way to reach it. Technologies like bio-sensing, 3D internet and VR languages have ensured that we will have a lot more to look forward to in the future.
VR systems have already had a great impact in sectors like education & training, media, retailing, architectural design, fine arts and entertainment. Replicating real world environments, it lets the audience to have an experience that involves all senses including sight, sound, touch and even smell. Industries like tourism have been using VR technologies to transport the audience to an environment where they would be begging for more!
Here, we have compiled a list of VR games developed around virtual reality technology those are worth experiencing. If you have been a gamer at some point in your life, these virtual reality games for PC and mobile will certainly be an exciting experience.
#1 – Airmech Command:
A rift game, Airmech Command looks much better in VR that it would have otherwise. Players require deploying real time strategies including creating and deploying units to overtake opponents. The gamer will have the capability to control his/her robots and jets to create an action packed experience. Airmech is basically about making you feel like a superhero!
Airmech Command is enjoyable for VR gamer of all levels. With full Avatar presence, cosmetic enhancements and maps, this game rightly showcases how VR is transforming gaming.
It is however exclusively available with Oculus Rift.
#2 – Darknet:
Voted to be the best game on Gear VR, the theme of Darknet sits atop a hacking backdrop, gamers are transferred to an environment of holographic visuals that represent enemy network and the one you need to hack one by one. If you have a long free weekend, this VR game would be the one to catch up with!
This is also available for the Oculus Rift.
Also Read: Top 9 Mobile Apps Marketplace to Buy and Sell Source Code
#3 – Tactera:
Released recently, Tactera is again a holographic environment managed through a VR tabletop RTS. With positional tracking at its core, you can command your miniature troop and declare war!
Tactera is available with Gear VR but will soon be launched for Rift fans.
#4 – The Climb:
Ever wondered how climbing a mountain feels like? Well, this game called 'The Climb' brings you closest to the experience without risking breaking your actual bones! You will be using your body to stretch and grip through the rocks to scale the peak and any distraction will take you for a tumble!
Perfect for VR premises, this game is available with Oculus Rift.
#5 – Eve: Valkyrie:
Another promising game, Eve: Valkyrie was available seen before the launch of Rift but was soon forgotten to more advanced VR alternatives. The only bad thing about Eve: Valkyrie is fighting the same war over and over again.
If you still want to have an experience, all you need is a Rift headset!
#6 – Vanishing Realms:
Vanishing Realms stands among the best inventions of VR in gaming. While, several updated are still due to Vanishing Realms, the current virtual environments where you get to walk around in bare feet, wield swords and magic wands is magical. The game supports room scale VR and teleport mechanism takes you across the enchanting world.
Vanishing Realms is available with HTC Vive.
#7 – Defense Grid 2:
Another strategy game, many have wondered why this game is available with VR but it is the ones who have actually played through know the reason. Zooming and planning your strategies get so realistic when you get to use your head and body apart from your eyes.
Defense Grid 2 is worth the time and available with Oculus Rift.
Also Read : GameGorillaz – Online Marketplace to Buy iOS/Android Mobile Games Source Code
#8 – Chronos:
Well, you get to see around a lot clearer and actually feel the effects of the jolts and the cry of the raging enemies. Chronos in VR is all about the experience and less about the actual game play.
All you need is an Oculus Rift to spend some scary time!
#9 – Hover Junkers:
When it comes to multiplayer games, this is the best on VR. The theme is about riding you hovercraft along with other players and participating in the shootout that will save the world.
Hover Junkers is available with HTC Vive.
#10 – Lucky's Tale:
Getting you a similar environment like Mario 3d, Lucky's Tale is fun to an extent. However, you might get disappointed with the pace.
Lucky's Tale is available with Oculus Rift.
Extra Tip: Here, we  will preview few of the up-coming virtual reality games to Oculus and Rift over the next couple months
By 2025, it is expected that manufacturers would be selling out more than 500 million VR headsets. The VR gaming market is growing at a fast pace and several manufacturers are looking to come up with their own devices. Well, competition will only make things better and more exciting!
Bonus:
If you are hardcore fan of play station and looking for best VR experience on your PS machine,  here is one game you should definitely try:
FarPoint Game on PS4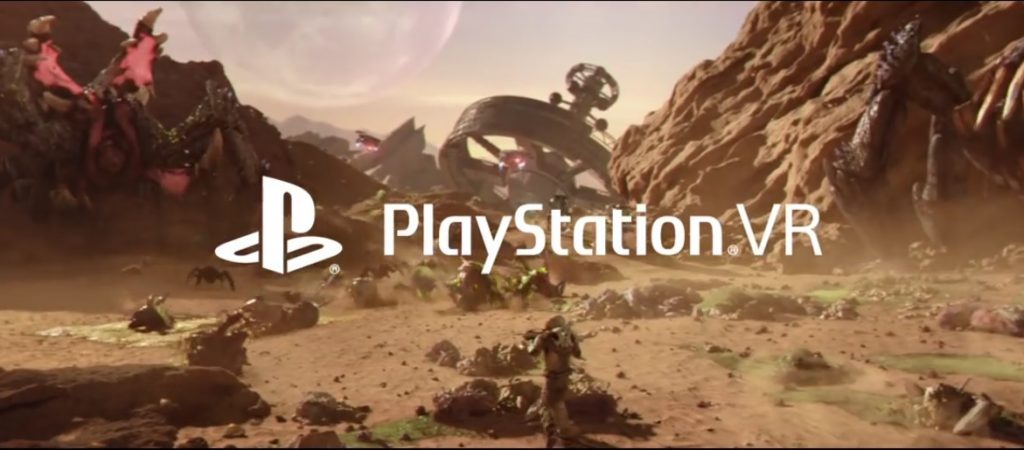 FarPoint is one of the recently launched VR space adventure game set on hostile alien planet. It will give you best VR experience chasing onto an unknown alien world.
Checkout game presentation here at YouTube: https://www.youtube.com/watch?v=5RSOab6KEE4
Do you love playing virtual reality games? Which one is your favorite game?