Are you from those people who frequently sharing online videos for your commercial or personal use? if yes, then you should pay attention to this article. There are plenty of things you should keep in mind before uploading or sharing your videos anywhere online; royalty-free music is one of them. Today here we are sharing some of the best websites to download music & sound effects that you can use freely in your videos. Let's start with understanding the license of using the music.
Understanding Licensing Requirements
As we are aware that adding any images to the website need to give proper attribute/credit or it should be a royalty-free image. The same thing is applied to videos as well. Websites that offer royalty-free sound effects are there in plenty. But know that they will have their own mechanisms in place to prevent abuse. Some of them may require you to make a small donation before you can use their products on their own. Others impose restrictions on the number of downloads. Still others may offer varying degrees of licensing rights based on the plan you choose. Certain sound libraries offer varying plans depending on the number of users.
Some base their subscription on the type of users (individual/companies/educational institutions). Certain libraries base their plans on the purpose of download. They may require you to pay more to download their products for commercial use. Finally, there are also online collaborations of designers. In such library, each sound effect will have its own licensing requirement. Check the same before downloading.
Video-editing today is fun and simple. Powerful programs designed for the purpose abound in number. iMovie and Windows Movie Maker are just two among them to mention. You already may have hundreds or thousands of them on your system. But at one time or the other, you may have felt the need of some extra sound effect for the same.You may go and add a musical track. But that won't work if you want small background music to suit an action in your video. In such an instance, you will need websites from where you can download royalty-free sound effects.
Download The Royalty Free Music from Below Website & Start Engaging with Your Audience
Sound talks a lot about a character and it is capable of doing what visuals can't do. A combination of visuals and sound effects is the key to success when preparing videos. The internet abounds in websites that let you download royalty-free sound effects. Given below are nine among them:
1. Filmstocks – Royalty Free Music & Video Effects for Your Videos
The website is an ever-expanding free library of royalty-free sound effects. All you need to do is to choose the kind of effect you need to give life to your video. Download and use anything free of charge without any attribution. Bassy Energy, ambient piano uplifting, cinematic dubstep; your choices here are unlimited. The website offers free and paid plans. Know your budget, explore the features and choose a plan accordingly.
2. Bensound – Download Royalty Free Music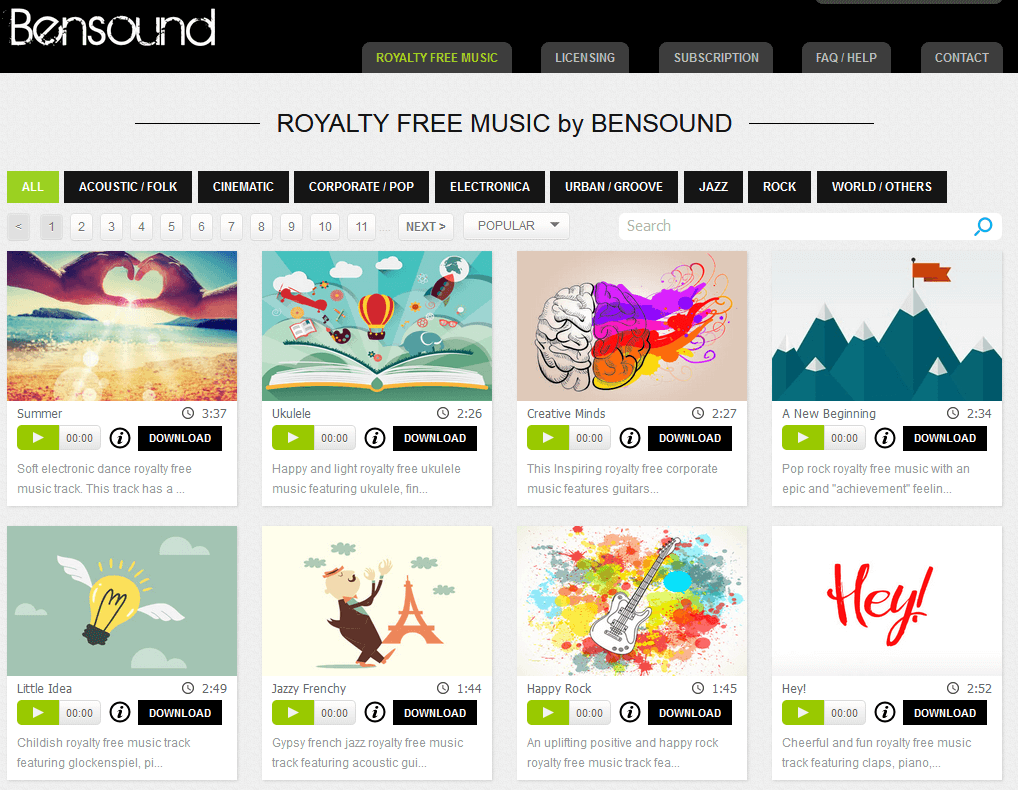 This too, is a free collection of sound effects. It lets you download any number of tracks and sound effects as per your requirements. Create an account, choose your category and download as many tracks as you need. The site too offers subscription plans. The standard plan lets unlimited downloads for social media. And the extended plan allows you to use the website's extended license and use its music to advertise for unlimited projects. It even lets you use the same for your clients.
3. Audiomicro – Collection of Freemium Sound Effects & Music
Your free plan on the website lets you enjoy as much as you want on your own. To be able to use the music available here, you will have to pay a nominal monthly subscription fee. The website also lets registered users upload their creation.
4. SoundBible
Soundbible is another site for royalty-free sound and clips that we can download free. This website has enough sound clips in form of mp3 that you can use it anywhere. There is also search option to filter out the particular sound clips and use it.
5. Sounddogs – Commercial Sound Effects & Music Library Since 1997
The website presents you with a vast variety of sound collections. Choose the type of music you want, download and use them as you want. There is only one condition. You have to give credit to them in your project. It even lets you decide the way you want to give attributions. Registering yourself here gives you an edge above others. You come to know the moment when a sound is uploaded on the website.
6. 99sounds – Good Collection of Free Sound Effects & Drum Kits
This is a virtual community where designers upload their creation. It features a huge collection of 24Bit WAV tracks. You can download and use any number of tracks. The library updates itself constantly. And it is a huge source when it comes to video effects. The only condition here is that you cannot redistribute its music to any other sound library.
7. Zapsplat – Download Professional Sounds
The virtual library is huge. Browse the categories and choose the one you want. License available here varies from clip to clip. You will have to check them individually to buy or download one. Create an account on the platform and download as many sound effects as you want.
8. Freesound – Sound Effects Free Download for Commercial or Personal Use
This virtual sound library offers a combination of audio samples, tracks, bleeps, recordings and snippets. It lets you search for the type of music you want using keywords. You can also check each track's rating before downloading. Doing this lets you check the sound quality. However, to be able to download from here, you will need to register yourself on the portal. The license type available here is generally Creative Common.
9. SoundCrate – Library of Free Sound Effects & Royalty Free Music
Search and download any number of tracks or sound effects here. Experiment with any number of sound effects and boost your creativity. All you need here is an account on the portal. The license available here may vary greatly. Check with each one before trying to get it. You will have to register yourself to download music from here.
10. FesliyanStudios – Best platform for YouTube Background Music
This is a public domain. You can download and use any number of background music & sound effects for your videos. Browse the huge collection, choose the one you want and download at your convenience. The website also features certain YouTube playlists that you can enjoy.
Jazz up your videos, whatever may be the purpose. All you need are a free video editing tool and a nominal amount to spend for quality sound effects.