Wunderlist was a cloud-based application made with the purpose of task management. Created by a Berlin-based company called 6Wunderkinder in the year 2011, Wunderlist used to help people have a better time in managing their day to day tasks and assisted them in creating a schematic fashion in which they would be able to complete their chores and tasks in a pre-established time slot.

Microsoft acquired the company in June 2015, and on 6th December 2019, they decided to shut down the app. Wunderlist is announced to be discontinued from 6th May 2020, and users will not be able to access the application for creating and managing their to-do list.
Recently, Wunderlist users might have received an official email from Wunderlist itself regarding its discontinuation. You won't be able to sync your to-do list, but you will still be able to import your lists and tasks.
That being said, avid users of Wunderlist will now have to find alternative solutions for their task management and to-do lists. Luckily there are several apps that serve as an excellent alternatives for Wunderlist for you to use.
What Makes a Great To-Do List App?
Though there is no deficit of to-do applications, the applications must have the necessary features to be able to deliver optimum performance and be able to assist in increasing one's overall productivity.
A good To-Do app should be easy to operate and should allow making changes and must be easy to follow through.
A proper to-do list should have some specific features and traits that will make it an ideal to-do list app:
Quick to organize task: a good to-do list should be able to quickly organize different functions according to a scheme for the priority of an individual.
Multiple ways to organize: To-do list apps should be able to organize the tasks in more than one way. Using tags, bullets, lists, due dates, and projects in to-do lists will make task segregation and understanding much easier for the user.
Notification of deadlines: a vital feature of the to-do list app should have is the ability to notify the user of any user- set deadline regarding one of the multiple tasks that may be approaching.
Clean interface: Proper To-Do list app should have a clean user interface that should allow the user to focus on what he or she should be doing. The app should format the tasks of the list without making it too cluttered.
Distribution of responsibilities: Often, many tasks require the delegation of duties to different people or parts of a team. A must-have feature in a proper to-do list app is the ability to assign tasks to multiple people to establish a precise distribution of the delegation of the responsibilities and adequate understanding of each agenda that is assigned.
Pervasive use: The app should have the feature to be able to run and access on different platforms like one's computer, smartphone, smartwatch, iPad, and should be synced with the cloud so that the user may have access to the to-do list at any time anywhere.
Timer and track in time-sheet: the tasks in a to-do list are always to be done within a set period. The to-do list app should be connected to a timer able to save the times at which the tasks start and complete in a time-sheet to create a detailed report of the tasks that are done.
Making changes: this all-pervasive feature that all good to-do list apps should have, which is allowing the user to add or remove tasks from the existing list of chores according to the situation when needed.
What to look for in a To-Do List App?
When looking for an alternate to-do list app, there are certain things one should keep an eye out for:
The app should not be extensive and should not take up too much of the storage space of your device.
The app should have an easy to operate user interface that will make it easy to understand and operate.
The application should be compatible with all the devices to which it is shared and connected.
Why do you need to get a To-Do List App?
Having a to-do list app has a number of benefits that make it a desirable app for one and all.
Organization: By far, one of the most important and beneficial features of a to-do list app is that it helps to get your tasks and daily activities more organized, which increases your efficiency.
Keep track: An app like this will ensure that you do not miss out on anything in your daily life. Tasks that would generally be missed would get the attention it requires, thus making life that much more easy.
Motivation: Having a to-do list app will help you feel motivated to get things done promptly and increase your productivity in day to day life.
Makes you feel lighter: by having a to-do list app, you will be able to get your tasks done. So at a later time, you will feel like you have lesser work to do, thus opening up your time to relax and enjoy yourself.
11 Best Alternatives To-Do List Apps for Wunderlist is:
1. Microsoft To-Do – Wunderlist Alternative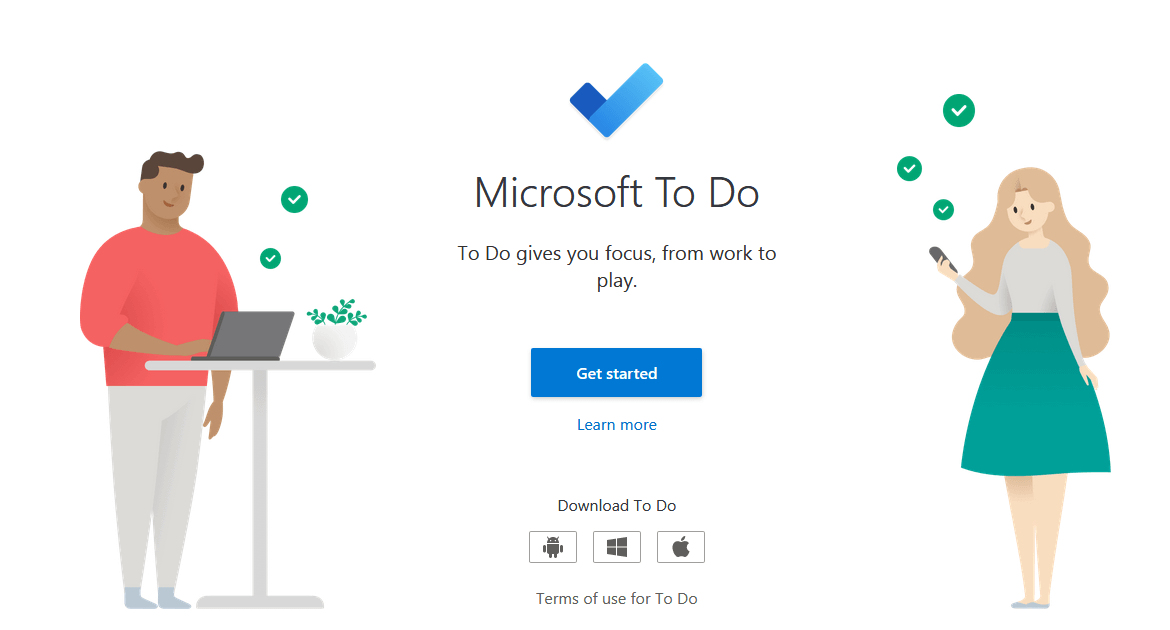 Microsoft, being the one to shut down Wunderlist, soon offers the users of Wunderlist to shift to their own list app. This free to use app allows anyone with a Microsoft account to be able to access their features of smart daily planning. Microsoft To-Do makes sharing of lists much more comfortable and makes the arrangement of tasks more manageable.
2. Evernote
Evernote is one of the free tools for to do list. The key features of the tool are create list of unlimited to do list in your evernote tool. Moreover this to do list app is also available in android as well as iOS. the best free task management app which is very famous among students.
Each and every information synchronized in cloud based server and you can access it via website and apps by simply sign in and get your personal data instant.
3. Quire
Quire is one of the best tool for advance level task management as well as daily checklist. This has numerous features which helps to manage small to large task easily and better user interface which interactive & easy to understand.
Furthermore, nested task list to create sub tasks under the main tasks in form of categories, schedule the tasks, project templates to create task quickly, share the task list to the clients and customers, and lot of integrations supported. This is also available in free version which may useful to you to manage task.
4. Todoist – Best To Do List & Task Management App
Todoist is an useful app that will help you maintain a level of organization in your daily life. Users can plan out their day to day activity and record the task to be done in Todoist. Todoist has features like flexible editing of tasks, sharing options for the distribution of workload, and also shows a report for the tangible progress done for the past few days. The app is free to use, but users have the option of going premium with a monthly subscription of 3 USD per month.
5. OmniFocus: Best To Do List App for iPhone
Another Wunderlist alternative is OmniFocus. This app allows a simple yet efficient format for creating to-do lists. Users can easily add actions and even use virtual assistant Siri to make the lists for them. Different tasks can be grouped by projects where one can add tags for location, people, priority, and many more. Operating on both Mac and iOS, the OmniFocus comes with a 14-day free trial, after which interested users can opt for a monthly payment of 9.9 USD per month or yearly payment for 99.99 USD per year as a subscription.
6. ClickUp: Be More Productive With Your Task, Projects & Time
ClickUp is another excellent alternative to Wunderlist. With attractive features like process and team management, integrations, manual customizations, team collaborations, time management, reporting, and other, ClickUp is a well-versed app that is bound to increase your productivity and handling tasks. By signing up, users can opt for a free mode where they get 100 MB of storage and unlimited tasks and users. Also, they can opt for a subscription of $5 per month for storage, views, interrogations, dashboards, guests, permissions, goals, portfolios, and custom fields, which are all unlimited.
7. Any.Do – Award Winning To Do App
Any.Do is an app that runs on all possible platforms and OS. With its simple format and flexible design, users can get organized quickly and become more efficient in their daily tasks. The app is free to use but has a premium subscription option of 5.99 USD per month, which has added features like color coordinating tasks, unlimited collaborations, customization of recurring tasks, location-based reminders, and many more.
8. TickTick: Easy to Organize & Manage All your To-Dos
Similar to that of Any.do, TickTick is a free to use to-do list app that allows the user to easily and quickly create tasks and projects that need to be reminded to them. With features like turning emails directly into tasks, voice input, and widgets like Siri and Quick Ball, TickTick ensure that not a single deadline is missed and helps clarify what the next task or agenda is after one is completed. Users who wish to unlock all advanced features can go premium by upgrading to an annual plan of 27.99 USD.
9. Remember The Milk – Online To Do List & Task management App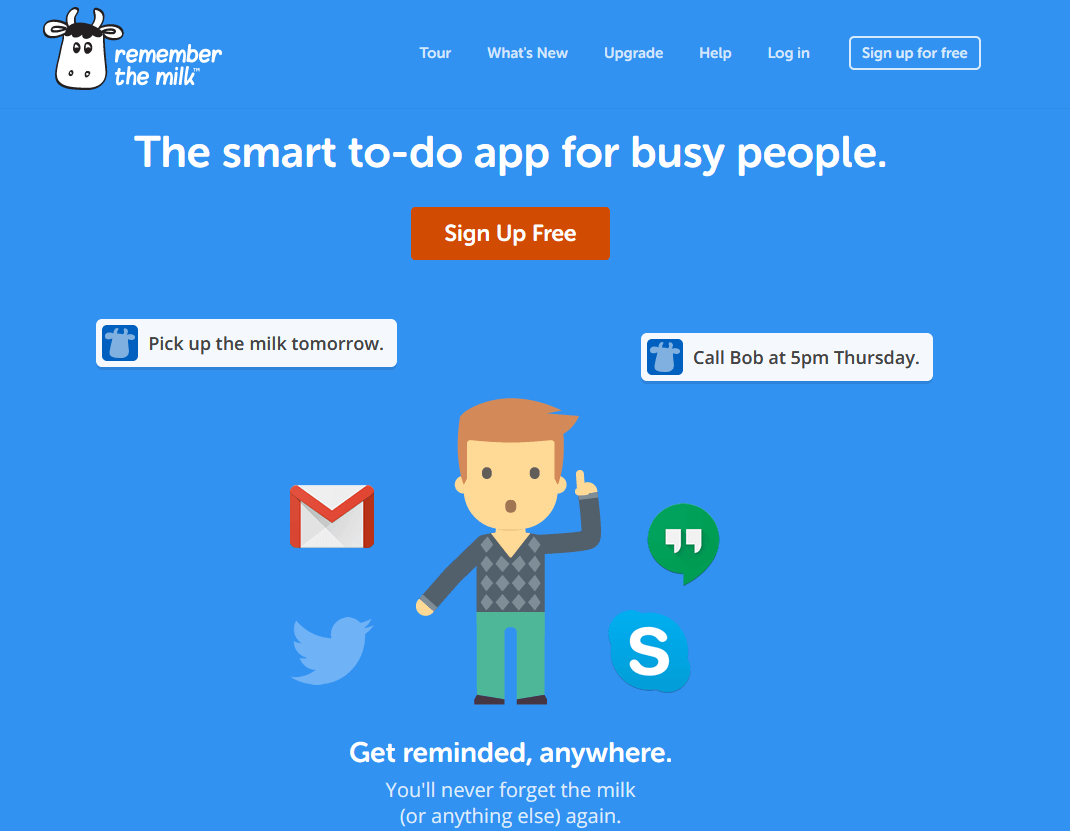 This free app has an upgradeable option with an annual subscription of 39.99 USD/year is a fast and easy way to add and create a to-do list instead of having to keep the tasks in your head constantly. With the feature of making a number of subtasks, adding tags, and getting reminders via email, Text, IM, and even twitter, the Remember The Milk app is a versatile option when considering a to-do list app.
10. Toodledo – Flexible Online Task Management & To Do List App for iOS & Android

Toodledo is completely free to-do list app that allows for easy managing of tasks and projects. Toodledo has a wide array of features like repeating tasks, location, alarms and reminders, hotlists, time tracking, sharing and assigning of tasks, import/ export and back up and many others. Toodledo is a multi functional app that has a high degree of flexibility that will surely increase your overall productivity.
11. Habitica – Track & Manage Your To Dos with this Productivity App
Habitica is a free to-do list app that takes a new and more fun approach to task listing. The app is a habit-building as well as productivity app that treats your daily life and its tasks like a world-building game. Complete with in-game rewards and punishments, the app motivates you to get your tasks done and help you achieve a healthier task management ability and bring about increased productivity, all the while providing the simple joy and relaxing joy of playing a game.
Conclusion
If you are a user of Wuderlist and are now in search of an alternate to-do list app, then the above apps serve as some of the best replacements to ensure that your tasks management is optimal and your productivity of daily life is at its peak. Using any one of these apps will ensure that all your tasks are up to date, and you will not miss any event or chore ever.